IRA "Green Dale" with missiles "Caliber" on board passed the Turkish straits and today entered the Mediterranean Sea, reports
RIA News
message from a military source.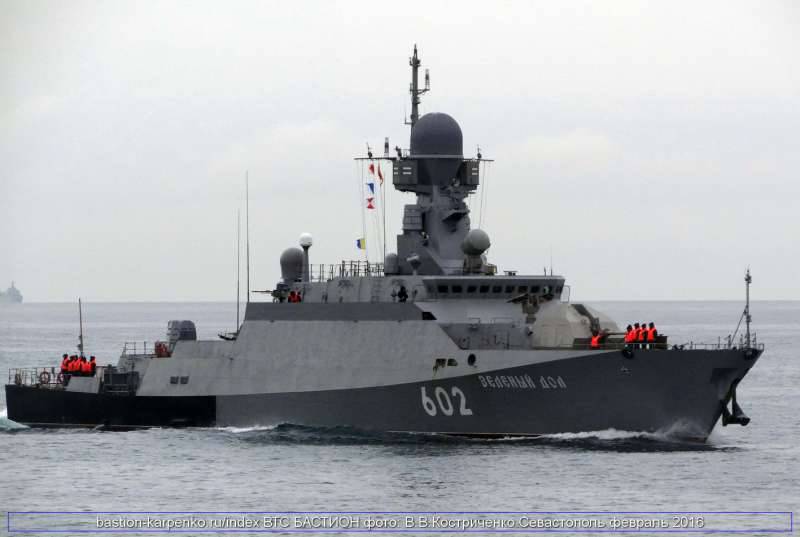 In the coming days, ISC Green Dale will join the Russian grouping of ships located off the coast of Syria. This will be the first participation of the ships of this project in the grouping of the Russian Navy in the Mediterranean Sea, "a source said.
"The ship became part of
fleet
in November 2015. During this time, he went to artillery firing and took part in a surprise check of the Southern Military District in February 2016, "he recalled.
"The objectives of the ship off the coast of Syria were not disclosed, but given that it carries long-range cruise missiles, participation in a military operation is not excluded," the source added.
Earlier, the source informed the agency that "the grouping of ships of the Russian Navy in the Mediterranean has been increased from 10 to 20 ships and vessels."
Help edition:
"MRK of the 21631" Buyan-M "project - multi-purpose ships of the" river-sea "class. Displacement "Buyana-M" is 949 tons, length - 74 meters, width - 11 meters. Ships of this project are able to reach speeds up to 25 nodes and make autonomous navigation at a distance of up to 2500 nautical miles. Artillery A-190 caliber 100 of millimeters, Caliber missile system, as well as the Gibka anti-aircraft missile system are in service with the Buyan-M IRC.