Syrian News Agency
SANA
reports that the SAR army took control of several more settlements in the province of Latakia. These are the settlements of Baruma and Muzin located to the north of the previously liberated Salma. This fact allows to increase the length of the segment of the Syrian-Turkish border, which is under the control of the government forces of the SAR.
Together with the militia groups, the Syrian army drove the terrorists out of the villages of Majdal Qiha, Jabal Al-Sheikh Mustafa, Al-Sheikh Ayub, Ain Al-Ghazal and Ruvaset Khmeyrush. Syrian troops have taken control of seven important heights in the area of ​​the Turkish border. Earlier, from these heights militants fired on the position of the Syrian army.
After the fighting in the north of Latakia, the terrorists, who managed to flee from their positions, hid on Turkish territory, with which the Turkish artillery continued to strike at the forces of the SAR and the fighters of the Syrian national militia.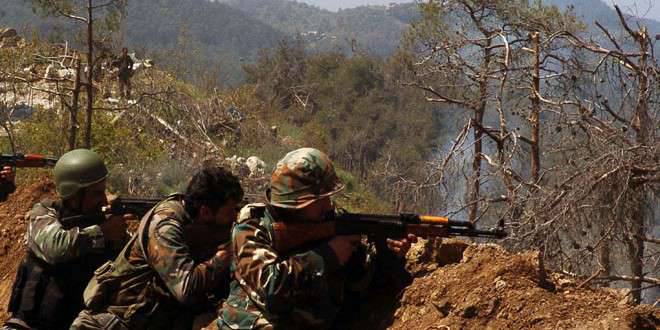 The military operation of the Syrian army continues with the support of the Russian Aerospace Forces and other provinces of the country So, in the province of Deir ez-Zor destroyed several command posts of militants LIH. According to the latest data, 71 is a militant of ISIL eliminated in the districts of Al-Sheikh Yassin, Al-Hamidiyah, Al-Arda and Ar-Rushdiyah, the provincial capital.
On the road leading to the village of Mrat, the Syrian army destroyed the car in which the ISIL militants 12 were. Warehouses with
weapons
The terrorist group of ISIL has been crushed in the area of ​​settlements of Sfira Tahtani and Mhaimida.
In the province of Aleppo, positions of the ISIL and Dzhebhat al-Nusra detachments were destroyed at once in several localities, including the city of Aleppo itself. One of the militant positions was located in the area of ​​Jandul Square, the largest Syrian city.