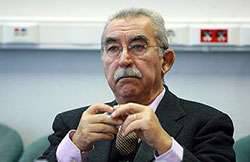 Russia step by step wins in the fight against LIH in Syria. And the United States, together with their puppets on the world and, first of all, NATO will not forgive Russia and its President the victory over their thugs. Not just launched a new campaign to discredit and even demonize Putin.
His fortitude and firmness lead the West into a rage. At the moment, there is every reason to say that the confrontation between the West and Russia over a new war. In any case, the West is making every effort to unleash it.
This is evidenced by the well-known and authoritative Italian politician, writer, ex-MEP Julietto Chiesa in his, full of alarm, appeal to the Italians.
"There is a frantic campaign to demonize Russian President Vladimir Putin. Many see it, it is obvious. But not everyone understands the reasons. Not everyone knows who organizes it, and why right now.
Let's collect the facts. The latter, because it has been going on for several years. With varying degrees of success and intensity. For example, "Putin is an aggressor in Ukraine," "Putin annexed Crimea by force," "Putin destroyed the Malaysian Boeing," "Putin killed Politkovskaya," "Putin killed Nemtsov on the Kremlin bridge opposite the Kremlin's red wall."
Now a new wave is rising - "Putin killed Litvinenko, killed by polonium." True, it happened seven years ago, but a new wave of accusations began. This is what the English court says. And we have to believe him ... maybe ... But the court adds "probably." Putin's immense fortune tells the BBC documentary without any evidence.
And the attacks are enhanced by the Minister and approved by the US administration Obama's representative.
One of my readers wrote to me, and I want to voice this thought: who behaves like that, he seeks to blow up the bridge. That is, from the West and, above all, America does not want to leave any opportunities for dialogue.
Soon we can expect a new "bomb" because the International Court of Justice in The Hague announced that, at last, it is starting an investigation into the crimes of the Georgian war 8.08.2008.
As they say, very on time - in just 8 years.
They ignored that the Russian Federation had already conducted its investigation of 8 years ago and collected 500 volumes of information. Perhaps they will read them, perhaps they will be taken into account, but I doubt it, because the goal of the operation is to come to a quick conclusion: the Russian Federation is responsible for the attack on Georgia.
This is additional food for fueling Russophobia. Objectively, the goal is to maintain the Russophobic moods, igniting them with new themes. All this, of course, without investigation and evidence. The point of view of the Russian Federation will not be presented, as it was not represented in the commission of inquiry of the downed Boeing. And even if it does, it will not be taken into account, because the result is predetermined.
No proof is required for all Western media, carriers of the Orwellian newsgroup and novologika. They do not even know how to find and check them.
I recall how Colin Powell, waving a test tube in the UN Security Council, accused Saddam Hussein of having a WMD. And then they started the war, which took 500 000 lives, incl. children
There is a center for coordinating this campaign. Where he is physically - we do not know, but he exists and works all day. Something like the General Staff of imperial propaganda, and he has no need to save resources.
"Putin is bombing terrorists in Syria?" No, this is not true, Putin is bombing citizens, hospitals, schools and children. " Who said that? The Western coalition, which funded and organized ISIS. No one checks what it said Erdogan. It is enough that this is said by the Nazi lovers in Kiev. What are those who sympathize with the Nazis in Poland, Estonia, Latvia and Lithuania. This says Brussels. And that's it. It is enough that Brussels went to the "Maidan", supporting the seizure of power by the Nazis.
The United States announced the introduction of troops into Syria, bypassing all laws. Because no one allows them, but they allowed themselves. They will invade Syria. How? We will see. They said they would not do it like Afghanistan ... To their happiness ... Because there they were defeated.
"Democratic and enlightened" Saudi Arabia unites with them. She also wants to send troops, as well as Turkey. In fact, this is a lie, because Turkey has long invaded Syria and remains there.
Why is all this happening?
For one simple reason: Russia is destroying ISIS, step by step, systematically. Americans organize seminars where their losses are counted. The loss of his people, the losses of the thugs, and they are significant. And they are retreating. And the Syrian army, with the support of the Russian Aerospace Forces, is advancing on all fronts.
But there is a significant difference when comparing these facts. Russia is legally there - under international law. She was invited by the legitimate government of Damascus.
And everyone else who wants to invade - they are all aggressors and friends of thugs.
That is why the talks in Geneva ended. They can not go on in this situation. At the Geneva talks insisted Russia. And she persuaded Assad to participate in them to form a coalition government. In this situation, the negotiations can not continue because the West is defeated. He does not want to win and maintain power RF Assad.
This is a new violation of all international laws.
If Putin does not back down, and he said he would not retreat, there will be war. Not necessarily only in Syria. But the war will be.
Maybe, in the Ukraine, where President Poroshenko, speaking this goose, has already said that today the war in Ukraine is more likely than yesterday. Or, I do not know, in the Baltic States, where all the screaming about the danger of a Russian invasion, which is actually not. There is no single document that would prove the Russian intention to attack the Baltic republics. But NATO shouts that the Russian Federation is invading there, so it remains to be seen when the provocation becomes a pretext for war.
Do not say that I am an alarmist. I am anyone, but not an alarmist. And I am not blind. Everything is very clear.
But being informed is not enough for salvation. Italians, who are watching me now, you are entering the war in Syria, "notes Chiesa.
The politician calls upon all healthy forces among compatriots, before it is too late, to mobilize against his government, and most importantly - to come out in a united front for secession from NATO, whose bloody policy threatens to drown the world in a new war.