Head of the Press Service of the North
fleet
Captain 1st Rank Vadim Serga reports that the crew of the large anti-submarine ship "Vice Admiral Kulakov" conducted exercises in the Mediterranean Sea. According to the press service of the fleet, the BOD crew tested the skills of practical grenade throwing using 1 mm multi-barrel rocket-propelled grenade launchers MRG-55.
RIA News
cites a fragment of Vadim Sergi's statement:
During the exercise, the crew of the ship worked out the use of hydroacoustic systems for detecting underwater objects. The personnel of the BPC mine-torpedo warhead carried out a practical grenade launcher using the MRG-1 rocket launchers designed for the ship's self-defense against underwater sabotage forces and means.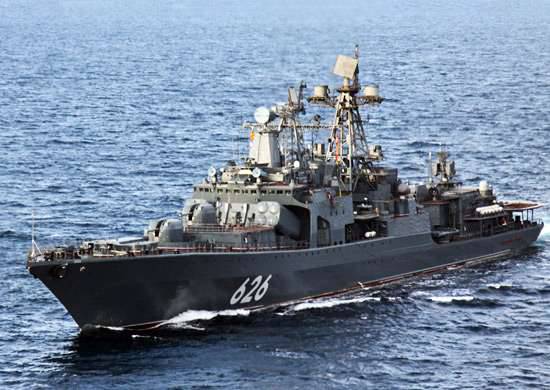 The maximum firing range of the IWG-1 is 500 m, the depth of the undermining of a grenade is up to 30 m. The IWG-1 is designed for operation by a calculation of 2-s people.
At the moment, the BOD "Vice Admiral Kulakov" carries out a long hike, launched in October last year. During this time, the crew of the ship took part in exercises to curb drug trafficking at sea. The teachings were called the Arabian monsoon 2015. In total, since the beginning of the BOD campaign, Vice Admiral Kulakov has passed more than 15,5 thousand nautical miles, calling at the ports of Cyprus, Pakistan and Oman.