Yesterday, the UN Security Council held a meeting behind closed doors on the humanitarian situation in Syria, in particular on the intensification of military operations in the Aleppo area. These consultations, according to diplomats, are important for the meeting of the International Syria Support Group to be held today,
RIA News
.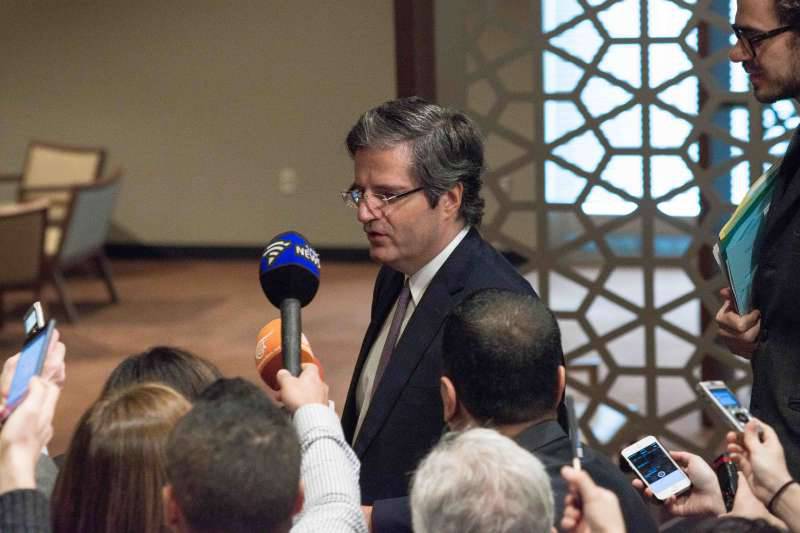 Francois Delattre
As the British representative to the UN, Matthew Rycroft, said yesterday, "if we make progress, it will help make the MGPS meeting start productively tomorrow."
Rycroft recalled Security Council resolution 2254, adopted in December in support of a peaceful settlement of the Syrian problem. According to him, "permanent members of the Council should be the first to fulfill their obligations." And this connection he was concerned about the activities of Russia.
"They have an obligation to use their influence on the Assad regime in order to achieve a cease-fire, proper humanitarian access and an aerial bombardment, which the Secretary General rightly criticized, citing the reason why the Geneva talks had to be suspended," the diplomat said.
He was supported by French Permanent Representative Francois Delauttre. "France expects the regime and its allies to respect the humanitarian obligations and the UN Security Council resolution 2254," he said. - It is necessary to stop indiscriminate bombing, lift the siege of cities and provide full humanitarian access. We are not asking the Syrian regime and their allies for a favor, it's their commitment. "
Vitaly Churkin said earlier that February 11 Russia will submit its proposals on the promotion of negotiations on a Syrian settlement.
"I hope that Russia and others will offer concrete ideas that will help us achieve a national truce, help reopen humanitarian access, where necessary and use their influence on the regime to stop aerial bombardment," said Raycroft.
He also noted that "after the meeting of the International Support Group for Syria and before the resumption of the inter-Syrian 25 talks in February, many more confidence-building measures should be taken".