The head of the Ministry of Foreign Affairs of Ukraine, Pavel Klimkin, declared for the thousandth time that Russia "is trying to destabilize the situation in Ukraine." According to the logic of Klimkin, as a representative of the Maidan authorities, all those economic and political problems that Ukraine faces are caused solely by "attempts to destabilize" on the part of the Russian Federation. The Ukrainian minister said that Russia's goal is to "not allow Ukraine to become a democratic, European country."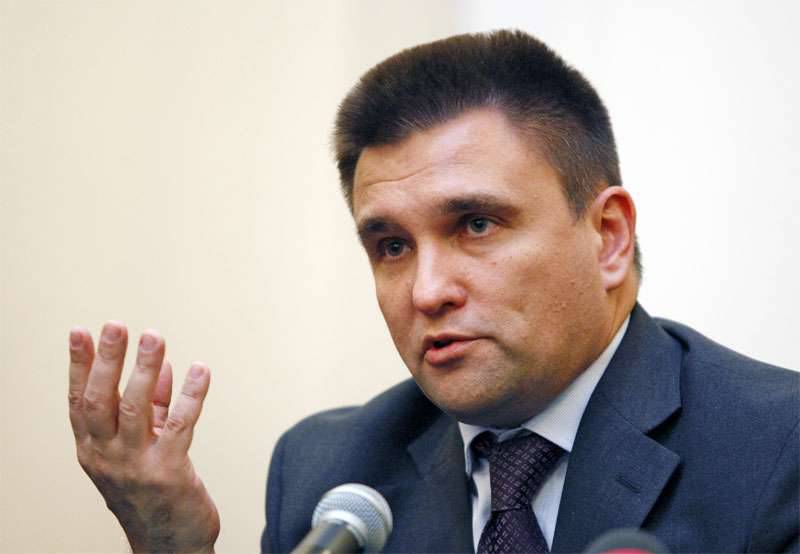 Klimkin made his statements for grateful listeners of the Royal Institute of International Relations of Britain - in London. As is known, London diplomats at all times had a "special look" on Russia, and the present time is no exception. Klimkin is well aware of this, and therefore his horror stories about Russia acquired new facets during a speech in London.
Klimkin said that Russia needs Donbass in order to prevent Ukraine from remaining a "united European power". Further, the Foreign Minister of Ukraine called on the British and all the other "friends of Russia" to continue to put pressure on the Russian Federation.
From Klimkin's statement:
We need European unity. We need unity from the EU and G7 not only in terms of sanctions against Russia. We fulfill our obligations under the Minsk agreements. We are aimed at de-escalating the conflict, but for Russia it turned out to be difficult.
At the same time, Klimkin did not tell how "the implementation of the Minsk agreements by Ukraine" leads to new victims in the Donbas. He did not tell, in particular, that on Wednesday, at one of the checkpoints of the Ukrainian security forces, a minibus with passengers on a mine, which the Ukrainian military themselves had installed in order to "protect the military facility", was blown up. He did not tell about the next shelling by the Ukrainian Nazi battalions of Gorlovka, Donetsk, and the DPR settlements. Yes, and would not the London audience such facts are interesting, because the main enemy has long been defined, and it is for the West - Russia.