The first customers of airships appear in Russia
Discussions about the return to the airship sky are conducted from the end of the 60-x. There is an experimental design work. Should appear and the tasks to be solved with the help of such a vehicle.
The options for the use of airships in the development of oil and gas in the Arctic are being considered - in Russia for this purpose it is planned to use five vehicles.

Flying Supertankers
The era of airships began in World War I, and ended in the mid-30s, when aeronautics finally supplanted
aviation
. The terrible catastrophe of the German "Hindenburg" in 1937 showed their extreme fire hazard. Airships at that time were filled with hydrogen. It was possible to use safe helium, as they do now, but because of the imperfection of the technology at that time, it turned out to be extremely expensive. It is not cheap now, but the price is within reasonable limits (for more details - "Recognized Helium").
Airships could become a competitor to the current cargo
fleet
as well as aircraft of local airlines. Modern sea vessels carry 10–20 thousand tons, tankers - up to 300 thousand, ferries over short distances even more. And although experts say that there is no limit to the carrying capacity of airships, now only 100 tons are being designed, more "capacious" options are only being worked out. But the speed of sea vessels barely reaches 30 kilometers per hour. And airships move five times faster. Skeptics point to the poor maneuverability of vehicles, but it is unlikely to be worse than that of giant tankers and bulk carriers. In addition, sea transportation is carried out only between ports, which are far from always being points of departure and destination. And the airship can fly anywhere without requiring complex infrastructure such as moorings and airfields. He is a crane for himself: it hovered at the right point and hooked and unhooked the load.
Of course, we need giant hangar hangars for routine preventive maintenance and repair, but it can be assumed that they pay off much faster than ports with airfields. In the future, cargo airships are very suitable for unmanned communication. After all, what happens with the management, the device will simply hang in the air until it is taken in tow and delivered to the mooring masts. Moreover, even if the shell is damaged, if it consists of isolated compartments, the airship will not collapse like an airplane, but will fall more or less smoothly. That is, security is obviously higher than in aviation.

Who in the forest, who for the fish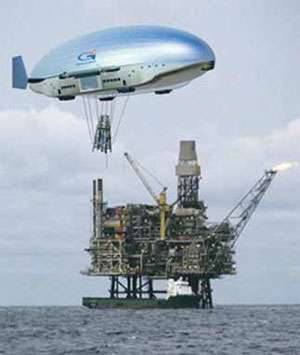 The cost of tickets for the airship, according to calculations, will be comparable to the bus and train fares. And he has a bit more speed.
Airships can be used to solve problems in which none of the known modes of transport is an assistant. For example, due to inaccessibility, millions of hectares of taiga are full of overripe forest, which turns into a windbreak, does not allow young trees to grow, it is very fire-hazardous. The airship will deliver loggers at least where, to organize a point felling, take out any volumes of wood to the place of processing.
There is an acute question about the delivery of fish and seafood from the Far East to the European part of Russia. There is a catastrophic shortage of refrigerated wagons, besides, the train runs from Vladivostok to Moscow for two weeks or more. Airships with a carrying capacity from 100 to 500 tons could fly around the floating bases, collect the catch and cool it automatically, rising to the desired height. The delivery time from Vladivostok to Kaliningrad is five to six days. In the return flight the airship can be loaded with vegetables and fruits.
Airships will also be effective for military transport operations, for the delivery of troops and their supply in inaccessible areas.

When do we start?
However, in order to develop commercial aeronautics, a lot of time-consuming and financial engineering problems have to be solved, which are hardly possible even for rich private structures. Need public shoulder.
Airships on 2000 tons of payload are real. But if they are equipped, as now, with gas turbine engines, then half of their capacity will eat fuel. And if the atomic load? Compact and safe reactors suitable for installation on air vehicles have already been created. There is another beautiful solution - solar-powered airships. Airplanes are already there.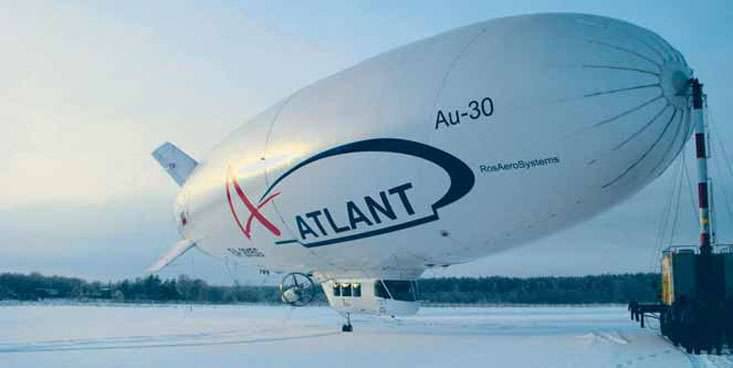 In Moscow, grants from Skolkov are designing an airship on 200 tons. In Chernogolovka, Corresponding Member of the Russian Academy of Sciences Vilen Azatyan develops inhibitor gases that will prevent hydrogen from igniting, which will allow the lightest gas to be returned to dirigible building to replace expensive helium. In Dolgoprudny there is a boathouse in which the local design bureau is already building mini-airships to order. So there is a launching pad for a promising direction in Russia. It remains to find the means.