It will be strange for someone to read it, someone will say, you stretch the Ukrainian yourself systematically and regularly. Yes it is. But I'm walking through the authorities, but still, the authorities and the people are different things.
And if you look, let's say, in historical terms, a very funny picture is drawn. And, if you look at Russia and Ukraine from the height of a historical bird's eye view, it turns out that the difference is not great. One, so to speak, kvass Mazan. And one substance.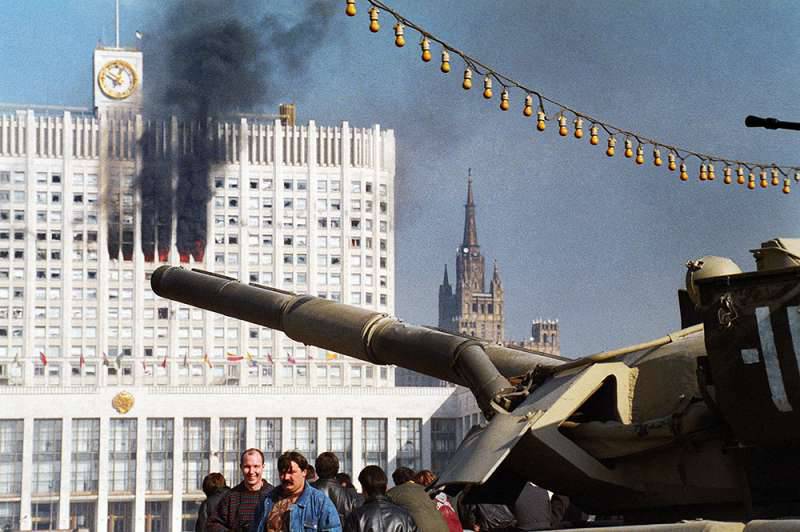 Condemning and discussing the Maidan of the 2013 model of the year and all that followed, we often began to forget that the Maidanians themselves were in full. There was no such? And what about 1991 in Moscow? More like Maidan. And, unlike the Ukrainians, Maidan do not understand why. But against the USSR. And they successfully traded their past for free access to such benefits of Western civilization as jeans, chewing gums and used cars. Well, McDonald's.
What, I'm sorry, Ukrainians worse? We exchanged the USSR, they are the one, the Soviet Ukraine. The only question is that these events divided the whole 22 of the year. That is, our Ukrainians had two decades to look carefully and not repeat our mistakes of the 1993 and 1996 model. However, the food turned out not to be a horse, and at the beginning of the second decade of the 21 century, they didn't bother with the crowd, they flooded the rake that blew our foreheads in the early nineties.
Well, what are they after this exclusives?
The only difference is that 20 has been occupied with something incomprehensible for years. His own. And in our direction did not look. And it would be necessary. Because everything that happens today in Ukraine is the most exact copy of what we had.
Decommunization? Ha! Yes car. What, we have not demolished monuments? Demolished, even as demolished. And certainly in greater numbers than in Ukraine. Just then no one paid so much attention to this. On the crest of universal democratization and the way to Europe or where else we were carried. Who needs an example - let them go to Lubyanka.
Well, about the occasional projects arising demolition of the mausoleum of Lenin just keep quiet. Not because I support or blame, just tired already.
Universal robbed, vouchers, CHIFs, mutual funds and stuff? The same. Only we have Chubais, and in Ukraine - Easter. And the result was about the same. Rich assailants, and who had nothing, remained with the same nothing. And so, that the Russian, that the Ukrainian, rushed, bouncing, in "MMM" and "Hopper-invest" approximately at the same speed.
Well, compare the alcoholic president Yeltsin and Poroshenko ... In general, look for 5 (10) differences. But no, our otzhigal abruptly. But the results were sadder.
I'm all for you what? And the fact that too often began to appear statements on the theme "Ukrainians traitors", "cut off gas and electricity," and so on. Well, tell me, and we ourselves strongly left them? Not really. Just rode in his time. All the difference is that it was earlier, and indeed, there is something to disable on occasion.
If Ukrainians are all traitors without exception, deserving the most negative attitude towards themselves, sort of "sitting right on the perch", not going to fight the criminals out of the government, let's see for ourselves.
We did not cross out the past? We did not calm down our country? Oh yes, the criminal Yeltsin clique led by Chubais was demolishing, and we were all busy surviving. So Ukrainians behave in exactly the same way. Survive.
Here, at least kill, but I can not remember anywhere in the European part of Russia in 1993, the mass rallies and protests. Although, as in my opinion today, it was the most constitutional coup. And we saw the same thing in Kiev in 2014 year. And quite rightly responded. As taught already bitter experience.
Moreover, in 1996, also joyfully jumping, we chose Boriska for the kingdom a second time. Chosen? Elected. And held a referendum. "Yes, yes, no, yes," remember? Remember. "Vote or lose" remember? Remember. Voted, lost.
Is there something different in Ukraine? Did not notice.
What turns out, the Ukrainians, demolishing monuments and voting for outright scum and fascists - traitors, and we, doing about the same thing - no? Are we kinda smarter than steel?
Oh yeah. We have become smarter. We have been taught a lot of things that have passed over Ukraine in 20 years. Including two wars. Moreover, not very different from the Ukrainian civil. The residents of one country also fired at their own fellow citizens.
Nuances, say? Who was behind the creation of Ichkeria? Who wanted a total fire in the Caucasus?
THREE TIMES YES !!!
It was the nuances and different Chechen wars from the Donbass. And precisely because of these nuances, those who should have been victorious won. And that is why the world today, and the world tomorrow. And the Russian Caucasus, as a phenomenon, and not a branch of a caliphate.
But the Donbass is generally a special phenomenon in modern
stories
that Russian, that Ukrainian. The people of Donbass just made that step, which distinguishes them from the Russian of the 1993 model of the year and the Ukrainian of the 2013 model. But this is Donbass, and now it's not about him.
The point is that people are basically the same, in Russia, in Ukraine. The same is not easy, but disastrous. And revenge views with different brooms is simply impossible. Here particulars begin wherever you look.
As an example, do you know who shot down the first Ukrainian aircraft? Just knocked down, and not a cross for it received? The fighters of one of the battalions, which we helped then. Doc and Wolf, father and son. From near Lvov. Zapadentsy. Traitors. The terrorists. And the fighters against fascism at the same time. And from a city that, even in the best of times, was not famous for loyalty, for it is nevertheless more Lemberg it than Lviv. But - the fact.
The fact that there are enough sober-minded but not active social people in Ukraine is also a fact. So we have such mountains. Divan online warriors. Survivors, couples on the web pages of the issuers, but no more. Also traitors? Well, you know, then every second here.
Are we smarter? Are we stronger than the truth? Again yes.
But this truth, where did it come from? Imagine that in these 20 years there would be no Solovyov, Mukhin, Starikov, Kiselev, Wasserman and many others who would not dig into our heads what we have today? Forgive me, judging by the ninetieth, no more Ukrainians would ride away. In the same swamp jumped and croaked.
Who was the main force of the Maidan? Those who are from 17 to 27. In fact, clean Ukrainians. Which our nineties zamorochki along the trousers were. But that all their adult life they dig, that all evil is from us. Shook. Here, we reap the benefits.
And those who were supposed to teach their minds were supposed to be busy. Survival. Do we have something else? Yes, a little differently. Our herd in this age group on the Maidan in the bulk will not go. It generally will not go anywhere. What happens is the maximum, repost will fight on the Internet. Passed in 2014. Exceptions? Yes there is. So I've seen Ukrainian exceptions in the Donbas too.
We are as equal as possible. It is impossible to judge all Ukrainians by the crowd of maydanuty thugs. It is impossible for Sobchak and Makarevich to judge all Russians. We are in the mass different from those and others. We sit, and often we sit on our perch rather smoothly. And the Ukrainians are sitting. And all survive. And someone screams loudly or high jumps. But because they did not take away Russian citizenship from Sobchak or Gaidar, they no longer became Russians. And less too. They are non-Russians, but with citizenship.
But we do not go out on the streets with the requirement to take and throw the same Nabiullina away from our border? In Ukraine they are not in a hurry for the same to the address of Valtsman or Yatsenyuk. Everything is fair, everything is the same to ugliness.
Yes, we are lucky in terms of Putin. Although many of us have recently started crying on the topic that everything is wrong, and Putin is not that, but this is for everyone. Now, if you look at it this way, then Putin is the only big difference between Ukraine and Russia. A sort of bonus to us. Many will object, and I will say this: I would have listened to you if Borisok had spent his entire term, and Ryzhi had put in his heirs. Where would you cry ... Well, somewhere and cry, I understand, without this, some can not live.
Russian, Ukrainian ... yes the same thing in principle. Everything is written from one sheet. And the mistakes are the same, and the ambition is the same. But we, unlike them, are not occupied. It is easier and easier for us. And harder at the same time.
Why have I started the whole conversation? And besides, it is easy to judge from our bell tower. We are all so right and so righteous. And they are very often ungrateful traitors. But gratitude is a bad thing ... it comes out badly.
In one recent article, I compared Ukraine to a madhouse where psychos seized power. And the rest of the mass continues to live and work, as if nothing had happened. Good comparison, most liked it. But keep the thought. No need to bomb this madhouse, no need to send special forces. We must wait for the time when the fact that the psychos have promised a normal one will disappear from their heads. Blood will be less.
You say that blood in the Donbas was and is? Yes. But Donbass, I repeat, the topic is separate. And I am one of those who still sincerely hope that sooner or later, but all those who are involved in blood in the Donbas will get what they deserve. That is, speaking in Russian, a rope. But on the Ukrainian Gilyak. And Ukrainian hands.
You can not blame the betrayal of all Ukrainians. You can not throw these words, you should not call for rotten breeding and all kinds of blackouts. Not every Ukrainian is maydanuty, and not every maydaun is a Ukrainian. There and our bottling enough organisms. And its in our understanding there is full.
Whoever declares publicly that the "Ukrainians are fed up," "the Ukrainians are traitors," first of all pours water on the junta's mill. But such shouts can not help the Russian world, but rather, on the contrary, it is possible to provide good, feasible assistance to the Ministry of Propaganda, which asserts that everyone in Russia is asleep and sees how to annoy Ukrainians.
Help is not necessarily gas and coal. Although I am glad that Putin does not want Egoza or Kars to freeze in the winter in unheated houses. Like hundreds of thousands of the same, just not familiar to me. It is good that our opinions on this issue coincide.
Help is also an understanding that we are exactly the same as they are. It's just that they are worse off now than us. But this is not a reason for gloating or something else. This is an occasion to simply support the way the elder brother should do, who has some of these problems behind. Here it is - in Russian.
That is the opinion turned out. About Russians who are Ukrainians, or about Ukrainians who are Russians. About us, in short. It is clear that the junta, entrenched in Kiev, is in no way affected. As well as her minions, in all sorts of "Azov" and "Dnieper".
But the fact that the triumph of the ideas of the Russian world is impossible without an understanding that there are people on both sides of the border with the same self-awareness is clear and clear to me. I would like for those in Russia who understand this to be more.
And the main thing is to stop seeing in every act of the authorities of Ukraine (and also Belarus, Kazakhstan and other countries) a betrayal by the people of this country.
Then we will definitely build our Russian world.