In the German federal state of Bavaria, the largest railway accident of late has occurred. Two trains at full speed collided head-on at the Bad Aibling railway station (driving between Holzkirchen and Rosenheim). As a result of a train collision, several cars left the rails, more than 150 people were injured, there are dead. German newspaper
picture
writes at least 8 dead. The rescue operation involved hundreds of ambulances, as well as several specialized helicopters.
The report of the German media says that in one of the trains there were a large number of students who went to one of the Bavarian cities to participate in the carnival performance. Are there any dead and seriously injured among children - not yet reported.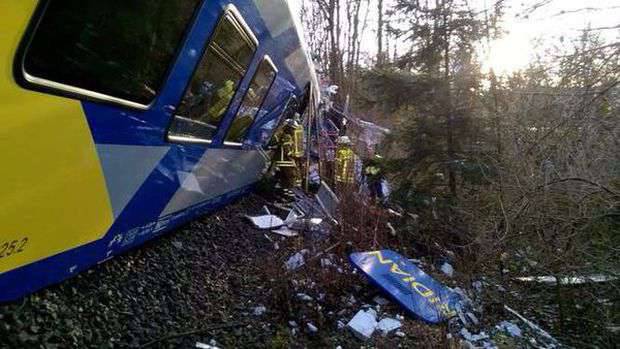 Correspondent
picture
asked the police officers working at the scene of the tragedy, whether the train collision could have been connected with the terrorist act. According to one of the high-ranking police officials in Bavaria, the version of the terrorist attack is not currently being considered. In this case, the police did not report what is currently working version of what happened in Bavaria. Is the accident related to human or man-made factors?
Railway accidents for Germany - a rarity. The refinement of the work of dispatching services and the involvement of professionals with extensive experience in passenger rail transport made Germany one of the most successful countries in the world in terms of safety on the railway. In this regard, of particular interest is the report of the authorities on the causes of the tragedy in Bad Aibling.