In the area of ​​the Syrian-Lebanese border (the valley of Ad-Deb) there have been cases of clashes between the gangs of "Dzhebhat an-Nusra" and the so-called "Islamic state".
RIA News
, citing its own sources, reports that both parties suffer losses. The armed clashes of militants of two terrorist groups in the area (Arsal district (Ersal)) began a couple of weeks ago with the fact that the igilovs had captured the field camp "Dzhebhat al-Nusra".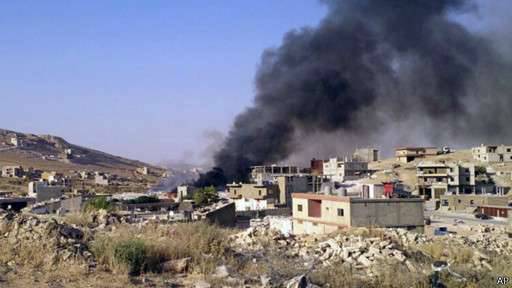 The revitalization of militants on the Syrian-Lebanese border is connected with the attempts of various groups to take control of the border area, in order to then be able to hide from the advancing Syrian army, which frees more and more territories from terrorist groups.
Thus, on the eve of the Syrian armed forces finally freed from the militants several villages in the province of Latakia. This is about the settlements of Al-Wadi Al-Azraq, Al-Khor and Ruvaset al-Suweida. Demining of territories from which militants were driven out is being carried out. Hundreds of terrorists, fleeing attacks from the troops of the SAR and the Russian Aerospace Forces, are trying to leave Syria and take refuge in Turkish territory.
Compressed ring surrounding militants around Aleppo. Here, the SAR army conducted a successful operation in one of the districts - Al-Lermont, eliminating a large number of militants "Jebah al-Nusra" and DAISH (ISIS).