You know, I've never been a military man, I even served the army alternatively for a number of reasons, but I think that I'm not very wrong with the truth if I say that "Almaty", "Caliber", and other equipment are very necessary, no doubt but only in extremely rare situations. It is not so important for the self-defense of a nuclear power, which Russia is today. Even if you equip the army instead of the T-90 with the pre-war T-26, you want to "smell what it smells" weapons plutonium, still will not increase. Do not think that I criticize the military-industrial complex or the government for excessive squandering for military needs, on the contrary, I argue that military spending is not superfluous at all. But today, the main threat to Russia is not the new American ATGM, not Tanks and not even missile defense. The great information war, which has been going on long enough to be noticed, in the event of our defeat will "give" us such consequences that the inhabitants of Hiroshima who died in a nuclear fire startled in the afterlife from horror. Trying to cover in detail all aspects of the information war in one article (perhaps even in a special book) is pure adventure, so I will try to give an overview of what is happening in one particular theater of war, which I know firsthand - on the front of Russian cultural life.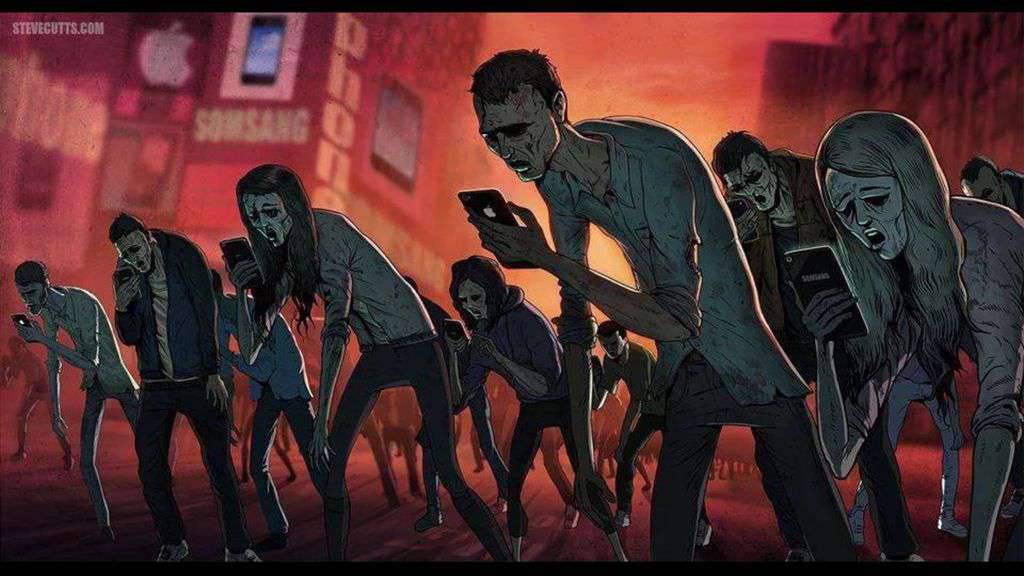 As far as art influences the upbringing of a person, his education as a person, his views, deeds, words and qualities, I think, it does not make sense to tell. Everyone understands how big his role is. But, nevertheless, we often regard art as lightly, as something insignificant, something so abstract and beyond the laws of logic, that there is no point in even studying it seriously. Meanwhile, as already mentioned, art, which affects us in the most direct way, surrounding us from birth to death, from home to work, at subway stations, in squares, in airspace, every day, every minute and every second, is in fact the triumph of logic, methodology and, if you will, the mechanics of emotion, psyche, soul and mind of man. Art is an extremely rational engineering machine of human souls based on the rigid code of laws of nature, and it depends on how music a child has been listening to since childhood, what tales mom tells it, what cartoons he sees on the TV screen. to other people, how it will develop spiritually, intellectually and physically, with what dedication it will work, what ideals to serve, what goals to pursue. And it is the people formed by a particular culture that make up nations and states. So it can be argued that the fate of the state, its future depends directly on how it relates to the cultivation of certain qualities in its construction material - a person, in other words, from culture.
Like various types of weapons, various branches of culture have different influences, have their own scope and also depend on the development of certain types of technologies. Until the twentieth century, literature had the most significant influence on the souls of people, "high" music and theater were slightly behind it, and visual arts and architecture were less influential. The recording and playback devices invented at the end of the 19th century gave impetus to the increasing influence of music. Television and radio, which appeared in the 20th century, on the one hand, significantly pressed all other branches of culture, on the other hand, helped popularize theatrical productions, musical works, and partly literary works. In the end, television has become an independent art form. Nevertheless, the emergence of the Internet can be considered the most significant stage in the evolution of culture. The Internet, on the one hand, allowed man to enrich himself with all the informational benefits of civilization created from ancient times to our days, but on the other, he brought to a qualitatively new level intercultural competition, which leads to ideological diffusion with an excess of eclecticism and internal antagonisms. The network has allowed its most influential players to impose a certain culture on the weaker, if not completely led to the degradation of the cultural level of people due to an overabundance of information.
Culture is conventionally divided into "elite", having an impact on a relatively small group of initiates (or better said immersed) individuals in it, and "popular", that is, folk, demanded in wide circles. As was said, the division is very conditional. For example, operatic art is in principle considered to be elitist, since at the time of its appearance, in the epoch of its heyday, and until recently, it was not accessible to everyone. But the Bolsheviks, pursuing a reform of culture and education, popularized the opera, making it accessible to the masses and educating in them the skills of perception of the sublime and complex art, extracting from it not only pleasure, but also experience, skills to expand the methodological base. In this step and in many others, the Bolsheviks consistently work to educate the high level of spiritual development of the masses when the people (plebeians, if you will) were intensively raised and raised to the level of elitist (patricians). Thus, the phenomenon of the Soviet person is a rather rare and positive cultural phenomenon in
stories
our state.
Popular art grew with the people. It is enough to compare the popular ("pop") singers of the Soviet and democratic periods of our history in order to understand what is being said. The Soviet "equivalents" of modern bilan-arbenin-sukachevs (the above can be described as TSB - stupid, self-satisfied mediocrity, this abbreviation will be used further) were such personalities as Georg Ots, Muslim Magomayev, Aida Vedischeva, Yevgeny Martynov and another whole band of outstanding musicians personalities. It can be said without exaggeration that many modern singers of the elite class can hardly reach the level of popular Soviet artists. The Russian culture of the democratic period has made a confident step towards the degradation of the average level and is intensively moving away from the Russian culture towards the notorious modern Western culture, rotten mincemeat from the scraps of subcultures gathered in the endless fields of feasting marasmus in the West.
Но обо всем по порядку.
The most "influential" and sought-after branches of art that shape our culture are music, theater, cinema and literature. I apologize in advance (I will often do this) to all artists, architects and representatives of other branches of art for not including their field of activity in this list. Their contribution to the common cause is great, but on a modern computer-dependent and button-speaking individual (of which our state will consist in a considerable percentage in the next half century) the beauty of the Sistine Chapel frescoes or the magnificent layout and divine decoration of the Moscow Metro stations named after V. I. Lenin and the beautiful calligraphy of medieval written monuments does not seem to have any influence even on a subconscious level.
Fifty shades of gray
"It's impossible to win Russians, we have seen this for hundreds of years. But Russians can be instilled in false values, and then they will win themselves. "
Otto Edward Leopold von Bismarck-Schönhausen.
What can I say? Do not read, do not read - and that's it! They do not read classics, do not read philosophers (even such popular ones as Marx and Nietzsche), do not read folk tales - a fount of wisdom, do not read scientific monographs. And then what is read? And now we have to read what is called "bestsellers", i.e. what sells well, or, more simply, consumer goods. At the same time, it is pious to believe that from this you become more "individual" and unique. We read Haruki Murakami, even if the author is not bad, but absolutely alien to us, carrying completely different values ​​(it would be better to read Akutagawa Ryunoske - closer and clearer). We read Daria Dontsova! You will laugh, but the degrading, brainwashing detectives have huge ratings (as if not only that her writing was the reason for the closure of Rutrecker). Today, all sorts of parodies (or even clones) are read to the works of the Strugatskys, as monotonous as they are meaningless and useless.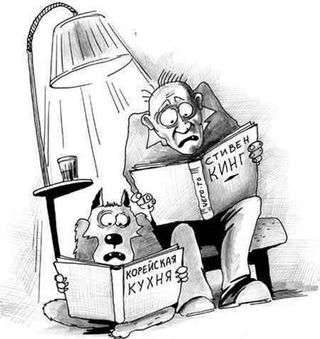 I admit one weakness: I like to drop in the person reading the subway over his shoulder and read with him. So, I don't know, maybe I didn't come across such people, but I have never seen Tolstoy, Pushkin, Turgenev or Dostoevsky read. Our Russian classics, or rather, not so, but this: our Russian classics, has become "irrelevant." From the Russian names one can only hear the name of the paper maker Akunin-Chkhartishvili or Nikolay Perumov. Young people read, as a rule, foreigners are not of the highest class - not Balzac, of course, not Voltaire, you can hardly find the young reader Remarque in the library. And what is read? All sorts of waste semi-finished products, a wide variety of "fifty plates of the first" and other things not burdened with meaning and the idea of ​​garbage. The only thing that attracts the young reader in literary characters today is the protest of a gray personality, nothing but protest, and protest for the sake of protest. Not for the sake of something new, not for the sake of one ideal, but just like that, because there is nothing more outstanding, nothing individual in it, except for his personal and, meanwhile, imposed on him from outside a protest against everything around him. The young reader, poisoned in everyday life with an excess of light, constantly surrounding him, unnecessary, intrusive and imposed, frankly garbage information, is no longer able to digest Shakespeare, Hamlet's throwing is alien to him, like Macbeth he is driven by pride and vanity, and Caesar's words "Trus dies many times until death, and a brave death tastes only once! "they will not awaken anything in it. There is no place for monumentality in his life, no place for global thought, no fatum, no rock, no reverence for titanic personalities, no such deeply Russian feeling as awareness of the need for achievement. All this has sunk into oblivion. The epoch of romantic and deeply carnal, but elevated heroes, on whose examples one can learn, has passed, because we are surrounded by gray and medium ones, even at the mercy of any more or less distinguished personality is sulfur, like dirty snow, because there is no need for fears and hunger fight, love is not sought, it is bought, no meanings are sought, they are imposed, and not convincingly, but categorically. Now they learn by examples of prudent betrayal, cunning, arrogant, arrogant arrogance, and by passion, love, and spiritual impulse, they mean the groundless "hysteric" of the petty, fragile little soul of a deep gray, inexpressive and not outstanding protagonist.
The loss of world classics abroad is not so bad, but by losing our literature, we lose the beauty and culture of speech. I am silent about the fact that now third-graders are completely free to communicate on mats and hair dryers. Even speech deprived of this mud becomes poorer and poorer every day, sentences are simplified, phraseological units that have become incomprehensible become empty, literacy is emasculated and disappears, the meaning of words is lost. Oh, yes ... The meaning of words. Today we do not understand the terms used in everyday life, and this is terrible. Newfangled western buzzwords appear that do not mean something new, which we did not have before, which are not technical or medical terminology (well, there is no adequate Russian analogue to the words "TV", "computer" or "adenoma"), but are called upon to exorcise, replace with us the familiar Russian words. Not a manager, but a manager, not a businessman, but a businessman, not a bodyguard, but a security guard, not a walk, but a promenade. And this is not a necessity, it is, as the satirist Zadornov says, "fashionableness", the desire to cover up one hundred and fifty shades of dullness and inconspicuousness. If you express yourself with words dubbed from Western languages, then you are definitely "cool", you are "in the subject line", not lagging behind. And along with the original sound of Russian words, we lose the possibility of a subconscious understanding and analysis of meaning. We lose Russianness, if you like. We cease to be ourselves. It will only remain to replace the Cyrillic alphabet with the Latin alphabet, the question of this sounds more and more often, and togda na russkoy tzivilizatzii mojhno byd'et stavit 'zhirniy krest.
For a masterpiece and three notes is a bit too much
«
No music is sweeter than the angelic voices of the children, if you don't particularly listen to the words they utter. "
Logan Pearsall Smith.
Honestly, I don't even know where to start. Probably, you need to remember about Russian music from its very inception, to recall its youth, maturity, etc., to finally understand how it has come to such senility, which is starting to happen with it now, in our day.
I think that I will be able to surprise you, but "Black Raven" and "Kalinka Malinka" are not Russian folk songs. Today, real folk songs for an inexperienced listener, unprepared, unaccustomed to authentic music, will be akin to a long lecture on a subject like logic for a young student in love. The songs of the Russian people, which have come down to us since the time of Prince Vladimir, are the national epic about the deeds of the sons of the Russian land, these are epic tune with a very primitive melody with a simple rhythm, legends about work, about heroism, about love suffering, humorous and satirical sketches. They can somehow remind songs of the peoples of ancient Scandinavia and the German lands, also called to teach and educate descendants. But Russian music has one more distinctive quality: throughout its growth, its development as a professional art, it has not lost this main quality - informativeness. This feature, which Bayan carefully carried in the music, put guslars into the strings and sang the narrators, this is the sound that sounded in the buffoon laughter, this same passion that was written on paper, spelled with a spell in the piano keys of Glinka, Borodin, Tchaikovsky. Each time, absorbing new trends from the West, then from the South, enriching themselves with the tunes of new peoples, revealing new qualities, being infused with Tatar pentatonics or a distant Cossack song, she did not cease to be the bearer of our spirit, the information that makes us us. Looking ahead, I can say that modern foreign performers of classical music consider Russian classics to be one of the most complex and original areas, where the vocal melody, orchestral accompaniment, a separate solo of each instrument, all the action is primarily subordinated not to the enjoyment of the hearing, but to the transmission of deep meaning, which the author has invested in his child, literally forging it from his soul and the soul of the whole Russian people. Russian love in Russian music is not the passion of a separate individual for another, it is the craving of one archetype towards its opposite, it is a spontaneous attraction without the right to take a breather. Russian tragedy in Russian music is the collapse and collision of centuries and millennia, this is unpredictable destruction and fall of everything and everywhere, these are flames erupting from the ground, these are scales worthy of the revelations of John the Theologian. Recall at least the opera by Boris Godunov by Modest Mussorgsky. Chronologically, its first act begins at the time when Tsar Boris came to power, and the last one ends at the time of the birth of the troubles and death of the elected king. How many destinies, how much blood and tears will spill through your mind and soul in a few moments of life, how much knowledge, how much experience, feeling, information (not naked, not from the pages of Wikipedia, but what you have lived and passed) you will receive. And then go to "Khovanshchina", whose narration begins immediately after the unrest and ends in the era of the accession of Peter the Great. And again the sea of ​​deaths, hopes, images of those times, our genetic memory, our spiritual heritage. This is the testament of the ancestors to us, which is pronounced in such a monumental voice, such a thundering sound, that such engines as the great Richard Wagner simply fade and grow dumb.
Soviet music, the new hypostasis of Russian music, was born with a volley of Aurora, grew out of a biting slogan and was tempered in the fire of revolution. Her childhood was spent in marches "On the valleys and on the hills", "Varshavyanka" and "Internazionale", new trends, new melodies, new horizons tirelessly submitted to her. "Boldly, comrades, in step," "Cossack Steppe is led by Comrade Stalin" and "Life Has Become Better, Life Has Become More Fun" - we were told new songs, not a single note, without ceasing to be carriers of our "code". From the first volleys of the Great War of the Fathers did not subside, "Get up, great country!" And led our glorious ancestors from the impregnable walls of Moscow to the den of the beast, crushing the fascist armored armadas of our people with a mighty choir of hearts and will of our people! »The song helped to restore the destroyed, create and build new. She said: "I love you life!" - sincerely, without pathos, she sounded from the heart with the voice of Bernes, she gracefully fluttered notes of Lyubov Orlova, she led the overtones of Georg Ots. "Life, do you remember the soldiers that died, protecting you?" - she did not forget, she demanded from the descendants to remember. Every note was pithy, not a single superfluous ringtone, every word was weighted, it was appropriate for the place and time.
And what is happening now? After the collapse of the Union, everything collapsed except for the earnings of a few small characters: the economy, the combat readiness of the army, education, medical care, etc. and the like, and culture along with them. I am silent about the fact that many musical genres that the Bolsheviks popularized again became "elite", and some areas were completely sectarian. Well, reading, raise your hand those who are familiar with the first concert for piano and Tchaikovsky orchestra? And who remembers at least some melody from the cycle of piano pieces "Pictures from the exhibition" by Mussorgsky? I'm right, that there are very few of those who can boast acquaintance with the music of Rachmaninoff? Our origins are forgotten. Our music subsides. Moreover, the quality of performers of "elite" genres falls with each new generation. But what to do with modern folk music, which is now called the import word "pop" (pop is not the one with censer, but from the word popular, populus - the people)? You will forgive me, but if at the beginning of 90's "pops" there was at least something from the music, then today's "non-joke-pro-minibuses" are really built on three (THREE!) Notes. And what about the texts, which are now persistently called text? What do they have from Russian culture? NOTHING! A modern song does not make sense at best, otherwise there is either a sexual attraction of an unformed personality to the opposite sex without a gram of real feelings, or an attraction of an unformed personality to undeserved material benefits. At the same time, either without a rhyme, or with a "poor" verb rhyme, or with such a "mysterious" rhyme, such as "how the motor works - having won my heart". Even the relative new genre for us "chanson" (Fr. chanson - song) managed to poison the alcohol-criminal "romance". From among such talented, extraordinary, witty people, do they dig up such garbage that they write "music" and "poems"? Composers and poets can not be called. Of all the modern groups, perhaps, only Lyube can rightly claim the right to be called the bearer of Russian culture (for which Rastorguyev has a low bow), although I could be mistaken, and there are a couple more teams from "popular" who are still "ours" spirit and mind. But they cannot compete with a horde of "bilans" unencumbered by the brain and soul. Just do not say that culture and music change over time. On the contrary, culture and economy (the latter to a greater degree) change time. And with the advent of capitalism and the culture of the gateway, the time of vulgarity and bad taste, timelessness has come to us. But who, I'm sorry, makes us listen to this? And our need for beauty, only in the absence of beauty, we listen to these slops. At best, all three-note masterpieces allow various "information bureaus" (or, as they are called "mass media"), which replicate these ugly clones, reproduce them, replacing them with real creativity. We had Tchaikovsky, who amazed with the beauty and richness of his melodies, now we have rap, which doesn't have those at all, and, in my opinion, music genres are mistakenly classified. We had Vysotsky, who, in a hoarse voice, was pouring out his soul, now there is Dzhigurda, who, in a hoarse voice, belches his own lack of spirituality. What will the music of our era tell descendants? Is it possible to call modern Russian music Russian? What will the prostituted female writers, singing thongs, bluish, sugary boys in tight shorts tell our future generations? How then will historians and culturologists call our time, because the names of "unrest" and "lost generation" are already taken?
Theater starts from the gallows
"Never forget that the theater does not live by the brilliance of lights, the luxury of scenery and costumes, spectacular scenes, but the ideas of a playwright. A flaw in the idea of ​​the play can not be closed by anything. No theatrical tinsel will help. "
Konstantin Nikolaevich Stanislavsky.
The Russian Drama Theater, Opera and Ballet is a whole galaxy of names, a century of tradition, a reason for more than a dozen major scientific works, a milestone in the history of world art history. But the most important thing is that all this is an important, visible part of our life. We reviewed the opera a little higher, and nothing bad can be said about Russian ballet. Unusual attention to trifles is a traditional feature of the Russian drama: every smallest trait of a person will be, like a magnifying glass, brought to the judgment of the viewer, every action will be carefully studied from all sides. It is the skill of impartiality, with a considerable amount of mockery, to show flaws, stupidity and shallowness or, on the contrary, point out a subtle feat of household soot smeared by household, the ability to carefully extract it for the eyes of the viewer is different for Gogol and Chekhov. Under the magnifying glass, we are examined by Fonvizin, Ostrovsky, Tolstoy, and many other great creators of the Russian drama. And this idea is brought to us by beautiful artists: Papanov, Mironov, Etush and many more great names. The Stanislavsky director's school is the best in the world, it has gathered in itself all the most significant and beautiful things that have happened in world art, this is not a school of "games" - it is a school of "life on the stage".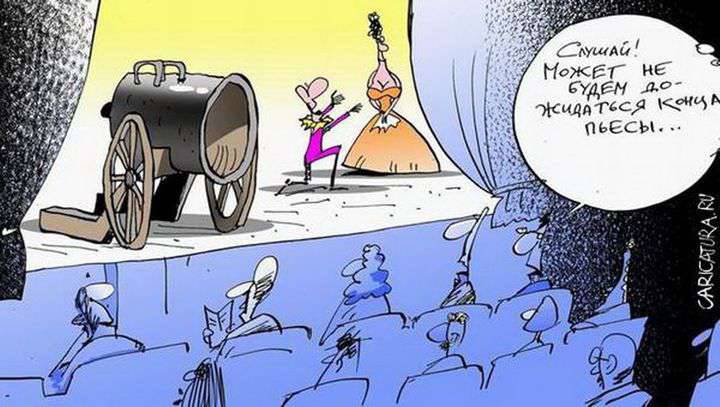 The theater has always been and remains a stronghold of Russian art. And to say that everything is good in him and right, yes it is impossible, it will be dishonest. And the fish rots from the head. So far, the trend of "modernism" has touched, mainly metropolitan theaters, and has affected not the quality of the actors' play, it is still fluctuating within the normal range (although the preparation has now fallen below the baseboard compared to the Soviet period, and the younger generation of actors differ from the Soviet actor like a walnut Sun, while possessing tremendous aplomb and self-adoration). And it's not even in small funding. The problem is that the young Russian who replaced the Soviet directors for some reason are very often moral monsters. Yes, I'll say this straight. I would like to recall one case for example.
Remember, at the beginning of last year under the walls of the Moscow Art Theater. Chekhov was thrown pig head. It would seem that the event is ordinary, and the action was carried out by so-called "Orthodox activists" (who before Orthodoxy, as I in a known position to Betelgeuse) under the guidance of the notorious Dmitry nicknamed "Enteo". But when you try to watch the same play "The Ideal Husband" from Wilde's play, you begin to understand that there's nothing left of Wilde in the play, and the head of this "play", Konstantin Bogomolov, must lie at the entrance to the Moscow Art Theater. I would call "this" pornography, but to be honest, I'm very much afraid to insult pornography with this, for "God's Thought Action" is much dirtier and more disgusting. If we discard emotions and look purely technically, the plot in the interpretation of the "genius of directing" is reduced to prostitution, cattle, drug addiction, to such phenomena as pederastia and pedophilia. We can say the following about the director's work: incomprehensible, naive childishly and horribly vulgar "inter-line" metaphors, clowning, racing and crying. The potential audience is those who are in the setting of the play like a fish in water: drug addicts, "moths", representatives of the political, if you can call it that, elites and other people from the "beau monde". A vile impression, but their majesty "sees this." What do you need to have in your head instead of eyes to see like this? By the way, about the head. I look at the physiognomy of this creature, who imagines himself the creator of art, and I do not leave the feeling that before my eyes the representative of "those". I mean unconventional. And even the presence of the wife of this creature does not in the least change the situation (and even complements, if we recall how in the same "ideal husband" he divided the Darya Moroz topless). Obviously, as a teenager, Kostya did not enjoy the attention of the opposite sex.
And then another "genius" is recalled, which "sees it so" that it is disgusting to look at others, and at the same time it has the above described features of degradation - Timofey Kulyabin. By the way, too, apparently, gay. This one managed to play Wagner's "Tannhäuser". And there is such a Dmitry Chernyakov - a bigger fish, but the handwriting is the same: vulgarity, twisting the plot, "nudity." Also gay The homosexual lobby, by the way, is extremely strong in theatrical circles, the Ministry of Culture, and even in the State Duma. Fortunately, the farther from the capital, the less this dirt is in the theater and in everyday life.
By the way, for reference: all of the above "so seeing artists" are graduates of Europe's largest theatrical university - RATI GITIS. There is something to think about ...
Kinah won't, electricity is over
"If Mikhalkov is the sun of Russian cinema, then we are weary of the sun."
Vladimir Semenov.
Lenin not for nothing noticed that the movie - the most important of the arts. Being a synthesis of theatrical action, artistic perspective, music, cinema embodied a huge arsenal of techniques and methods of influencing the viewer. In this it until recently had no equal at all. Soviet cinema is a truly inexhaustible source of worldly wisdom, wit and just good mood, which we are served in a beautiful design. It is difficult to list all the quotes that are dazzling with our films and which still live in our Russian speech, decorating and enriching it. But we need to consider our culture not only through the prism of such beautiful comedies, melodramas, television plays and musical films. In our history there is an event that divides our life, our self-understanding into "before and after" - this is the Great Patriotic War. It is relevant even for the generation of the "nineties", who know about it only from the stories of participants, books (which are hardly read) and films. We will talk about war films, taking for comparison modern Russian war films, American, Soviet and Chinese films.
Speaking about the standard of the military film, one cannot pass over the silence of Ozerov's epic film "Liberation", which shows us those tragic and glorious days from the perspective of a battle artist: from a bird's eye view we see hordes of fascist tanks, a dry line sounds orders and directives, the scale of the action is so high beyond the perception of mortal man, that it is impossible to realize and feel the individual tragedies of each participant. We see the battle with the inner gaze of the commander, we and our marshals are fighting for a just cause.
Quite differently, the genius of Sergey Bondarchuk in the film "They Fought for the Motherland" shows us the war. We are immersed in the inner world of the heroes of the film and already with their eyes we are looking at the battlefield and the war in general. Here is the jolly fellow and Lopakhin balagur, defying in front of his colleagues and local residents, this is Lopakhin, who took off his mask, and to the surprise of the viewer, turned out to be a serious person who linked his fate with the fate of the fatherland. Here Zvyagintsev, terrified by the burning wheat field, is a somewhat narrow-minded, straightforward and a little petty person, who meanwhile without a shadow of a doubt goes to the bayonet at the fascist machine gunner and defeats him not so much with skill as with vigor and fighting spirit. Before us stand the most different images of very different people in different situations. After the bombing, in which many soldiers are killed, life-affirming laughter is heard over the trenches: you cannot kill everybody, we are still alive, which means we have someone to fight back the fascists. Here the soldiers are preparing for the crossing and one of them, who cannot swim, is worried about this all the way. But all of them, so different, with all their strengths and weaknesses, do not give up their banner, they fight for the Motherland and sacrifice their lives without any doubt.
So filmed in the Soviet Union. There are many pictures with different directions of thought, but they all lead to one thing: we fought for our Motherland in that war, we put 27 of millions of lives on the altar of freedom, we have something to be proud of, we have something to strive for and where to grow, we have from whom to learn and from whom to take an example, and we should not forget anything and always be ready to work, fight and, if necessary, die for the right thing. So brought up in the Soviet Union.
American films about wars, with a huge reappraisal of the US contribution to World War II and a clear inferiority complex about Vietnam, however, do not suffer from poor quality. They paint their soldiers with brave, strong, courageous and immaculately devoted to their American dream. "Saving Private Ryan" is perhaps one of the best examples. But for contrast, it would be very interesting to see the creations of a younger and more inexperienced Chinese cinema. The film describing one of the events of the civil war in China, which in the Russian version is called "In the name of honor" or "Signal to gather," struck me, frankly. Firstly, naturalism is beyond all praise and at the same time without enumeration (Mikhalkov is still learning and learning). Secondly, look at the attitude to your army, history, to your people and, most importantly, to the party. There is no decryption of "stupid" orders; there is not even a drop of "liberal" co-operation. There is an order, albeit suicidal, but justified by military necessity, - it is necessary to carry out. The film is a wonderful military drama-biography, in which there is a place and scale and the disclosure of personality and wisdom. Look, you will not regret. Another film - the film about the Xinhai Revolution "The Fall of the Last Empire" - all that was said about the previous film, plus Jackie Chan.
And what does modern Russian cinema present to us? A huge mountain, sorry, guano. Starting with the saboteur overflowing with clichés of "Diverters", ending with lies, slander and filth poured on our Fatherland from the womb of Alexander Atanesyan along with the film "Bubbles". This word is applicable both to the author of this creation, and to the author of the same story. But all this is drowning in the sea of ​​all kinds of "gums," "our rush," the dumbest serials and no less stupid films that our cinema, led by Zvyagintsev-svetozarovymi-funnel, produced. All equally soulless, unprincipled, and most importantly, low-quality. But we have two large chicken eggs, personifying the modern Russian film business, and we'll talk about them.
I have already mentioned in the article of the brilliant actor, director and screenwriter Sergei Bondarchuk. He is, without a doubt, a genius, and nature is resting on the children of geniuses. Alas, the Bondarchuk family was no exception.
I do not know whether Fede Bondarchuk was destined to follow in his father's footsteps, but he went and went very confidently. At first, he was engaged in plagiarism, making clips for our pop star stars. copying the concept from western clips to the last frame. Then he became interested in cinema. Well, okay, his biography is freely available, it makes no sense to retell it. We are interested in his films about the war. Let's start with "9 Company", which the author managed to call a "historical film", the old-fashioned slogan of a slogan from some of the Rambo films: "They wanted to be loved ..." And what did the author show us? I am sure that one of the readers gave a military duty in Afghanistan, and someone served there as a father, uncle or grandfather. Ask if they had a regimental prostitute? They kissed her feet together? Probably not. Then compare the behavior of the Afghan warriors with the behavior of the main characters of the film - it seems? Also no. At the same time, the film has wonderful, expensive special effects, make-up, decent camera work. What is the matter? Was it worth it to strain so as to throw mud at people who defended our borders against dushmans, and our youth from the flow of drugs? I have the answer. But Fedya didn't even understand how miserable from the point of spirituality he filmed the movie. It's just that Fedya is a representative of the "golden youth", who from childhood did not know the word "no", who always had everything, and did not have to give anything for it, he was surrounded by similar "gold" ones. And it is the type of behavior of his "contemporaries-fellows" that he transfers to his heroes - hysterical, cowardly, devoid of logic, with bleached teeth, selfish, pampered children. It is this type of heroes that is chosen mainly in his film "Stalingrad".
Yes, the name of the city of Stalingrad is sacred to me, and therefore I will call Bondarchuk's film (with the help of blogger Evgeny Bazhenov) "They fought for Katya". In addition to the dumbest blunders in terms of technology (like a fallen burning Heinkel that did not explode, rafting with poles across the Volga (who was on the Volga, understand) and crookedly drawn T-4), there are no less logical blunders (like the plan attacks on German positions without prior liquidation of oil storages with artillery and opponents, who sit in neighboring buildings, look at each other and do not shoot), and most importantly, a completely incomprehensible position of the narrator. The protagonist is snotty and hysterical, he is fighting not for Stalin and not for the Motherland, but for Katya, who is "used" by the whole platoon, the words of a fascist officer that all Russian bandits and bastards are not refuted by anyone (i.e. the author agrees with this), the Soviet sniper for the entire film only burns on women from among the prisoners, and not on the Germans. You can write a lot, even very much. But only one conclusion can be made: Fedya Bondarchuk is a cheap clip maker, a typical representative of TSB, who would like to make a good film, but there was not enough brains or spirituality. Is it our next "redhead" business ... Guess who is the enemy of Russian art in art №1?
Boyar Mikhalkov is an extraordinary and quite talented person, but he also has a number of drawbacks that may be inherent in the representative of the "gold" ones. And all this grows from a generic inferiority complex, expressed in a disproportionately great delusions of grandeur. Like his memorable dad, well, Nikita Sergeyevich would very much like to be a nobleman, so that with titles, yes honors, and even altogether, with slaves! But here, no matter how cool, but there is not a drop of blue blood. No, that's all. And Nikita is so angry at the whole Russian people: they don't bow to his belt, they don't appreciate the unearthly talent, and even the flasher is taken away, the Herods. Himself, he is ready for anyone to get a nice penny to wave his hat and lick a famous place. And Nikitkino's sick ego climbs out of all the cracks. First, he became a brave warlord Kotov - good, but not enough. And the film - rubbish and little pathos, and most importantly, almost no narcissism. He tried himself in the image of Tsar Alexander III, breathed the royal air, felt better ... And then it started. Perhaps, after "His among strangers ..." there was not a single worthy film with him, but from the point of view of mud, he updated his highs powerfully. Having resurrected the murdered Kotov in "Burnt-2" and poured into this already phantasmagoric, deprived image of a ton of his hypertrophied ego, without any realism, he decided not only to throw mud at us, but also our ancestors, and still alive veterans face spit all the poison that has accumulated over the years. There is only one hero in this "picture" - MIKHALKOOOV! He can dunk Stalin himself with his face into the cake, figure it out with the help of a fantastic finger holder (I didn't understand what it was) with the hooligans and in general, he is a superman betmenovich. And besides this, the classically stupid "soviet" commanders, tanks on sails, the pilot of the Luftwaffe, defecating directly from the open cabin of the "Junkers", and mountains of corpses. Someone called Nikitkin "The Citadel" death pornography, but I will say that it is Nikitkin "spiritual" masturbation, it seems to him that he has thus risen. And in fact, as it was an empty place, it was never filled. I will not list all the stupidity, bloopers, and most importantly, the anti-Russian meanness with which this movie teems like an old sofa with bugs ...
By the way, so as not to say that I only see the bad, I recently watched the "One" movie, a pretty good movie. Hmm ... That's it!
Epilogue
I wanted to write about computer games, there is also nothing good, but I decided that it would be a bit too much. As always, questions arise. How come to life like that? Who is guilty? What to do?
How come? Yes, very simple. There is no state without ideology, contrary to the shameful 13 article of the Constitution of the Russian Federation. Simply, if there is no state-national ideology, then there is anti-people. We skipped our popular ideology together with the Soviet Union, allowed traitors to power. They looted our economy and now, so that we could not see their frauds, chop the best Soviet educational system in the world into pieces, and in case we suddenly see and understand, they ruin our culture, divide us into religions and nations so that we never did not come together and did not start an irreconcilable struggle with them. While all kinds of Medinsky (worthy followers of Serdyukov's) are sitting in the Ministry of Insecurity, our culture will collapse and degrade. The word "spirituality" now risks becoming archaism and has almost become synonymous with "religiosity."
Our economy (and, therefore, the base of Russia as a state) is not even a market economy, it is of a colonial-raw type, we have the bowels, they give us beads (dollars). No need to swear and call for my "patriotic feelings." We are so strong, so we are surpassing the West, we are a superpower, and we ourselves do not know which side to "thrust" with an oil needle into Europe. This is the nature of our "economy" and its "crises". If someone does not understand, just in case, let me remind you: with this type of economic relations, a large population is unprofitable. The pipe is one, the more "owners", the less for each individual is his piece of benefit. The benefit is divided: 99% - to Miller-Chubais, 1% - to the people. But the first is a shame that this 1% has to be torn from itself. Thus, from the point of view of the current economy, about 140 of millions of excess people, useless hungry mouths, live in the Russian Federation. It is clear that to kill them en masse and immediately fail. Therefore, a program of hidden genocide enters - deterioration of education, reduction of cultural needs and their maximum simplification (ie, "mundane"), deterioration in the quality of food, health care, complication of self-realization of the "real" economic sector with subsequent destruction (agriculture, industry - read new budget plan). In this case, Medina (very reminiscent in the image of an old woman lender from the famous work of Dostoevsky and Yatsenyuk), Livanov, Skvortsova, Medvedev - they all sit in their seats, and their work is more than effective. Shoigu is also in place, but someone must protect riches from capitalist competitors if they suddenly want to take it by force. No wonder Putin is "pleased with the work of the government." And judge for yourself: many families today are simply not able to support children, not to mention their studies; pensioners die earlier because of the inaccessibility of expensive drugs and the lack of qualified doctors; young people are buried in "smartphones" and do not see what is happening around them, rapidly degrading; an organized working class cannot be formed due to the lack of developed industry and the consistent "finishing up" of what remains.
Therefore, it is not necessary to think that the process of the disintegration of our society is natural and natural. It is ruled by our ruling elite and is a reflection of its economic interests. Western society is being destroyed by similar methods, and it should be noted that our people would not have suffered such a defeat as in a "civilized" Europe. What is the legalization of homosexuality, direct, orderly destruction of the institution of the traditional family and the statement of the interests of "minorities" over the interests of the majority. Therefore, they will cook us over low heat, like a frog from a famous parable.
Speaking of the fact that the theater is extremely politicized, it should be noted that politics, on the contrary, is extremely theatrical. Take a look at the scene (Channel One, for example) - this is the main character! Putin! His image reads Roland (a mighty, devoted hero who cannot be broken), something from Ilya Muromets (heaviness, Russian epic power), some Darth Vader (light bloom of a dark charismatic anti-hero, usually associated with service in the KGB) and Of course, Don Quixote (a romantic hero, a bit tragic, who is always looking into the distance and therefore does not see the problems described in the previous paragraph). We also have a vile dwarf traitor, his role is played by Medvedev. In addition to Don Quixote / Darth Vader, there is also a devotee Sancho Panza / General Maximilian Virs - Sergei Shoigu. There are two court jester: Zyuganov and Zhirinovsky. They are comic characters, antipodes of each other, designed to distract the viewer. There is a whole herd of thievish boyars, who play the extras. So that it would not be completely faceless, it contains familiar faces like Kobzon, Kabaeva, Valuev and others. There are also funny, not far-away priests of ancient gods like Mizulina and Milonov. There is a mandatory and their "evil orcs" - the so-called "liberal opposition". Their main striking force is the mass media and the local trolls. Here on the "liberasta" dwell in more detail.
It is not a secret for anyone that we still do not get rid of "everyday anti-Semitism" (I myself sometimes believe in the Jewish conspiracy). That is why the bulk of the "liberal opposition" is selected from the Jews: Dmitry Bykov, Yulia Latynina, Viktor Shenderevach, Boris Nemtsov, Valeria Novodvorskaya, Yevgenia Albats, Alexey Venediktov, Andrei Makarevich, Leonid Gozman, Iosif Rayhelgauz, Garry Kasparov, Tatyana Lokshina, Sergey Kiriyenko and so on. The full list will take about fifteen pages. Vladimir Soloviev and Anatoly Wasserman clearly do not fit into this concept: they show by their example that not all Jews are "liberals", and therefore not all are enemies. I am willing to argue that all kinds of "Moscow soup" is completely on providing one of the "privile" corporations, and they play the role of "orcs" to divert people's anger and not allow it to concentrate on the real enemies - the destroyers and plunderers of our economy.
You can also give an example of such a phenomenon as "theater in the theater." Vladimir Vladimirovich will help us with this (I feel rightly that the spinal cord will feel like I will be "minus": after all, I have mentioned the holy in vain). If such actions as refusing to introduce a progressive tax rate, diplomatic failure (namely, failure) on the Ukrainian front (ideally, Ukraine should have been part of the Russian Federation already from 2008) and abstraction from the pressing problems of the people are completely understandable, since they affect economic the interests of the real owners of our country, here's how to deal with the Yeltsin center? Judge for yourself. Is it advisable to spend money during a crisis to open and maintain such a center during a deep crisis? No, nobody needs this center. Will it raise the GDP rating? No, we remember too well the rule of His Drunkenness. What then is the meaning of this center? Everything is pretty trite. This is a curtsey, a sign of respect in the form of a theatrical interlude for the direct superiors of the "guarantor". So he outlined his position and showed that he is with "them", and not with us. Similarly, the so-called "de-Stalinization" can be characterized. The very name of the Father of the Nations horrifies the entire United Russia company, and the Russian people, on the contrary, associate with the very "justice above the law" to which he subconsciously and consciously seeks.
Therefore, the situation unfolds "somewhat differently" than the First Channel draws to us. We are stubbornly confronted with the West and with some post-Soviet republics (Ukraine, Georgia, the Baltic States). This is done by the efforts of the United States and England, with the tacit support of the Russian elite. This is necessary not to hide the class character of the war. For us, ours are the working people of the whole world, the enemies are the exploiters, and "their own" exploiters are not a bit better than the "Westerners". They have one goal - your arched back. The Russian people, the Ukrainian people, the peoples of the Baltic states, Central Asia and the Caucasus should unite into a single whole, and this is possible only with a clear understanding of us as brothers, as one people. While we are at war with each other, while we are being poisoned, we are weak. When we pinpoint our enemies and win the first battle, we will not be stopped. To do this, we must revive our united, high culture, gain knowledge and experience, discard false prejudices.
By the way, we are not so bad. The orgy of vices and horror in the place of the once great European culture, which is created in Western countries, is powerful evidence of this. Despite the fact that serious damage has been inflicted on us (entire generations have been brought up as consumers, the Russian language is being destroyed), the consequences of which will still be felt for a long time, and the blows will be delivered more than once (just recently, they burned and want to evict in Pushkino, is about to introduce a new "tribute" for artists in the form of the law on SRO), we have more chances to win this battle than anyone else. We are required not to forget who we are, not to let our loved ones degrade, to constantly develop ourselves, unite and learn, learn and learn again.
Make sure that while playing at the computer, your child does not shoot at the Russian soldiers, even in the game. He should know exactly who his enemy is. Make sure that he does not watch modern low-grade films that carry a hostile program and values, let him watch the Soviet cinema, so it will develop properly. Let him read our and foreign classics, let him listen to music that has been proven for centuries. Keep your speech clear, get rid of barbarism. Temper the will, train your body and mind.