About 20 surface and submarine ships from the Russian Navy today are being renovated and upgraded, according to
MIC
with reference to RIA
News
.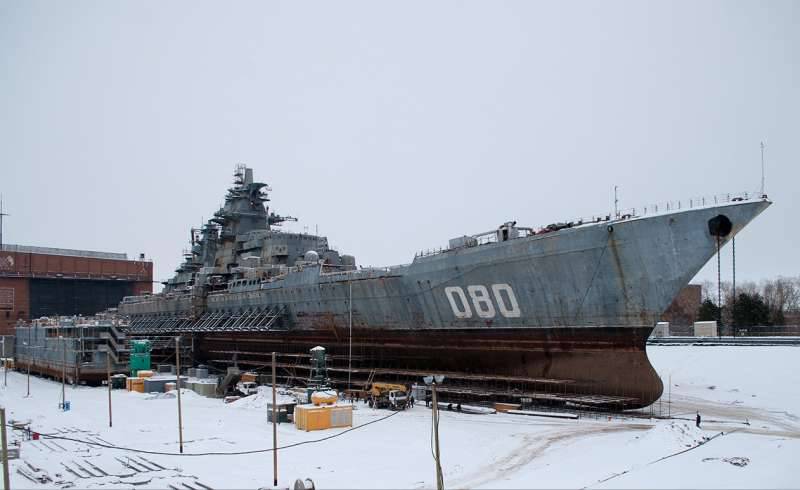 "Today, 20 ships and submarines of various projects are being repaired and upgraded, including the active modernization and repair of the Marshal Ustinov missile cruiser, the Admiral Nakhimov heavy missile cruiser, the large Admiral Chabanenko large anti-submarine ship anti-submarine ship "Admiral Tributs", patrol ship "Fearless", large landing ships "Kaliningrad" and "Oslyabya", "a source in the Russian defense industry told the agency.
According to him, the Peter the Great missile cruiser of project 1144 will be put into repair and modernization in 2019. After its completion in 2021, it will be composed of
fleet
there will be two updated heavy nuclear cruisers of this project.
Work on the Admiral Nakhimov, which is currently being modernized at Sevmash, should be completed in 2018.
"After the modernization," Admiral Nakhimov "and" Peter the Great "will act at the head of groups of surface ships," said the source.
Help "MIC":
"The TARKR project 1144" Orlan "- the world's largest non-invasive strike ships with a nuclear power plant, designed to defeat large surface and coastal targets, providing integrated anti-aircraft and anti-submarine defense.

The ships of this project have a displacement of 25,8 thousand tons, their length is 250 meters, the crew is 759 people. "