The head of the General Staff of the Armed Forces of Ukraine, Victor Muzhenko, reported to the military attaches of foreign countries on the progress of his inspection visit to the Donbass, which Muzhenko continues to call the "ATO area". According to Muzhenko, he visited several strongholds of the units of the Armed Forces of Ukraine and found out that "the Ukrainian servicemen are motivated and ready to perform all the tasks facing them."
UNIAN
cites a statement by the head of the Ukrainian General Staff:
I have a pleasant impression of this visit. We have really motivated personnel, really professionally trained and ready to carry out all the tasks that they face.
At the same time, Muzhenko added that Kiev "will react to a surprise check of the Russian troops" near the border with Ukraine. True, the head of the General Staff of the Armed Forces of Ukraine immediately stated that the Russian army was conducting a "readiness check in connection with large-scale exercises scheduled for the summer." That is, Muzhenko's message, to all appearances, should be interpreted as follows: the exercises of the Russian army take place under the tireless vigil of the Ukrainian "motivated" troops, and therefore everything is under control ...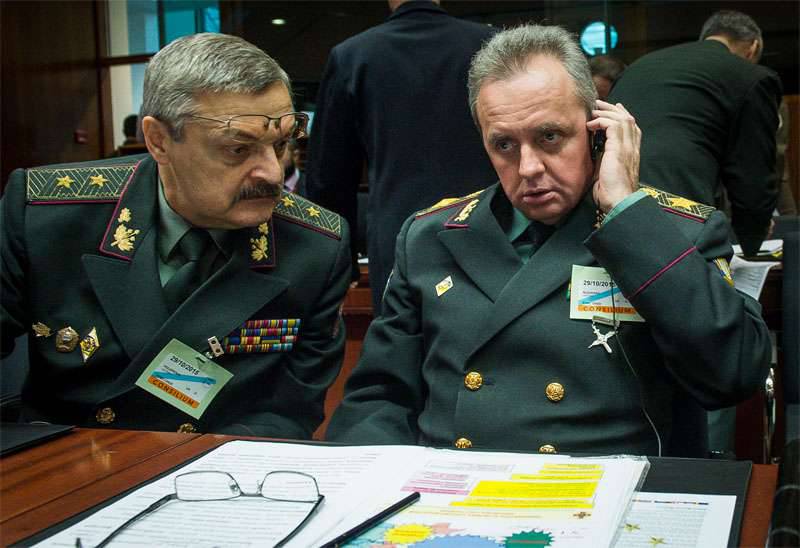 Photo from October 2015. Muzhenko - right
During the same speech to foreign military attaches, Muzhenko said the following:
We have confirmed (by whom? - approx. "IN") the facts of the participation of Russian troops in the battles for Debaltseve - this is clear. Whether Russian Defense Minister Shoigu was there directly at the time, we did not have such information. But there is no doubt that everything was done with the knowledge of the leadership of the Ministry of Defense and the Armed Forces of the Russian Federation.

I think that all the actions of the Russian troops take place on the relevant orders and orders of the top military-political leadership of the Russian Federation.
It is strange that Muzhenko did not reflect on the topic of whether the Supreme Commander-in-Chief of the Russian Armed Forces Vladimir Putin was personally in Debaltseve? ..