In early February, the Voivo group, which includes the manufacturer of military wheeled vehicles Renault Trucks Defense, signed a contract with the French defense mediator company ODAS to supply Lebanon with 200 armored vehicles for Saudi funding, the blog reports
bmpd
with reference to Jane's Defense Weekly.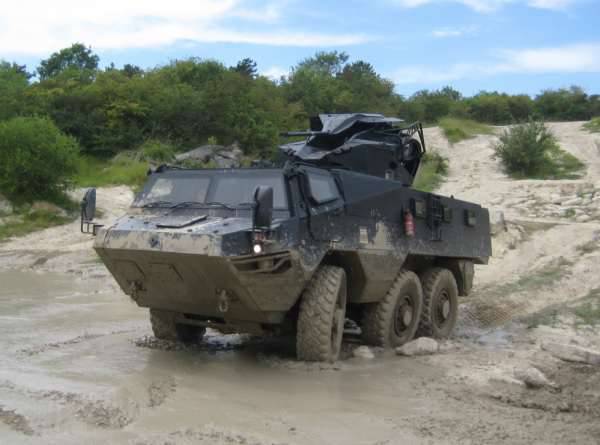 One of the prototypes of the Renault Trucks Defense VAB Mk 3 armored personnel carrier in the variant with the combat module BAE Systems Land Systems South Africa TRT-30 with the Russian 30-mm automatic gun 2А42 and the paired 7,62-mm PKT machine gun
The article notes that within the framework of this contract, "Renault Trucks Defense will supply the Lebanese army 100 new VAB Mk 3 armored personnel carriers with 6X6 wheel formula and more 100 light Sherpa Light armored vehicles with 4xXNNX wheel formula."
According to the magazine, "in total, within the package of $ 3 billion for the Lebanese Armed Forces, in addition to the indicated wheeled armored vehicles, it is planned to supply 24 self-propelled wheeled 155-mm / 52 Nexter CAESAR howitzers, six self-propelled Mistral 2 air defense systems on the chassis of light armored vehicles VBL, six Embraer EMB-314 (A-29) Super Tucano combat training aircraft, seven Airbus Helicopters H225M Cougar transport helicopters, several Airbus Helicopters SA 342 Gazelle light helicopters (available with modernization) with ATGM NOT, three large missile boats of the Combattante FS project 56, anti-tank weapons, Airbus Defense & Space TETRA communication systems, and others. "
"Jane's Defense Weekly" recalls that "in November 2014, an intergovernmental agreement was signed between France and Saudi Arabia on the allocation of the last 3 billion dollars as military-technical assistance to the armed forces of Lebanon, with the order of the corresponding weapons and property mainly in France" .
In addition, Saudi Arabia has promised to allocate an additional one billion to equip the security forces of Lebanon.