Andrei Zagortsev's books are dangerous to read in the workplace, and not only that - they are swallowed up in the same breath, quietly absorbing time, so for the flashing creativity of this military writer, you need to choose the moment. Andrei Zagortsev is widely known in narrow circles - his "City", "Sailor SpN" and other works collect a lot of comments, are sent, quoted. What's the secret? In the author's professional knowledge? Or in the irrepressible sense of humor, which even the first Chechen campaign can turn into an exciting action movie? Andrei Zagortsev himself answers - in his characteristic style.
Also discussed were such sensitive issues as the possibility of melee battles in our time, the right fighting spirit, the hunt for humans, and "hazing" in the army.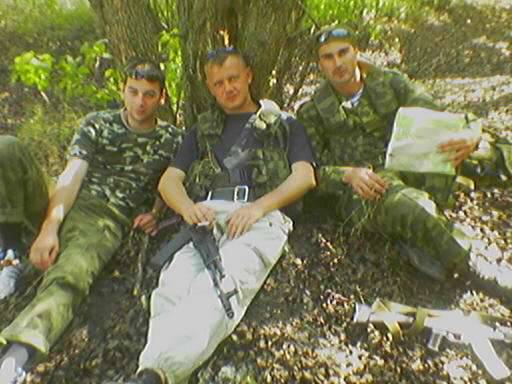 A. Zagortsev with Arab comrades
- How did you start writing? If your books were not published, would you write for yourself, for entertainment?
- I started writing years in 5, by hand. First letters, and then connected words. I wrote sentences for 6 years. He wrote before they began to be published.
- Readers' attention is important to you? Or is the creative process itself important?
- It is important to state that idea exactly as it spun in your head, to read and understand - aha, that was exactly what I thought. Well, attention, of course, it's important to be cunning here, but I don't see much reason to chase ratings.
- One of the readers indicated in the comments that your works always describe how the characters carefully prepare for operations, think over and discuss all possible scenarios (which is reasonable). Is such a skill transferred to a "peaceful" life?
- Well, today they wanted to make a pilaf, they made a plan, calculations, performers, organized a connection. I was in charge. It seems all is well.
- But seriously?
- I see nothing frivolous in the pilaf. First, get the normal rice on unfamiliar terrain. Who can be? Is it in stores? Or private owners? What can you take from us, and what from the locals who will go? Is it far? What can incidentally take? How much time will turn around? Who to send? Send one - so he is a moron, the second, normal - on duty. So, on an increasing heap of questions, what is so frivolous here ..
- In the autobiographical work, Sailor SPN "Break" laughs at a colleague who read the fashionable book of Suvorov-Rezun at that time about practicing hand-to-hand combat on "dolls" (suicide bombers). Do you think this was not? In Stalin's time (there is indirect evidence).
- And here are indirect? Looking for real. Maybe it was somewhere, but not in the system of special and military intelligence, as if there were no real facts. The fact that specialists who served time, namely Japanese prisoners of war who collaborated on a voluntary basis, attracted this fact. Maybe then inflated, do not know ..
- What do you think about the possibility of engaging in hand-to-hand combat in our high-tech time?
- About hand-to-hand fights, I don't know. Most likely, a unit that has reached the handshake with the enemy in the current high-tech time should be worthy of the comment by A. Lavrov.
- And in your experience were such?
- No.
- your friends, acquaintances?
- Well, someone flooded. I do not consider it a manuscript for example, that once someone drove a butt into the scoreboard.
- This is the enemy in battle?
- Yes, xs - ran through the house, someone jumped out to meet. Maybe our kind of infantryman, there were no complaints.
- And when you were a sailor, what were you taught to which Republic of Belarus? Especially, given the specifics of your service.
- RB-1, 2, but basically there was no special system - what is strong, then sharpen, low-kick, for example, or head to nose. Someone shots went well and suffocating, someone a good drummer. The killing mix was obtained when a boxer with a set of punches was put on a pair of kicks and a pair of grips, or a sambo wrestler with a percussion technique.
- What about RB under water?
- We are not - I did not serve in the mining company. In a company of underwater mining - there is yes ... We are not - other tasks.
- Judging by the book, sparrings and competitions held? What are the rules?
- Well, while you are standing, it means that you can fight, or for the obvious. For technical advantage rarely gave the victory.
- And working with weapons trained? And against weapons.
- Well, it enters into the RB complexes, and mostly at will. For example, I still juggle with different sticks with all kinds of sticks, someone there with a knife, crud, all the walls in the cockpit izlohmatil.
- Sticks - is it your own, or under someone's guidance?
- Even before the army could, circus taught. And then already in the applied version, some of the Easterners suggested something, but it seems to me that there's no philosophy there. It all comes down to how strongly and suddenly you go to a certain place.
If the sailor - the head in the sledding of Santa Claus - train him, do not train, there is no sense. If he aspires, then learn a little bit. Just developed the desire to learn something.
- And how did this aspiration develop? How?
- How how? It's very simple: "Am I a sucker, worse than others?"
- By the way, in this work (Sailor of the Special Forces) you act as an apologist for non-statutory relations (hazing). But after all, the geographical names laid out from the bodies of soldiers and sailors are also bullying.
- Do I mention the geographical name Yshtyk-Kyuel, or Lower Pyshma, laid out from the bodies of sailors?
- You do not have, but in the text you regret that now there is a struggle with hazing. And what, putting the names out of the bodies is a statutory thing?
- Well, how did you learn to walk without falling? If it were so simple, for no reason at all, you got up and went, deliberately skirting the dangerous areas, would you now have a self-preservation instinct? Would you know that at full speed fit forehead into the sofa is not gud? Parents' words would have the same effect as lobovuha, for example, with a wardrobe?
Now a sailor soldier is suffering at dinner with a choice of dishes, but in a trench he did not eat three days. A third-party organization with a salad bar wouldn't it be, well, a little, "fussy"?
- How will bullying help him? Someone she breaks at all. Or "the strongest survive"?
- Especially if some ... allowed to put something out of their bodies, the problems are not in hazing, but in the very fighters who allowed it to be done in the commanders - from the platoon commander to the company commander.
- So this is hazing.
- Brains will allow faster to include. And if the man himself fell, then no one will lift him. And do not blame everything on others and cruel grandfathers. Or a fighter or not.
- Was it terrible to go into battle for the first time? Do you think it happened in Transnistria, judging by the passages of the story?
- Not. Not scary. But then when I realized that it was ...
- What happened then?
- Scary, p .. c.
- And when you eliminated the first opponent, did you feel anything? Again inspired by excerpts from the story about Transnistria.
- No, really nothing.
- Do you agree with Hemingway that nothing compares to the hunt for a man by fascination?
- Not. I am not a hunter.
- What drives you? The service is clear - this is "work". And in the same Transnistria that moved?
- Legs.
- In your opinion what should be the attitude of a fighter? Should this be berserk aggression, or a cold-blooded attitude to work?
- Work that needs to be done well and on which much depends.
- By the way, judging by the City, you did not feel some kind of hopelessness?
After all, it was the first Chechen one with its confusion and confusion.
- Well, so either panic or fight. It became clear that no one would help you, so when I first got something without a hitch in the warehouse, it was a shock. How!! Just no problem ?? There is no way!
- Readers want to know - will there be a continuation of the City and the Sailor of the Special Forces?
- No, there will be no sequels, although there are some not exposed stories from those series.