We present to your attention an interview with one of the founders of the so-called. "Russian styles" - Andrei Vadimovich Gruntovsky, who, in addition to teaching hand-to-hand combat, has been engaged in literary activity for many years, and also runs the national theater. Every year he holds wall battles (with blows to the head, with gloves) in Petersburg. Andrei Vadimovich shared his view on hand-to-hand combat.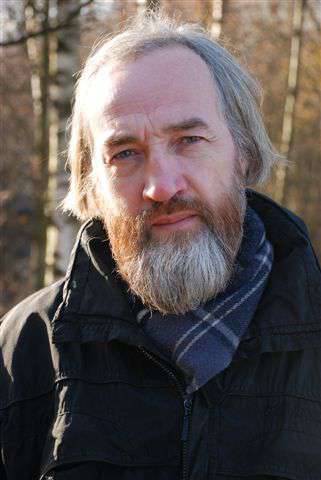 A.V. Gruntovsky
1. Characteristic style (school, direction) in one sentence
- Our St. Petersburg school is the only one left - the traditional school of Russian hand-to-hand combat (the term was introduced by me at the beginning of 80) - my father began to teach immediately after demobilization (1954), and since then classes have been held continuously.
2. Traditional ethnographic? After all, Vadim Iosifovich, as you write yourself, gained knowledge in the army. Or is there something else?
- There is only one plan. If the school is really ours - national, then call it ethnographic or authentic, etc. - all without a difference. I wrote about this more than once. Yes, he went through the village fist school (like thousands of others) yes, he gained system knowledge in army intelligence. But this is one school. And practical teaching is very different. I give one to the students, the GRU officers are different, but the essence is the same. But the school, for example, Kadochnikov, is the processing of Spiridonov, and he himself wrote and said that he took Jujutsu as a basis. So here we have nothing to do. Well, many other schools that now call themselves Russians, in one way or another either have other (non-domestic) sources, or (like, for example, Ryabko) strong alterations and distortions of our school. The fact is simple: classes with army men were held from before the war, during the Second World War and until 53, and my father demobilized 54 and began to train himself, and the last 30 years are already me.
3. And what are the signs of this school (system knowledge)? How to distinguish it from others?
- In a nutshell, it is difficult to explain. Firstly, a special folk plastic. For example, you turn on the TV - how much time is needed to understand: is it movie or American? I think a second is enough. So I see in our style a person works, or boxing, karate, etc. In the past, by the way, boxing was more plastic - it looked like we were working ... now we have forgotten how. Well, a set of equipment - because we have in the application section, everything that is not allowed in martial arts. This is how combat sambo arose - Kharlampiev left what is possible for training combat - this was called "combat sambo", and what is not possible - it was then that they called it "handwriting"
The program consisted of 4 items: handwriting, knife fighting, bayonet and fire. Now the troops know almost nothing about it or do it in the manner of karate and so on. Well, "combat sambo" - due to non-secrecy - partly preserved (littered with boxing and karate). But this was only the base for the manuscript. The oldest handwriting is almost none.
4. Please describe the technique and tactics of this manuscript.
- I wrote the book "Russian fist fight", there are more than 400 pages and only slightly outlined the topic. It is appropriate to speak only about concepts. Well, according to my own observations: more than once I held seminars for combat sambo trainers (there were KMS men, masters and MSM there) what was observed: from what they were given in army intelligence (after all they were given under a nondisclosure subscription) 50 % In throwing technology - almost 100%, in shock - almost nothing (only within the limits of modern boxing) - that is, 5-10% In painful, liberation - much has been preserved, but there are no practical options. you can evaluate 50% Kicks - now they do everything on karate (no joints, ligaments do not know at all) degree of preservation - 0%. (bayonet battle, knife - very distorted - 30%) Tactics: well, nobody does the game work. Group fights are not involved (and no one can do it). the division of the battle into three stages in preparation - no. And since most of the equipment was gone (and this means that people followed the subscription), then the training methods were also lost. And they, in my opinion, represent our golden fund.
5. But in your school they are preserved? What technique do you train? According to the school of military intelligence, or with an emphasis on the ethnographic direction?
- Yes, at school. But I have already tried to explain - programs can be very different: one thing is young people, another is professional athletes, and the third is military. An athlete, no matter how high a level, requires a completely different preparation than the military one (for this purpose Kharlampiev developed combat sambo. By the way, the star went through the Invincible Channel recently - complete fiction. I heard about his trip to Pamir). So the British once in the 19 century, almost everyone in their box forbade (elbows, knees, etc.) and right - they just killed there. And what is the "ethnographic direction"? This is also a wide range. I have developed a program for folklore festivals - many already use (but these programs may be different) - again for whom: for folklorists who study combat dance, a fist rite or for the military, etc. For example, I conducted a "wall" and for the military, it is also interesting for them to participate in Shrovetide. That was an urgent need to wean from boxing, but they quickly get it from their neighbors ... but these are details. An army program may be narrow or wider — it does not matter (these are specific tasks: to whom and for what), but it was based on the people's (i.e. ethnographic), and not on ju-jitsu and other things. That is, the army team have developed and systematized popular experience, so I think this school is traditional.
6. It makes sense that different people need different training programs. Can you tell us more about Kharlampiev's trip to the Pamirs?
- About the Pamirs, nothing interesting, it's me to how legends are created. He traveled to the 30 with the guys from the Physics Institute. and climbed the Pamirs (fond of mountaineering). Yes, there Basmachi darted around, but he didn't intersect with them and, moreover, didn't collect anything in a notebook, because Sambo had already been created for a long time, and in the movies they made an action based on a foreign template, where Sambo was opposed to karate - and another is not very high. Although in general - the film is kind and patriotic - but no connection with reality, except for the scene.
7. Andrei Vadimovich, it is impossible not to ask the following question - given that the "old man-made hand" has practically disappeared - do you have students who have fully adopted their knowledge from you?
- Pupils are all over the country. But "fully" to adopt - it's necessary to train 30 yourself. A lot of guys grabbed something and taught. There are those whom I did not see at all, but they refer to me, there is nothing ... I looked at the English Sherlock Homs - there was a reconstructed old box. A bit like us - but this movie, of course ...
8. Interestingly, your father has been trained, it seems, for a month. Any differences in teaching?
- The seminar itself took place a month in the Kiev Military District. Workout on 8 hours per day. But they selected the guys who were already well prepared. Father, he not only mastered the fists in his youth in the village, but even before the seminar he had already served for three years and was the division champion in wrestling and still in shooting from the revolver. In addition, they participated in hostilities against Bandera (1951-53). What are the differences? - I just try to keep and develop what was.
9. By the way, speaking of your book Russian Fistfight (which sustained 5 reprints and should, I think, be in the library of every Russian (Soviet) Belarusian lover) - how did the symmetry table appear?
- The table I had a dream (straight, like Mendeleev) on it you can paint any movement - from a gymnastic exercise to a ballet performance. For her, several people have already defended their candidates, and some have defended a doctoral one. Theoretical development - this is my work. But it would not have been possible if there were no wonderful training methods for army intelligence officers. (Army, by the way, was no longer in 53, and everyone was in the GRU, but by inertia they were called, like during the war years: army intelligence).
10. The so-called "Russian style of unarmed combat" has been known to the general public for more than a quarter of a century - 25 years. Can you give your assessment of the past stage and share your thoughts about the future of "Russian style"?
- At the beginning of 80, I came up with such a combination of "Russian hand-to-hand fighting" (this is the first samizdat edition). It quickly took root, and at the end of 80 the "Russian style" appeared. It seems that Lebedev introduced it (see "Youth Technique" for 1988). On the one hand, it is good that people show national identity. The same Kadochnikov - how would he look now, if he continued to be called "Soviet style"? Many are looking for, creating novelties. Others believe that demonstrating kick-boxing (and even in kimono) is the most Russian style. In general, "Russian style" I consider an unfortunate term. Russian combat is fundamentally different from both the east and the western martial arts. This is not the "style" of something generally accepted there. A lot of all sorts of rubbish - "contactless battle" and so on. Why, by the way, serious people in the Ministry of Internal Affairs and the FSB have become critical of everything "Russian"; they can be seen already got any inventors. Neither I nor my father have ever engaged in self-promotion, and probably those figures whom I myself involuntarily called out of non-existence will create a lot of noise. But God is with him. What to say about the future? I have written a lot of articles about Russia and books (this is my main vocation - literature) - now it is decided whether Russia will be at all or how Europe will roll into the abyss. If it is (I would really like it), our school will be in demand, for the obvious will become obvious. And whether I live is not so important.