The newest Russian Su-35C fighters, who arrived at the Khmeimim airbase in Syria, recently made their first combat sorties. Until the moment of application in Syria, Russian Su-35 X-Generation 4 ++ fighter jets did not participate in combat operations. A couple of planes, while in the air, are able to control and then attack several targets at once within a radius of up to 400 km. Taking into account the fact that the readiness of the aircraft to take off is not more than a minute, Su-35С turns into a truly formidable
weapon
in the syrian sky.
TV channel
LifeNews
on its website presents a video of the first
departures
aircraft from the airbase "Khmeimim" in Syria.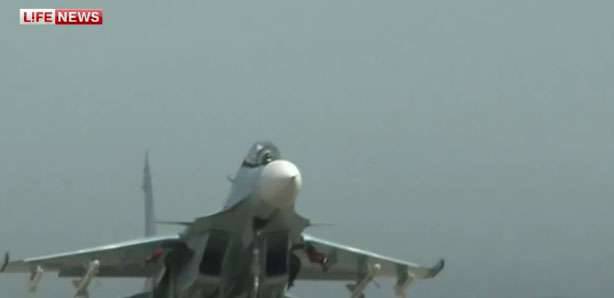 It is planned that the Su-35C, which in Syria is, according to the latest data, four units, will use their full potential. And this potential is very great. The aircraft can attack right up to 8 of various targets, both air and ground. Its combat load is up to 8 tons.
If we talk about the speed of flight of the Su-35S, then it can fly to anywhere in Syrian airspace, taking off from the Khmeimim air base, within 15 minutes. The main task posed to the crew of the Su-35S in the Syrian Arab Republic is to ensure security
aviation
groups when performing combat missions.