Group press service
"Ukroboronprom"
reports on the development of "the latest shock unmanned aerial vehicle." If you believe the statements of representatives of the concern, then in the current year they should create a sketch of the drone, develop design documentation in 2017, and then proceed with the direct work to create a drone UAV.
Yuri Pashchenko, deputy general director of Ukroboronprom, for aircraft manufacturing and production, said that "the newest drone drone will be able to destroy even a tank." At the same time, Mr. Pashchenko added that striking a target would be just one of the functions of the UAV. In addition, the drone carrying the combat load can be used for reconnaissance purposes.
Yuri Pashchenko:
Technique of this level will be able to significantly improve the defense capability of Ukraine, and most importantly - to preserve the life of Ukrainian soldiers.
At the same time, Ukroboronprom recalls that not so long ago the Ukrainian Armed Forces received the first Ukrainian unmanned
aviation
complex - BPAK-MP-1 "Spectator".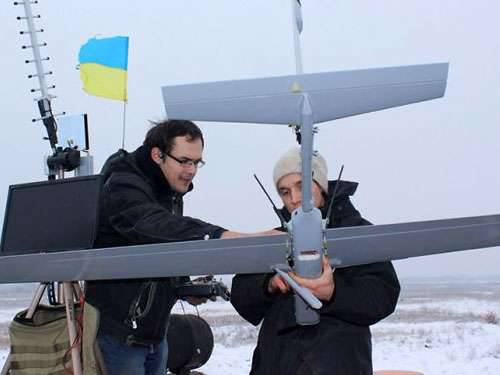 Developed "Spectator" (translated from English - "observer") by the teams of the enterprise "Meridian" and the Kiev Polytechnic University. The complex incorporates three tactical UAVs and a monitoring and control system.
Ukroboronprom plans to demonstrate the first sample of the "intelligence-reconnaissance" drone at the end of 2017.