After taking control of the key settlement Osman in Dar'a province, the Syrian army develops success in this direction. Thus, the militants of the SAR armed forces, together with representatives of the people's militia and the patriotic opposition forces of Syria, took control of several blocks in the administrative center of the province, the city of Dar'a of the same name. We are talking about the Al-Manshiya and al-Mahatta quarters. On the territory of these quarters, Syrian troops defeated several detachments of militants "Dzhebhat an-Nusra", taking possession of three units of military equipment.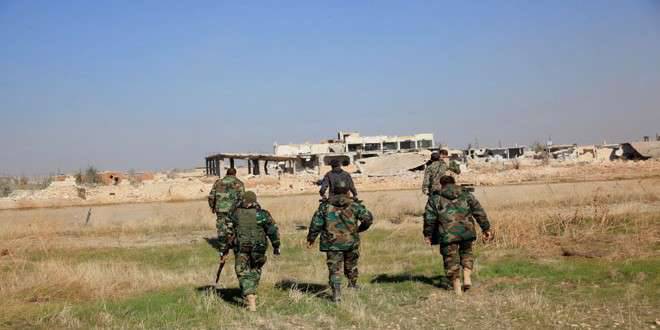 In the village called Ataman (Dar'a province), Syrian troops took control of several buildings, entrenched to deliver striking blows to the positions of terrorists. In the village of Al-Yaduda of the same province, the mortar battery of the Dzhebhat al-Nusra militants was destroyed. It is reported by the news agency
Sana
.
Meanwhile, in the village of Osman, liberated from militants, work is being carried out to demine buildings and territories. According to the Lebanese TV channel
Al-Manar
, during the assault on Osman, at least 36 terrorists were destroyed, many militants simply fled from their positions.
With the support of the Russian Aerospace Forces, the counterterrorist operation continues in other provinces of Syria. In the province of Deir-ez-Zor, two vehicles of ISIL militants filled with explosives were destroyed. These cars igilovtsy planned to use to commit new terrorist acts. As a result of the elimination of two mined cars in the village of Huweijat al-Mriayya, several dozen terrorists were killed.