The official representative of the White House called the perpetrators in the breakdown of negotiations to resolve the Syrian conflict. Considering the fact that it was the White House that defined the "guilty", they ("the guilty") were expected to be "the Assad regime and the states supporting it". Sounded and the word "Russia". And the terrorists who donned the costumes of the Syrian opposition, as well as their main sponsors, have nothing to do with disrupting the negotiation process according to Washington ...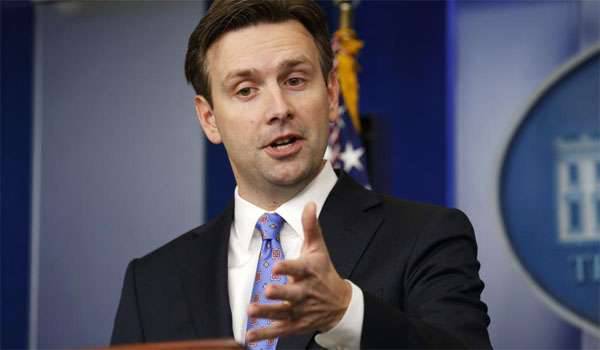 Mr. Ernest quotes
RIA News
:
First of all, we consider the Assad regime to be responsible, but those who support it, including Russia, also bear some of the responsibility. Russia's military actions undermine the political process — the more successful their military operation is, the more support is given to the Assad regime and less opportunity to engage in constructive political dialogue.
Russian permanent representative at the UN office in Geneva, Alexander Borodavkin, outlined the position of the Russian Federation on the actual failure of the negotiation process. According to the diplomat, the absolute culprits of the breakdown of the negotiations are the representatives of the so-called Syrian opposition, who were once assembled by Riyadh (Saudi Arabia).
Alexander Borodavkin:
The reason for the suspension of the negotiations was the departure of part of the opposition from Geneva, who were elected at the conference of opponents of Bashar Assad in Riyadh. Moreover, other parts of the opposition, formed in Moscow and Cairo, as well as the internal opposition, which arrived from Damascus, would be ready to continue the negotiation process. The government delegation also did not intend to leave anywhere. Who is to blame for the suspension of negotiations, it is clear - the opposition, who arrived from Riyadh.