It was expected that the contract for the purchase of Eurofighter Typhoon 28 fighters by Kuwait will be signed on January 31, but this did not happen. The manufacturing company Finmeccanica explained this with "administrative and procedural" delays, reports
bmpd
with a link to the Air & Cosmos portal.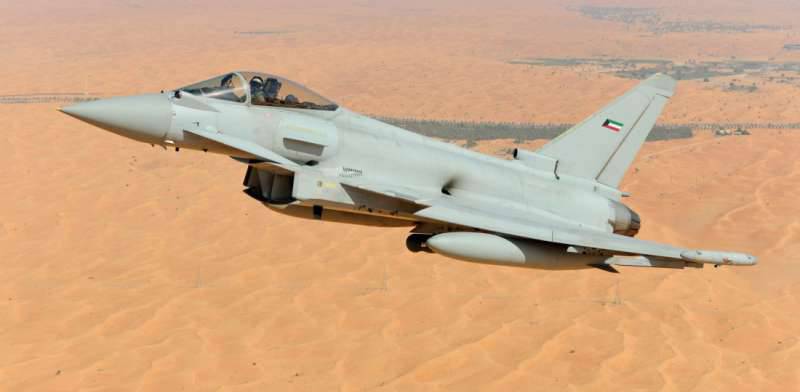 Estimated image of the fighter Eurofighter Typhoon Kuwait Air Force
"The signing of an intergovernmental agreement by Kuwait and Italy for the purchase of single 22 and 6 twin fighter Eurofighter Typhoon became known in September of 2015. Finmeccanica group will be the main contractor for their production and will be delivered from the Italian production line. Kuwait will be the first recipient of fighters in the version with the new Captor-E radar with AFAR developed by the Euroradar consortium led by the Italian company Selex ES, "reminds the resource.
Italy now intends to send its defense minister, Robert Rinotti, to Kuwait to sign the final contract.
According to the portal, the conclusion of the contract was postponed "because of the unresolved issue of training pilots."
The Ministry of Defense of Kuwait insisted on training pilots not in Italy, but in the UK "because of the language barrier." Nevertheless, the Italians insisted on their own, and the Kuwaiti pilots will go to study all the same in Italy. They prepared a program for them for 18 months.
It is noted that "together with the aircraft, the transfer of which will begin in 2019 g, will be delivered the Storm Shadow cruise missiles and Meteor medium-range air-to-air missiles."