Last year was rich in Russian
weapons
premieres. Among them is a model of a promising marine infantry fighting vehicle (BMMP), presented under the code "BMMP Platform", presented at a naval salon in St. Petersburg, reports
Messenger of Mordovia
.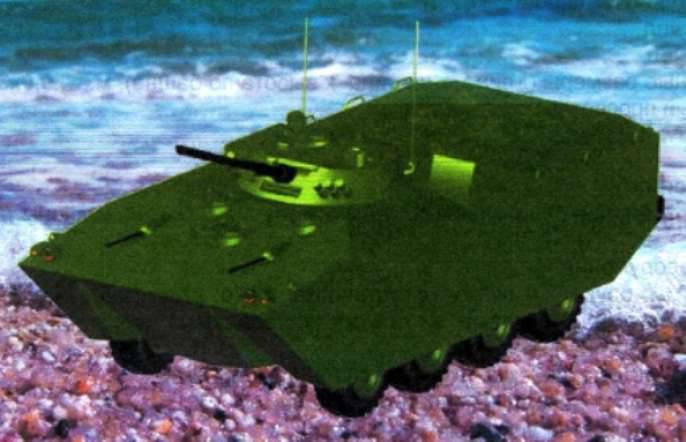 The layout appeared as a result of the announced competition for the work on the topic "Research on the creation of a promising platform for the naval infantry units"
fleet
».
"With a weight in 30 t 700 kg, it should hold three crew members and 10 paratroopers. The fighting compartment is of the same type with what is installed on the BMP-3: 100-mm gun, an 30-mm cannon paired with it, as well as a machine gun of the 7,62 mm caliber, "the newspaper writes.
The length of the machine - 9 m, width - 3,4 m, height - 2,94 m, clearance - 450 mm.
"The vehicle will have a water jet propulsion unit, a special transformable body to reduce hydrodynamic drag. Thanks to the powerful gas turbine engine GTD-1250 with a capacity of 1250 hp, which has proven itself well on "flying
tanks
"T-80U, BMMP will be capable of developing a maximum speed on land of at least 55 km / h", - the author of the article, Lev Romanov, gives the characteristics.
According to him, "when driving on water at sea waves to 2 balls and a wave height of 75 cm, she will be able to carry out continuous movement at a speed of at least 37 km / h."
These characteristics will allow the Marines to carry out the so-called "over-the-horizon landing", "when the floating combat vehicles leave their ships en masse at a distance of 40-60 km from the coast and go at maximum speed to landing areas," the author notes.
According to Romanov, referring to Russian experts, "the creation and adoption of such military equipment will dramatically increase the capabilities of the Russian marines."