The day before, in the capital of Somalia, Mogadishu, an emergency landing was made by an airplane of a local airline that made a flight to Djibouti. Some time after the takeoff of the liner, an explosion occurred on its board, which literally snatched a piece of skin. A321 airline pilots
Daallo Airlines
able to deploy the aircraft, which managed to rise to a height of more than 3 thousand meters, and put him at the airport. According to official figures, two passengers were injured on a Somali flight. At the same time, the Somali national news agency reports about one dead.
Representatives of the Somali forensic services began to inspect the damaged aircraft. TV channel
CNN
, referring to a representative of the investigative brigade, reports that on board the airliner on the flight D3159, traces of explosive were found.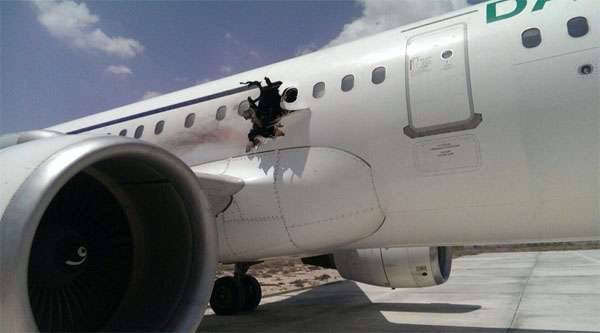 On board at the time of the explosion were more than 60 people, including crew members. After depressurization of the aircraft, passengers used oxygen masks. The evacuation from an airliner that had landed urgently at Mogadishu airport was a success. The wounded were taken to the nearest hospital.
None of the terrorist groups has claimed responsibility for the explosion on board the Somali airline airliner.