Yesterday, the ceremony of raising the flag of St. Andrew and introducing the deep-sea rescue device AC-40 of the 18271 project (Bester-1) into the Pacific Fleet took place in Vladivostok, the blog
bmpd
with reference to the portal "Shipbuilding.info".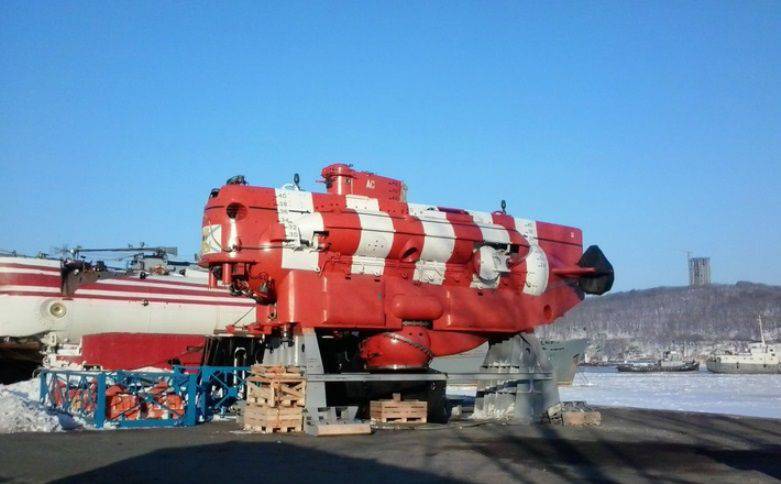 The rescue deep-water submersible AU-40 of the 18271 project ("Bester-1") in Vladivostok, January 2016.
The device was built in St. Petersburg on the "Admiralty Shipyards" and launched in July 2013, since February 2015 has been tested on the rescue vessel "Igor Belousov" (project 21300С). In late November, the Russian Navy was commissioned.
"MUH AC-40 is intended for staffing on the rescue ship" Igor Belousov ", and is part of the deep-sea complex GVK-450 of this ship. Prior to the transfer of Igor Belousov (adopted by the Russian Navy 25 December 2015) to the Pacific Fleet (which is expected by the end of 2016), the AC-40 will be temporarily stationed onboard the 2015 project rescue ship Alagéz, which had completed repairs at the beginning of 537. From 1 February 2016, the AU-40 took over combat duty on this vessel, "the publication said.
Portal Help:
"MUH AC-40 of the 18271 project (Bester-1) has a durable titanium alloy body and a full underwater displacement of about 60 tons. The working depth of the dive reaches 700 m. With a crew of six people, the device is able to receive 22 saved from the submarine at one time . A suction pivoting camera mounted on this MUH allows you to perform a rescue operation when the emergency submarine rolls up to 45 degrees. "
Rescue ship "Alagez" project 537 Pacific fleet. Vladivostok, 24.07.2015.