Well, only we calmed down, only in Grozny otmiting, here you are in borscht! Straight series: "Again, this Kadyrov!" And again the crying of our opposition, frightened and frightened. Both system and non-system.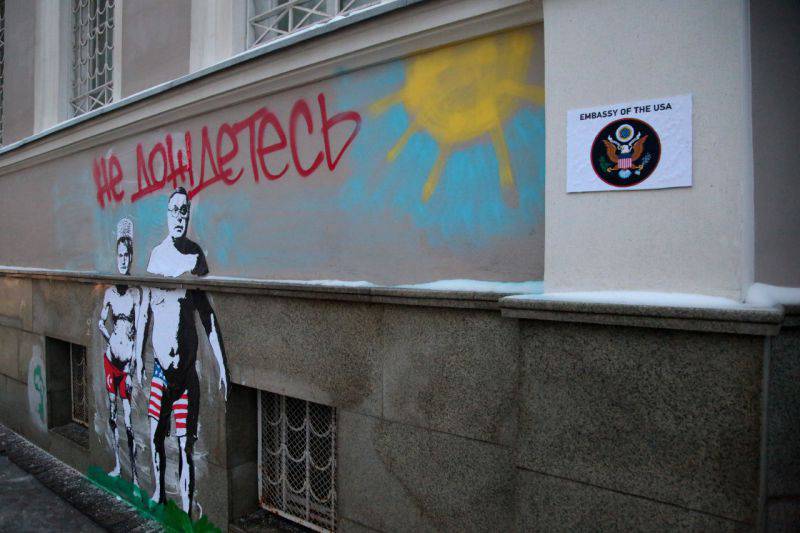 But hooked, right? Otherwise, why so fuss? All sorts of Ponomarevs, Yashin ... Scary, huh? "We are threatened with murder, Kadyrov himself is threatening!", "We are under the gun!" and so on.
In short, give money. And then we all die like Nemtsov. With a hint of a sort and subtext.
But no one spoke of such a development of events, and so far did not insist. Although ... not the worst option, if that.
Well, "sew" on Kadyrov as much as an 119 article of the Criminal Code of the Russian Federation is amusing. Part two does not bind, but what says the first?
"1. The threat of murder or the infliction of grievous bodily harm, if there were grounds to fear the realization of this threat, is
shall be punished by compulsory work for up to four hundred and eighty hours, or restriction of liberty for up to two years, or forced labor for up to two years, or arrest for up to six months, or imprisonment for up to two years. "
Tolerant. And even then, only if it is proved that the cross in "Instagram" is exactly what was meant. Although Ramzan Akhmetovich wrote that this is for those who understand. And everyone, as we know, understands to the best of his depravity.
But for the sake of justice, let us think that in response you can sew Kasyanov? It is clear that no one pays particular attention to the words of the former prime minister-loser, but I would like to say the following about his promise to Dzhemilev.
Actions Kasyanov, confirmed, by the way, quite fit into the framework of the article 280 of the same Criminal Code.
"1. Public calls for actions aimed at violating the territorial integrity of the Russian Federation are punished with a fine in the amount of one hundred thousand to three hundred thousand rubles, or in the amount of the salary or other income of the convicted person for a period of one to two years, or forced labor for a period of up to three years, or arrest for a term of four to six months, or imprisonment for up to four years with the deprivation of the right to occupy certain positions or engage in certain activities for the same term.

2. The same acts committed with the use of mass media or electronic or information and telecommunication networks (including the Internet) are punished with mandatory labor for up to four hundred and eighty hours with deprivation of the right to hold certain positions or engage in certain activities for up to three years or imprisonment for up to five years with the deprivation of the right to hold certain positions or engage in certain activities for up to three years. "
Mish, did you promise to unsubscribe to a friend, Mustafa? Well, the money for a barrel, in theory, it is necessary. Or on 4 of the year. To Crimea. There, Crimeans will conduct educational work with you.
Surprisingly, so far no one has run with a statement on Kasyanov to the prosecutor's office of Crimea. There, according to proven rumors, one pretty lady with a rather iron character runs the business, so she loves such ... around and around the Dzhemilevs. And ready to collect.
Apparently, the answer to the question is as simple as the world. In Russia, from time immemorial, fools have not been offended. For only frankly a fool could make such a statement.
But in May last year, in an interview with the French edition of "Politique Internationale", Kasyanov said that if he were president, he would return the Crimea to Ukraine without any doubt.
There is nothing left: to get through to the presidency ...
That is, the first bell was already out when it was. Already then it was necessary to knit and prick. And in the appropriate institution. And we are all carelessly. They say that taking a fool ... let him walk.
Now we reap.
And here also the head of the HRC Michael Fedotov connected.
"I believe that we all need to learn the rules of discussion in a public field. The discussion should be conducted with respect and in such a way that no one can accuse the other of violating laws and ethics. And also, it seems to me, it is important for public discussions in the current situation : let's discuss ways to solve real-world problems. "
Let's go, Mr. Fedotov, to seek a solution to this problem. But it should be started in order of appearance. That is, not with Kadyrov, but with Kasyanov. From his statements about the return of the Crimea. For here one of the three:
1. Kasyanov is a little confused and cannot answer for his words. It means that it is necessary to examine it and, if necessary, treat it.
2. Kasyanov is a criminal whose actions take place under the above article. So in jail.
3. Kasyanov, again, is a criminal, because he promises what he can never accomplish. This is called fraud. But here it is clear, friend Mustafa must write a statement. BUT! He can not ... because in the search for his blockade in the Crimea. Okay, remove from the agenda.
And in general, leave me alone from Kadyrov. Let him post what he wants. We have, by the way, democracy and freedom of speech. And if someone feels uncomfortable - well, forgive me, you shouldn't rub shoulders with openly criminal elements like Dzhemilev, promise to return them to the Crimea, and so on.