26 January Sergey Lavrov made a statement that ISIL militants in the Pankisi Gorge are undergoing training, training and rest "after the war". And it is precisely this problem that caused the abolition of the visa-free regime with Georgia.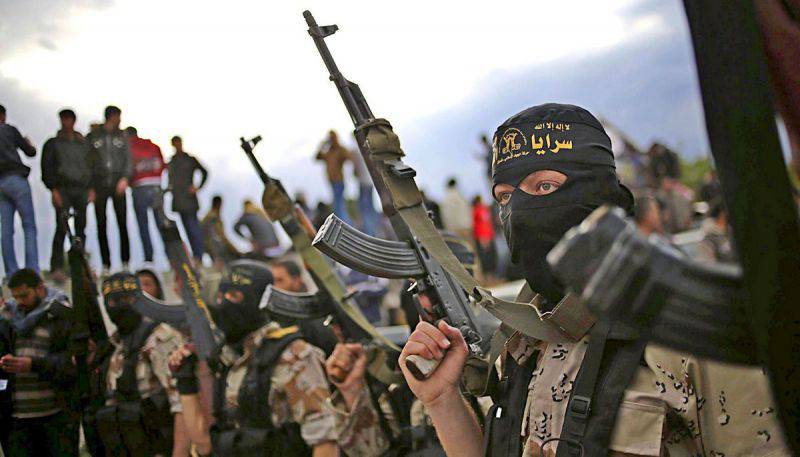 However, Georgian Prime Minister Giorgi Kvirikashvili stated that the government of the country fully controls Pankisi, and there are no terrorist risks there. I would like to ask, and what risks exist?
The existence of a militant base in the Pankisi Gorge of Georgia has long been known. Even the Georgian media write about this. No one makes a special secret from the fact that the ISIL militants quite calmly enter themselves, as they do at home, into the territory of Georgia.
And in the middle of last year, one of the Syrian army generals, Walid Abaz, reported on the existence of an IG military base on the territory of the Pankisi Gorge. According to him, Chechen fighters in Georgia are encouraged to join the IG, because they have experience of military operations, and the base itself allegedly enjoys the full support of Tbilisi.
If you dig around well, you can remember that as early as September 2014, the former NATO Secretary General Rasmussen announced the possibility of creating a regional training center in Georgia for training moderate Syrian opposition. The initiative to open the camp was then made by Tbilisi.
Actually, what to open? Signboard change, nothing more. Many remember very well who arranged parties in this gorge in not too distant times.
It is clear that many people did not like this proposal in Russia, they say, at one time Chechen militants were preparing in the Pankisi Gorge, and now what, also Syrian? Moreover, moderate oppositionists often side with the Islamists. Then these plans seemed to be abandoned, however, the initiative was launched.
According to experts, now in the Pankisi Gorge, the number of patrol outfits has increased, sometimes arrests of local residents are held on suspicion of links with IS. However, all this is implemented at the local level. Local police arrest local residents "on suspicion." And then, of course, released, for lack of evidence.
Reports, of course, are sculpted regularly. There is visibility of work, there are documents, there is nothing to be afraid of. Everything's under control.
But for some reason in neighboring South Ossetia they do not share such rosy confidence of the Georgian authorities. Perhaps it is because while local police successfully drive local residents, others, who are not at all local, calmly clean up the former camps of Chechen militants and lick their wounds there. I do not presume to judge, but it is obvious that from South Ossetia you can see better. And there is cause for concern.
It is known that the Caucasus is quite in the "zone of interests" of ISIS. And, having received a support base with the explicit approval of the Georgian authorities, the ISIL militants will not only be able to use it as a rest home. And start from there the construction of your "caliphate".
As for the Pankisi Gorge itself, the situation there is quite complicated in the sense that the area is not regularly monitored by either the Georgian authorities or the international community. Therefore, it is impossible to talk about any specific numbers of those who returned or arrived from the Middle East.
But the fact that they are there, and in sufficient quantities to cause some concern, no doubt. At least, South Ossetian guards say this for a reason. This is not just their bread, it is the safety of their homes.
The fact that the militants themselves are capable of infiltrating through the territory of Turkey does not seem to arise. Even if the Turkish and Georgian special services do not specifically help them, this does not mean that there is no such movement. The Islamists have established contacts there too well, and how well the border of Georgia is guarded is another question. To which there is no immediate response. We will start from the fact that, according to Georgian standards, the border is guarded reliably. So, everyone will pass.
Of course, in South Ossetia, now breathing is somewhat easier than before. In terms of security. For peace of mind does not guarantee a battalion of peacekeepers with a light rifle
weapons
and a full-fledged 4 Guards military base. 4 000 is a man of personnel, plus "U points", plus "Grads" and other components that can cool anyone's passion. We can assume that South Ossetia can sleep peacefully.
The whole further problem is not only in South Ossetia. For the guerrilla war, which may well "set on fire" the region (and it would be strange if the gun hanging on the stage of Pankisi did not fire) would hook not only Ossetia. Even more than that, Ossetia will be hooked to a lesser degree, for the presence of a Russian military base is taking place.
And then there is Armenia and Abkhazia. There seems to be an autonomous republic within Georgia, Adjara, about which it is difficult to unequivocally tell whose it is more Georgian or Turkish. At least, the Turks are mastering Ajaria quite actively. For this moment, we should say a special thank you to the Ukrainian Misha Saakashvili, who, when he was president, massively handed out Georgian citizenship to overtly extremist Turkish bottoms.
Of course, Ajaria and all that is around it is, first of all, Georgia's headache. But, as practice shows, they set fire to some, and it is necessary to extinguish and rake completely different. Of course, having arranged a warm welcome to the "poor refugees" from the countries of the Middle East, the Georgian authorities do not want any undue tension in the region. And they are guided solely by taking care of their neighbor in faith and spirit.
Although, what they have in common in faith and spirituality is also not a simple question. As well as the arguments about the hospitality of the Georgian people as a historical phenomenon. August 2008 in those parts is not all forgotten.
In any case, for now, it is not worth shouting to the whole world that Georgia is trying to complicate the situation in the region. So far, there is no iron evidence that the Georgian authorities are behind the arrangement of "rest houses" for Arab militants. But you shouldn't forget about it either, because we don't have to rake anyway. So, too, historically.