How the modern language is changing! Not a tongue that is in the mouth. And the language that serves for our communication.
Beautiful words, those that mean beautiful concepts, suddenly turn into abusive. Conversely, those that have always been the prerogative of criminals and the "lower classes" of society, change their meaning to completely normal. Well, the classic is already an example of "from Zadornov" about the word "blue" everyone knows. Today?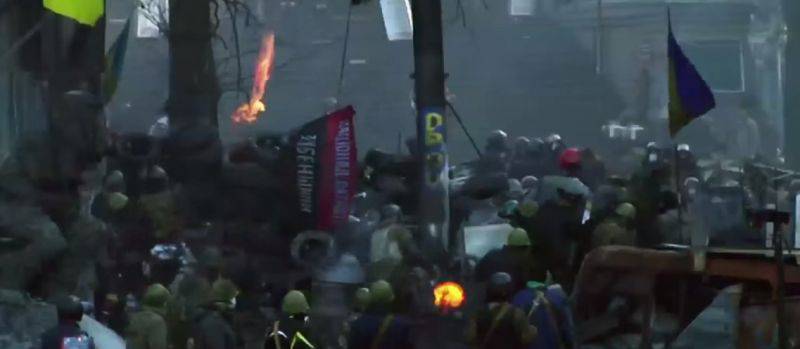 The beautiful word "independence" for some reason turned into a curse. And it turned so that no one noticed it. We already do not even notice the use of this word as sarcasm in relation to a particular country, to a certain part of society.
The phrase "Square requests ..." no longer harms the ears. Although from the point of view of ordinary human logic, such a phrase is rather contradictory. The petitioner cannot be proud and independent. He is a petitioner. Independence is when they can demand. And, if they refuse, proudly send. Send those who do not want to fulfill this requirement. Just want to add more dignity here. Gidnosti ...
But today the conversation is not about the global. Today talk about words. I often read about "hybrid war". Even venerable politicians explain to us what it is. How many such explanations do we hear almost daily? Only here in my brain some kind of stopper works. Simply thinking. If an elephant is crossed with a frog, then it is very doubtful for me that the resulting hybrid can be called an elephant or a frog. It will be something completely different. Interestingly, hybrid virtue is what? An elephant or a frog?
Perhaps the example is not entirely successful. With a hedgehog and snake easier.
In addition to words, for some reason, whole concepts began to change. Remember the "ministry of truth". Two ordinary, quite good words. Which of us are against the ministry? Yes, no one! Everyone understands that any area of ​​state life must be managed. And who is against the truth? There is even stupid to write. And combine these two words and get an abomination.
You can, of course, try to combine completely neutral words. For example, "freedom" and "word." We get the usual expression "freedom of speech". We read and think about it involuntarily. Why? Why are we laughing at this expression?
Moreover. If we combine several similar expressions, we get a mini-portrait of the whole country. Let not fully written, but already recognizable. Read. "Revolution of dignity", "Ministry of truth", "freedom of speech", "Square". And how will a normal person respond if you say that it is written, for example, about Pakistan? May the Pakistanis forgive me. I did not want to offend these decent people. Readers will say exactly what kind of country.
On the last day of January, Ukrainian diplomats became more active in the struggle for this very freedom of speech, independence and dignity. And the reason was the banal film of one not at all simple Frenchman. Not simple, not because a big boss or a rich man. I, frankly, it is not known, and not particularly interesting. I don't like to look into someone else's pocket.
Simple because a talented person. I write about Paul Moreira. Famous French journalist. His investigations about the war in Iraq, about radical groups in Palestine, about the supply
weapons
to North Africa and corruption in Afghanistan always excite the audience. Several prestigious awards to confirm. France, United Kingdom, Monaco. Viewers vote for honesty and talent.
And the words Paul understands as they always understood. Freedom of speech means freedom to say what you think. The truth is what the journalist sees with his own eyes, and not what he is told. Honesty - do not play on someone's side. Just state the facts and give your thoughts to them.
So, Paul Moreira made a film about the revolution of dignity. Removed there in Ukraine. And today, this film will be seen by viewers of the private French channel Channel Plus.
"Paul Moreira removes masks from modern Ukraine as part of the investigation against the background of the new cold war between East and West."
These are words from the announcement of the film in the French press. To say that the author is against someone? No, the author simply removes what he sees. Like it or not.
Only now he sees not what is indicated to him from the "Ministry of Truth". He sees dirt and meanness and venality. At both sides. This is what has become the subject of panic by Ukrainian diplomats.
Several quotes from the appeal of the Ukrainian Embassy to the French.
"We were disappointed to learn that February 1" Canal + "in the framework of a special investigation provides the air on the documentary film" Masks of the Revolution ", which gives the viewer a false impression of the situation in Ukraine."

"In this regard, we began negotiations and sent a letter to the Chairman of the Supervisory Board of the Canal + group Vincent Bollore. We also offered a selection of documentaries about the events in Ukraine."

"The version of Mr. Moreira (director of the film) about events in Ukraine, including the illegal annexation of Crimea, is sweet music for the ears of supporters of conspiracy theories and Russian propaganda."

"Attempts to explain these events as an operation, which is funded by the United States, are not only false, but also completely disrespectful to our fellow citizens killed in the center of Kiev in upholding their country's democratic aspirations.""This is not media pluralism, but deception, and we advise Canal + to reconsider the possibility of distributing this film."
Excuse me, what about freedom? What about independence? Including the press.
How can you insult the truth? The truth is therefore not loved, which breaks the most sugary masks of lies. Lies disguised as truth. It is a lie. Lying kills the truth. Lies are afraid of the truth.
The truth is not always convenient. Truth always interferes. The truth always "pulls out" the facts on clean water. But even people far from fishing know perfectly well that "it is better to fish in troubled waters."
Europe has long been "fed" with propaganda fakes created by Kiev "journalists." And the Europeans "ate" these fakes. Not because they are not friends with the head. Just because they have never considered Ukraine to be something serious. Ordinary "disassembly" somewhere far to the east. In the world every day someone is fighting. For what? Yes, do not care. The main thing is that in our town or in the country it should be calm.
But there will always be someone who will tell the truth. The one who goes to this war. One who is not afraid. In Russia there is a famous saying. How much string does not curl ... And then the saying is interpreted with options.
If this very "string" is just a tangled knot, then "the end is always visible." But if the "string" is tied to a stick, then it turns into a whip. And then the probability of just "seeing" the end is extremely small. Much more likely to get this very "end" on his own back. Moreover, the impact force will be such that even some injuries are possible.
It seems to me that today in Europe, actions to prepare a beautiful refusal to Ukraine for membership in the EU and NATO have intensified. It is clear that no one called Ukrainians there. But the failure needs to be issued beautifully. In the same way, as well as refusal in further financing of Kiev "reformers".
In any case, the film of Paul Moreira is needed. Needed by all. Europeans to see the real Ukrainian revolution through the eyes of a European. Ukrainians to see their own "zombie" Ukrainian media. Americans to make the right choice for the next president of their country. Russians to make sure that they are right and correct.
And to understand together that fascism is not only what happened in the middle of the last century. Fascism is changing today. Forms are various. But the essence is the same. And if we want a normal life for our children, fascism must firmly say no. Liberalism in the fight against this phenomenon is not allowed. Ukraine has shown this on its own people.