On the next "peremog" reported Maidan authorities of Ukraine. The Ministry of Infrastructure of Ukraine on its official website published information that the first railway freight train "bypassing Russia" arrived from Ukraine to China. The report says that this is the first traffic on the "new silk road", which does not provide for the passage of cargo through Russian territory. Initially, it was announced that the cargo from Ukraine would be delivered to China in 11 days, but in the end the "peremoga" came out somewhat blurred.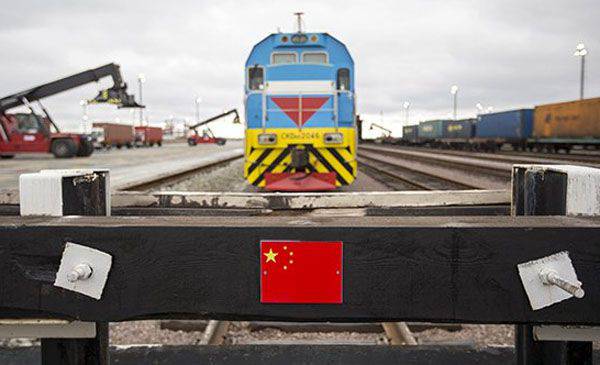 On January 15, the freight train left its destination in the Odessa region, and then with the help of several ferries, it must be causing considerable surprise to the Chinese partners, overcoming the Black and Caspian Seas, passing through the territories of Georgia, Azerbaijan and Kazakhstan. As a result, instead of the planned 11 days, the train moved almost 16. The Ministry of Infrastructure of Ukraine accused of stalling the delivery of cargo storm on the Black Sea and delays on the Kazakh railway.
If we consider the route of the train, it turns out that the cargo from the territory of Ukraine did not get to China, despite the loud statements of Kiev. On the 16 day, the train arrived at the Kazakhstan station Dostyk, which is located near the border with the PRC. After that, it was announced that the Chinese themselves could "pick up" the cargo and send it via their own railway to Guangzhou or Chongqing.
From the statement
mininfrastructure
Of Ukraine:
A train consisting of 10 wagons and 20 forty-foot containers was sent on January 15 from Illichivsk. On the route he proceeded along the Black Sea and the main stations: the port of Batumi, Alat, Aktau-Port, Beyneu, Zhezkazgan, Balkhash-1. By moving the first train on the route of the new "Silk Road" it was possible to follow the interactive map on the website of the Ministry of Infrastructure. This route is an alternative way to deliver goods from the West to the East, bypassing the territory of the Russian Federation through Ukraine, Georgia, Azerbaijan and Kazakhstan to China.