The press service of the shipbuilding enterprise "Yantar" (Kaliningrad region) distributed a message about the start of state tests of the second "Admiral Essen" patrol (project 11356). The decision on the beginning of the state tests was made by the chairman of the state commission for the acceptance of a warship built at the plant.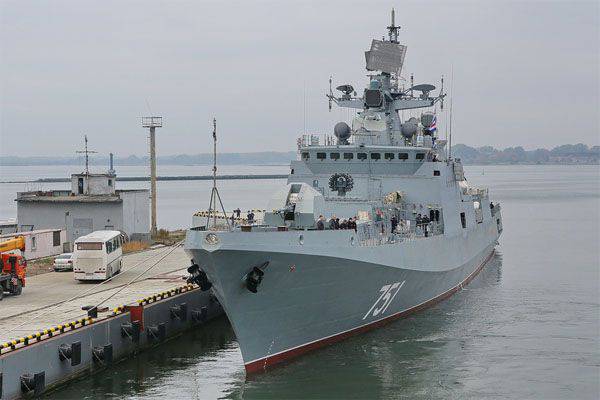 From the message
press service
Baltic Shipyard "Yantar":
At present, the commissioning team of the plant and the crew of the ship are preparing for the first launch at sea this week. State tests will last about a month, they will be held at the Baltic landfills
fleet
. The transfer of the patrol ship of the Russian Navy is scheduled for April 2016.
The Admiral Essen TFR was laid on the Yantar PSNZ 8 on July 2011 of the year, launched on the 7 in November on 2014 of the year, factory running tests began on 28 in October of 2015. Under two contracts signed with the Ministry of Defense of the Russian Federation, the Yantar plant builds a series of the six patrol ships of 11356 Ave., developed by JSC Severnoye Design Bureau.
The first patrol ship of the 11356 "Petrel" project was the Admiral Grigorovich, which was launched in March 2014. State tests of the ship "Admiral Grigorovich" have already been completed.
For reference: the guard ships of the 11356 project have a standard displacement of 3620 tons. Their crew is 180 people, to which up to 20 marines can be added. The autonomy of swimming is 30 days. Sailing range - up to 4850 nautical miles. Armament: "Caliber-NK" complex, A-190 "Universal" artillery, 2 × 6-30mm AU AK-630MZH, 2 × 2 533 mm DTA-53-956, etc. The ship could accommodate the Ka Ka-NNXX 27-31, XNUMX, XNUMX etc. X. Ka-xnumx.