In Britain, a secret headquarters doctrine, involving the "use" of nuclear
weapons
leading world powers. Recently, his results were published, reports
Rossiyskaya Gazeta
with a link to the Daily Mail.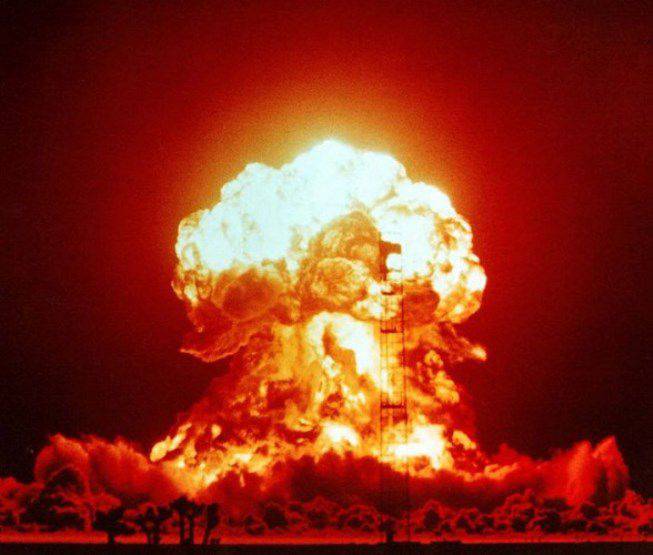 "According to the teachings legend, riots broke out in eastern Latvia, pro-Russian forces seized 20 border towns. To support them, Moscow sent troops into the territory of a NATO member state. Among the countries of the North Atlantic Alliance, a split arose over the question of how to answer this. As a result, Washington and London decided to conduct a ground attack to oust the occupiers, "says the British newspaper.
"Then Russia destroyed with a nuclear strike the English helicopter carrier Ocean, killed 1200 people. The committee, which included representatives of the government and military command of Great Britain, voted against delivering a retaliatory nuclear strike at an early stage of the crisis, "writes the publication.
The US also lost a ship and people, but, unlike the British, they did not sit down - "they used nuclear weapons against the Russian military goal - thereby pushing England towards a full-scale atomic war," the newspaper notes.
According to the article, "the committee gathered in the Whitehall bunker was faced with the need to take a decision in principle: to respond to a nuclear strike from Russia? And again, overwhelmingly voted against. "
"At that moment, it became clear that the policy of nuclear deterrence failed, and we were faced with a moral problem - the use of force can be justified only by preventing even more evil. However, if Britain is destroyed, what will we achieve by wiping out half of Russia from the face of the Earth? Only we will generate even worse evil, "commented Sir Richard Shirrev, who until recently had been NATO Assistant Commander for Allies in Europe, commenting on the decision. "Are we meaninglessly killing millions of Russians or not?" It is easy for me to give an answer - we do not do that. "
What it all ended with, and what the Russian Federation and the United States did, the publication did not report.
Help "WG":
"According to official data, the United Kingdom has 225 thermonuclear warheads, 160 of which are on alert. The only means of delivering British nuclear weapons are Trident II ballistic missiles deployed on four atomic submarines in Scotland. Each submarine carries 16 missiles equipped with individual-guided combat units. At least one of the submarines is constantly on duty. "