The head of the Turkish Cabinet of Ministers, Ahmet Davutoglu, instructed the country's foreign policy department to send a request to the Russian Foreign Ministry with a proposal to the Russian Federation to explain the incident that allegedly took place with the Russian Su-34 aircraft. Recall that last weekend, official Ankara once again stated that the aircraft of the Russian Federation Air Force "violated the airspace of Turkey and was in it for 20-25 seconds." The Pentagon stated that they confirm the information of Ankara, and the Russian Defense Ministry noted that all these statements are nothing more than a new round of anti-Russian propaganda.
Turkish Prime Minister Davutoglu, who visited Saudi Arabia, quotes the publication
Hurriyet
:
It is very important for us that NATO made a statement which suggests the following fact: the violation of the airspace of Turkey is a simultaneous violation of the airspace of NATO. A similar assessment was given by us and the President of Turkey (Erdogan). We are fully satisfied with the position of the North Atlantic Alliance. An instruction has already been given by the Foreign Ministry (Turkey) to ask Russia for explanations about the incident. Explanation Russia should send to the NATO Secretary General.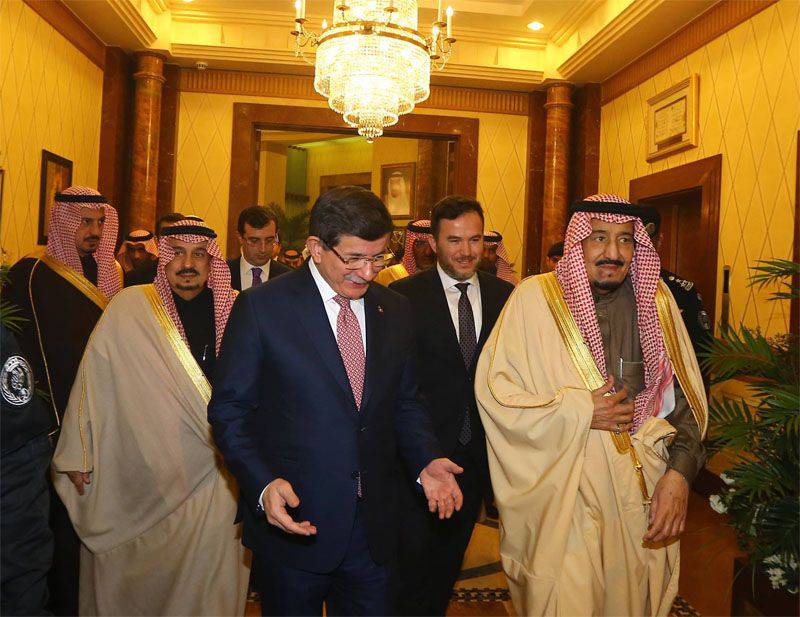 Davutoglu forgot to clarify in what form Russia "should" send an explanation to Mr. Stoltenberg: in writing? Or show on the fingers? ..
According to his custom, Davutoglu noted that the operation of the Russian HVA in the northern provinces of Syria "causes risks", since in these territories "there are fighters of the free Syrian army". Are they the "fighters" who are trained at ISIS training bases? ..