Last Monday, the South Fleet of the Chinese Navy was supplemented with a new corvette Jingmen ("Jingmen") of the 056A project (airborne No. 506), built at the Guangzhou Huangpu Shipbuiding Company in Guangzhou, a blog
bmpd
with reference to www.junmii.com.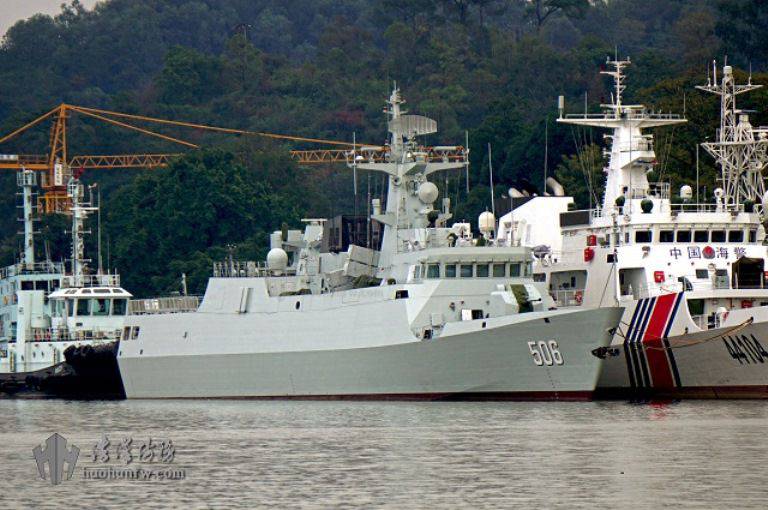 The corvette of this project became the 24 ship, which became part of the Navy for incomplete 3 of the year.
"The construction of corvettes (small frigates) of the 056 project family (western designation Jiangdao class) is carried out in the PRC at four shipbuilding enterprises at the same time. The lead ship of the 056 project Bengbu (tail number "582") was built at the Hudong Shipyard of the Hudong-Zhonghua Shipbuilding Group in Shanghai, where it began construction in 2010, launched on 22 in May, 2012 of the year, handed over to factory trials 6 November 2012 of the year and was commissioned by the PLA Navy 25 on February 2013 of the year, "the resource reminds.
Today, i.e. After 35 months, the 24 received such ships on the fleet: "8 corvettes were transferred to the PLA Navy in 2013, ten - in 2014, five - in 2015, and one (Jingmen) - already in 2016," the author reports.
Since the end of 2014
the fleet
Corvettes of the modified project 056A began to be transmitted. According to the publication, they are distinguished from the base model mainly by the presence of a towed ASG, which significantly increased the anti-submarine capabilities of the ship.