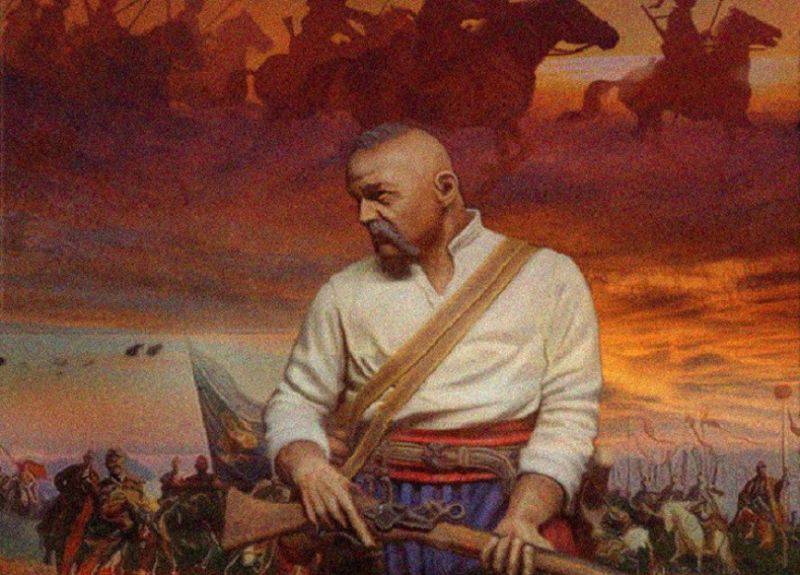 Golden words expressed by my brother in spirit and origin, compatriot, a true Zaporizhzhya Cossack. And I am very grateful to him for his piercing truth. We should not so easily give our invaluable Galicians
history
and the right bestowed on us by the Lord himself to relate to the greatest warriors, which our ancestors were! We are obliged to defend this sacred and honorable right. Because, this is the most precious heritage and happiness that we could get from our glorious ancestors.
Galicians so penetrated our shrines and fucked them up, that we are ready to hate everything that they only had time to touch, because it is unbearable to dwell in the abominations created by them for us. We are ready to abandon our traditions, desecrated and betrayed by these homeless dogs, which have turned into a heavy burden for us, which we are forced to carry as a shameful cross.
Insidiously leaking and brazenly, in a businesslike manner, having mastered our history, these faint-hearted impostors not only changed everything that was sacred to us, not only like scabby dogs, vilely quarreled many of us with Russia, eternally fraternal and dear to any Zaporozhian. They thought up to lure us in how we should love our land! And to my great shame, many of us went to this deal with our own conscience and honor. They succumbed to temptation and traded our unity for material benefits that no one bothered to provide them with.
Even scary to think how we could allow this! Apparently the Lord allowed us this shame for our oblivion and betrayal of the precepts of our ancestors, who always served Russia faithfully and faithfully! For many centuries, the Cossacks fought shoulder to shoulder with the Russian brothers, because they themselves were such. Together we have won many great victories, because we have a common gift - the INSOLVEABLE RUSSIAN SPIRIT, which other nations are deprived of. And those who never remember this will disappear forever and dissolve among the pack of rootless lackeys of the West. Right now for each of us the moment of truth has come. It's time to choose. And choosing to adequately match your choice! May the Lord God help us in this!
Below is a letter that one unknown author sent me in the group "AUTHORIZED TO STATE". It is called "A letter to Galicians from the Cossacks."
I am Ukrainian, a descendant of Zaporizhzhya Cossacks and ancient Rus. My grandfathers beat the fascists, not sparing their lives. I declare: since when did the Galician descendants of the Polish and Austrian serfs, who were before 1939 not known by anyone, lived half a millennium in other states and joined Stalin forcibly, became Ukrainians? Galicians who speak Polish-Austrian surzhik, which differs from the Ukrainian language in the same way as tarpaulin boots differ from women's shoes, suddenly decided that they, too, were Ukrainians! And even enrolled in the defenders of the Ukrainian language. They suddenly signed up for the builders of the Ukrainian nation. It is like the negroes of the United States, who speak English, and the English living in England are one nation. But the nation is united by a common historical and cultural past. And we have with them a common historical past just no. They moan the whole country with their diaspora-Galician nationalism, which for some reason is called Ukrainian. All of these: RUKHI, KUN, NUNS, OUN, UPA and Tyagnibokovskaya "freedom" climb like cockroaches in Ukraine EXCLUSIVELY FROM GALICH.
They suddenly decided all of us, in their opinion, the racially inferior inhabitants of Ukraine (Little Russia), to whom they have no relation, to teach Ukrainians and their Svidomost. By the way, THEIR "SVIDOMIST" - THIS IS ALL ONLY CLEANLY THE GALITSKY COMPLEX OF HISTORICAL FULLNESS. For all their history is a history of servility and betrayal. Now they are stealing our history, like they are of a "Kozat family". There was no Cossacks in their history, because the Cossacks were impaled by the caught Uniates for betraying the faith of their ancestors. Although they could spare the Pole. There was no Taras Shevchenko in their history, because he had never been to Austrian Galicia. By the way, almost the entire prose of T. G. Shevchenko is written in Russian. They climb a dirty snout in the history of the country where their ancestors did not live. Type Bogdan Khmelnitsky was wrong. There was no Bohdan Khmelnitsky in their history, because in the liberation war of our people against the Poles, the Galicians were always on the side of the Poles. In their history was the Polish king Sigismund and the Austrian emperor Ferdinand. And there is nothing for the mutants of halitsk to brekh on behalf of Ukraine. Galicia - the Motherland of traitors!