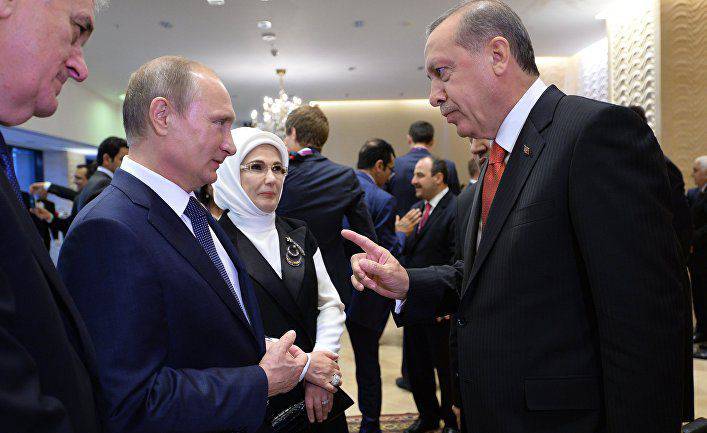 There was a strange silence in the air. While the period of panic and confusion has long passed.
The political crisis in relations between Turkey and Russia lasts more than two months. The crisis was not limited to politics and spread to all areas - from trade to tourism, from education to sports, from cultural ties to relations between people.
Why, then, everything around is still silent, you ask?
Are the analyzes and forecasts of the "experts on Russia" rushing to the conclusion that the crisis will end soon, or empty comments by policy experts who are used to juggling with superficial assessments, are they acting on someone else?
As a rule, from trivial and insignificant
News
they are very cleverly able to draw conclusions like "okay, it's over, Russia shouted, shouted and calmed down; soon everything will settle down "or" optimistic events have occurred in such and such a sector; which means that soon the green light will turn on in all areas - from construction to tourism. "
But, oddly enough, the crisis continues unabated. The position of Moscow is not softened. We have not seen or heard a single plan of Ankara to address the crisis.
Moreover, in the process of international negotiations on Syria, Turkey with all its forces resisted Russia, which largely agreed with the Western front, and above all with the United States, on the Democratic Union Party (PYD) and Assad. And this further increased the voltage on the Ankara-Moscow line.
One of the consequences of this was the cancellation of the visit of the deputy foreign minister of Russia Vasily Nebenzya to our country on behalf of Russia, which temporarily chairs the Organization of the Black Sea economic cooperation with the center in Istanbul.
On political issues, much can be said. But this is not the topic of our article. We will save political news and comments for another analysis and try to summarize the current situation in ten points.
1. Turkish-Russian crisis
Relations between Turkey and Russia, which for the last 25-30 years have been strengthening, have been going through a very thorny path, on one day (November 24 of 2015) were spoiled. The Turkish-Russian crisis, which not only led to military-political tensions, but also harmed two countries in the economic and humanitarian spheres, can result in losses for our country at the level of tens of billions (from tourism to exports of fruits and vegetables, from real estate to shuttle trade, from construction to textiles). Deputy Prime Minister Mehmet имimşek (Mehmet Şimşek) said that losses could reach nine billion dollars a year; later, some authorities began to talk about three to nine billion. The report on behalf of the Republican People's Party assumed that in four years the losses would amount to 52,2 billion dollars. And, according to a report by the Fund for Socio-Economic and Political Studies of Turkey, the country could lose more than 11 billions of dollars.
2. Russian front
On the one hand, the Kremlin made statements in the spirit of "we have no problems with the Turkish people, but we will not build relations with the Erdogan government," on the other hand, it turned to actual pressure, prohibitions and restrictions that extend to a number of areas, including cultural relations. and interpersonal, family connections. At the same time, Moscow did not choose the alternative of "retaliation" by means of a military attack, did not close its embassy in Ankara, did not touch upon such strategic and priority spheres of relations between the two countries as energy. Subsequently, Russia revised (and continues to revise) some of its hastily taken "anti-Turkish steps", sometimes it goes for some relief in accordance with its interests. Nevertheless, we emphasize that, in general, there are no significant changes and mitigations in the position of Russia.
3. Turkish front
After the destruction of the aircraft, Ankara uses this style, which basically gives the impression that, unlike Moscow, it has largely changed its tone. But note that Ankara does not demonstrate any serious will or effort to improve relations with Moscow. In addition, Turkey is definitely not going to fulfill the demands of Russia (apologize, pay compensation, punish the guilty). And insists that the material damage caused by the crisis can be compensated by the creation and strengthening of relations with other countries.
4. Public opinion and media
Following the example of the leaders and relatively quickly approaching each other, Russia and Turkey, which do not have sufficiently effective democratic mechanisms, are now experiencing a reverse process. In Russia, the atmosphere of almost "Turkophobic" propaganda has spread and has already become natural. And although our situation is not so critical yet, obviously, the dangerous tension is rapidly increasing.
Of course, the positive views and impressions of the Russian and Turkish peoples about each other will not disappear in one moment; but, unfortunately, the negative impact of events is gradually becoming more and more tangible.
As the Kremlin's position tightens, the Russian media publish extremely harsh, nationalistic, and even hateful material about Turkey and the Turks. According to one poll published last December, in written media, Turkey has become "enemy number one", ahead of Ukraine and the United States.
In Turkey, too, in a large part of the media, and first of all pro-government mindeds, the number of anti-Russian and anti-Putin comments and news is gradually increasing. Judging by the results of a recent survey, 64,7% of the country's population believe that Russia is a threat to Turkey. In 2014, the respondents with this viewpoint were 28,2%.
5. Lobby is not, associations and unions are weak
The economic circles that have supported Turkish-Russian cooperation for decades, organizations with official and civic initiatives now, it can be said, are silent and confused. And established channels and friendly circles at this stage are passive due to fears due to a sudden exacerbation of the political atmosphere.
The crisis has shown that, until now, relations between the two countries have not allowed for the creation of strong lobbying tools. Associations and organizations that were allegedly created in Turkey and Russia on the principle of unity with the Russians, fell into deep silence. For some reason, now there is no sound from these greedy and incompetent leaders who use structures of this kind in times of peace and holiday celebrations, seeking to establish good relations with ministers, ambassadors, officials and "making any sacrifices" to strengthen their position.
Add to this picture the trade unions and industry organizations. How sad that in the last two months, no sector and organization that have felt the impact of the crisis can tell a way out of this situation. All that they do is, again, run to the authorities, ask how they should be, and instead of "waiting a bit", they gradually leave the Russian market.
6. Is it possible to abandon Russia?
In my opinion, neither Turkey can give up Russia, nor Russia - from Turkey. Judging from foreign trade data, not to mention
historical
, cultural, interpersonal relations, Russia is the second country for us after Germany. The same is true in tourism. In the energy sector - and even the first.
And in Russia's foreign trade, Turkey climbed to the sixth line. In tourism, Turkey was the most popular destination. In the energy sector - the second largest customer of Gazprom.
Turkish-Russian families are the most effective overall connection, involving several million people in each of the two countries (together with relatives). In addition, there are still many foundations for cooperation and mutual interests.
7. Leadership Role
In wide circles that take into account the political situation and the particularities of leaders in each of the two countries, the opinion is widespread: only Putin and Erdogan can solve the Turkish-Russian crisis. However, if Putin exacerbates tensions, then Erdogan (after emotional performances in the early days of the crisis), apparently, decided to let things go by their own. Under these conditions, a crisis can last for months or even years. Frankly, over the past several decades, the period in which cooperation between Ankara and Moscow developed most intensively fell on the 2004-2011 years (if you do not take into account the rapprochement of Ataturk and Lenin) and became largely possible thanks to Putin and Erdogan. At the same time, it is obvious that Turkish-Russian ties with more than 500-year history carry value regardless of the two leaders, the relationship between them and their term of office.
8. Business must start to operate.
The first steps towards the rapprochement of Ankara and Moscow with each other in the middle of 1980's were laid by the business. Over the past years, Turkish companies have earned tens of billions of dollars in Russia in many sectors - from exports to tourism, from textiles to construction - and theoretically they have a chance to earn much more.
Well, is it possible to say the same about Russian entrepreneurs in Turkey? If relations are not restored, how can Gazprom, Sberbank (Denizbank), Rosatom (Akkuyu), Lukoil and other Russian giants be confident in the future of their multi-billion dollar investments in Turkey?
Do not underestimate the possibilities of our business working with Russians - from Enka to Efes, from Şişecam to Vestel, from Beko to Garanti Bankası, from Rönesans to Pegas. Like everything accumulated by Russian companies here. It is necessary to take advantage of this huge potential.
9. We do not start from scratch
In addition to companies, in recent years, some organizations have also established relations with Russia (Turkish Foreign Economic Relations Council (DEİK), Turkish Chambers and Exchange Association (TOBB), Turkish Association of Industrialists and Entrepreneurs (TÜSİAD), Russian-Turkish Business Council (RTİB)) and so forth). Add to this the integrated advertising and PR activities of the Ministry of Tourism.
As a result, despite the pessimistic atmosphere of the crisis, it should be noted that we have substantial reserves. Only we need to show our possibilities.
Some circles, intellectuals, who cannot be underestimated, insist in Turkey on favorable relations with Russia and in Russia on favorable relations with Turkey.
The goal should be to end the crisis, to promote the restoration of friendship, cooperation, trade, to form public opinion in this direction, to put forward proposals, to influence politicians. For this, "public pressure groups" must be created in both countries.
Each of the areas (work related to PR, information, analysis, social networks and journalism, various events, etc.) should be considered on its own, in a separate order.
10. Looking for a determined and determined effort.
Ignoring the grumblers who are constantly sowing pessimism, we emphasize: the wall of friendship, which has been built for decades, was destroyed in one day. Now, to build it again, you need to lay the first bricks as soon as possible. Some may refuse, some may choose a different path, and those who enjoy whining and complaining may continue to do so.
The rest must be made carefully planned and resolute efforts, be brave and creative, use every opportunity. For example, the Fenerbahce-Lokomotiv football match, which will take place on Tuesday, February 16 (and, of course, the return match in Russia) can be turned into an important platform for the protection of Turkish-Russian friendship.
In addition, you can organize assistance to the family of the pilot Oleg Peshkov, who was killed by 24 in November last year, as well as a visit with an expression of condolences.
Believe me, even when I write common truths and important things for me, I get a feeling of "well, you write, so what, what will it give."
As I said at the beginning of the article, more than two months have passed, and there is still a strange silence in the air.