Greetings to you, my dear readers. Life goes on. So, and cockroaches have not gone away. Therefore, you do not want to read you my notes today, but you have to. This is not a threat. This confidence in your desire to be aware of our events. Yes, and I somehow can not without you. It is interesting to read the comments later.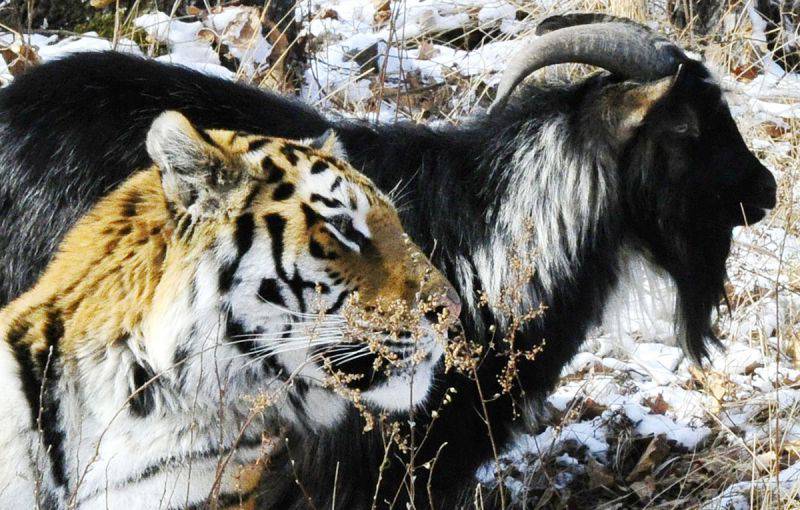 Let's start. And let's start with who is to blame for these notes today. In particular, about ... women. The fact is that cockroaches are just like people. Men solve global issues. Well, like, is there life in other galaxies. Or there, whether global warming threatens us. And women - every little thing. Like the way to feed the family. Or how to equip your own mink. Hence the set of interests. We are politics and sport, and for women there are TV shows and all sorts of sentimental talk shows about broken hearts.
But last month has changed the picture of women's interests completely. And Russia, as always, is to blame for this. More precisely, Seaside Park. And more precisely, the tiger and the goat, who, with some sort of binge, began to live together. Like friends in misfortune. Both are arrested for life and are now forced to share a cell for the rest of their days.
Conversations among the female population, not only of Kiev, but of the whole world, today only revolve around this couple. What ate? Who is in charge? Well and further in this spirit. Endless, as we thought, the series And so, it began. Arrogant Timur still forced Amur to show who is who in this pair. One slight blow to the brazen face and ... stress and treatment from veterinarians. And if Cupid claws showed? Probably, the insolent skin would already have become scraps.
I watched this video, and I understood. Here they are. Here are the relations between Russia and Ukraine. The tiger, most likely out of boredom, decided to look at the life of a goat. A sort of academic Pavlov among Amur tigers.
And this goat, realizing that they were not going to eat him, began to become impudent. Well, what to take with him, a goat - he is in a cage goat. Started downloading rights. Yes, and visitors to the park were like for him. The whole world is with us! Nothing like? Exactly. And me too.
Only here the tiger's patience began to run out. And he wanted to spit on this very "whole world". Once paw moved. Once! Result? Goat in shock. It turned out that the horns and the other "army" of the goat only fit, that to show off in front of other goats. Well, your own conceit.
Okay. Now about us, loved ones. Ukraine lived another week. And I must say, she lived happily.
What I once wrote about was not enough to go as far as Ukrainian society. Began to creep out the facts that the Ukrainian media so carefully concealed. Yes, and we ourselves did not want to believe in what our fighters do. You read it right! Ukrainians really did not want to believe in the facts that periodically appeared in the press and on Internet resources.
The first shock for the ukropatriot is the heroic combat commander Semen Semenchenko. The heroic service in the ATO zone of this "officer" was widely known throughout Ukraine. True, his fighters sometimes talked about the personal cowardice of the battalion commander. About the many casualties among his soldiers. About stupidity and incompetence Semenchenko, as an officer.
But, on the other hand, the Order of courage from the hands of President Poroshenko personally. Company in the media. The new hero of Ukraine. Deputies in the Rada. And the position there is not easy. Yes, and the image of a fighter against corruption and the enemies of Ukraine among the officials.
That got to it. In short, every cricket know your hearth. And do not go into the microwave. Semenchenko did not understand this. And paid. It turned out that the temporary certificate of a reserve officer was issued to him illegally. And he is a fake officer. By order of 22 in December last year, he was transferred from the "reserve captains" to the "reserve soldiers". Now, all of Ukraine wonders whether they will plant or not. Still, gentleman and deputy. Although, according to our Criminal Code, the use of forged documents faces three years of a normal Ukrainian prison.
It is equally interesting with the company "Tornado". The one that blocked the supply channels to the east and from the east of all sorts of things. Well, like, coal and other building materials. These "wind guards" really believed that someone wanted to win ... Or they decided to force someone to share. Well, we dare to.
Just a joke. But the 9 man is already on trial. Marauders and robbers. Yes, and mocked the residents of Donbass. And 15 is a wanted man. Not a national guard, but a gang on a gang and a gangster controlled. And it says the Ukrainian prosecutor's office. Not prosecutors of the republics, but Kiev Square. Somehow everything turns out exactly the opposite. What the LDNR said, quite exists in the Ukrainian National Guard.
And in the APU with the liberators are not very. Again, the prosecutor's office reports. Valiant scout APU arrested for robbery and kidnapping. Shop took fighter. Why? Automatic there, ammo sea. Came, shot the ceiling, took 14 thousand hryvnia from the cash register, and the cashier. He sat in someone else's car with the owner and was like that. True, those three, which he captured, can not be found. But they are like padded jackets. Though they lived on the Ukrainian territory.
And all this information but on the immature brains Svidomo ... backhand. Even our embroidery was quiet, does not know what to do. Pravosekov prizhuchili. Our fighters actually turned out to be bandyukas. Heroes - pacifiers. What is being done? So go, and Ukraine will become a fait state.
But there are positive
news
. And they also concern our army and
fleet
. I'll start with the fleet. Admirals became scared! There are more admirals than at least some ships. And the posts are bread. Salary is nothing. They will not send to the anti-terrorist operation (tension with the sea in the Donbass).
In short, our main "sea wolf" spoke to the people. And how made! They say that the Pentagon is already developing an agreement on friendship and cooperation between the American and Ukrainian fleets. Scared stellar. And in Moscow frantically leafing through the price lists of shipbuilders. Need to order for the last money ships for the Black Sea.
"Our plans provide for the restoration of submarine forces as part of two to four submarines before 2020. Submarine forces must become the elite of the fleet and an important combat, moral-psychological and deterrent factor in the region"
This is how it is. Scared? And then ... Our commander in chief of the Navy, Admiral Haiduk, can anyone intimidate anyone! Today, according to this very Haiduk, the main task is to decide how to arm submarines.
The truth is a simple question. And what will we build? Submarines are different, small and large. Atomic and diesel. I am not an expert. Even next to the boat was not like this. And the second question. Where to build? Not the Soviet Union with us. Then we even could build aircraft carriers. Today, only rubber boats ... buy.
Haiduk also said that taking into account the peculiarities of the hydrology and the depth of the Black Sea, "this can be ultra-small, small or even medium-sized submarines, including on leasehold."
That's where the cockroach lives. We will not build. We rent - that's all. And about the ultra-small, too, is understandable. You do not remember, and we, cockroaches, remember. In April last year, our chocolate lover announced the revival of the Ukrainian Navy. And not just about rebirth. And also bring this fleet to the standards of NATO. And which NATO country will give us serious boats for rent? None Itself is necessary.
Well, for admirals. They calculated how many people today in our fleet. So here. We need as many 30 units of at least some boats. One average boat costs the same as a few tiny ones. Just enough for everyone.
Now the storm season is over, and we will start building berths for the Navy.
Another peremoga we have is "Antonov". Finally decided to destroy this monster. What is the use of it if it cannot build airplanes? No accessories. And without Russia there is no place to sell. And the plants hoo hoo! I mean, big ones! The workshops are really huge.
Well, imagine the result of a year. Report, so to speak, about the work done. "Antonov" - for the year built one or two aircraft. And some tiny aircraft factory in Krasnoyarsk. Built 20 or there 30 aircraft. And where is Peremoga? No piece peremoga!
And now, after the elimination of this monster, step on Grace! Will produce some drones, and they are small. Let the biggest 10 on 10 meters. And how many of them can be collected at the same time in the workshop where the "Mriya" were collected? Vooot ...
So the next report of the former "Antonov" will definitely be restrained. For the year collected 100, no, 200 aircraft. Krasnoyarsk will die of envy. In short, the Russian aircraft industry will be confounded and discredited completely. And nobody will even buy yours these PACKs.
Today they talk a lot about judicial and other reforms. We are reforming everyone. It is all. Here the military prosecutor's office has now opened a new case. And he will bring it to court for sure, but oh how great it will be.
Remember the times of all there revolutions and referendums? Well, the Kiev revolution is still outside of prosecutorial interests. But the Crimea ... It is just in the teeth of our prosecutor's office. There we ... considered, counted, and counted. Those who did not go against the people. Those who met with honor after the Maidan. "Golden Eagle" is different and other sailor soldiers. They did not want to serve Ukraine. Crimeans are they, you see.
So here. Now we will search for them. One and all. And attract. To this, to responsibility. For desertion. Only here there is a problem. About which they try not to talk with us. These same deserters now serve in the same place as before. Only now they serve. I mean, they learn to fight, not to peel potatoes. Yes and
weapon
they have better equipment than our prosecutors. Probably, they will not agree to "arrest". But this is not the main thing. The main thing - all 8000 wanted to announce.
With technical equipment and with the preparation of specialists we, however, have problems. "Alpha" of ours here recently, the Vietnamese face crushed a little face. Well, the one that the SBU. And according to the old Kiev tradition on Grushevsky street. Only in Odessa. Can rename it from trouble away?
So here. Our "Alpha" decided to search the Vietnamese. In the residential complex "Lotos". They waited, it means when the tenants will leave for business, and more. Doors knock out, shake things up. "A large number of masked people open apartments and search without tenants."
But the Vietnamese were once slain on the Mordasov by the Americans themselves. And seriously so. You look at them, it's a pity even. I would like to immediately give the last piece of Polish fat. But there too.
In short, let down our "Alpha" phone. And who thought it up ... head would turn away. Found out, then, the Vietnamese about these searches. Returned and ... kicked, you know, the special forces were kicked out of the hostel. It's a shame ... And the ambassador was informed. It seems to create chaos.
But our knowing bread with bacon and tsibulei eat. They broke through the Vietnamese barrier to their two cars. Break away from the enemy. The ambassador arrived, and there was no one there. Peremoga!
I have some military notes today. And our life is still civil. And the news should also be civil. In general - correcting.
We had a terrible problem. You do not even believe what. Everyone has become accustomed to the fact that with energy we always have tension. That gas is not, then coal. In short, there is always something missing. And here is the opposite situation. Do not believe it - nowhere to go.
We blocked, then the Crimea. Everybody there Donetsk overlapped oxygen. To know. So they learned. They took such rastaks, and stopped taking electricity from us. Just think, a couple of supports undermined. Could and suffer. Now what? CHP and TPP idle. Energy has nowhere to go. And the equipment is not only worth the money, it's necessary to maintain it. And the workers are not yet fully transferred to the communist wage system. You have to pay. With what? No money left.
Run now our energy. They are looking for someone to break the electricity. Belarus, Moldova or Poland? Theoretically, you can and Russia. Only for some reason the Russians were offended for the Crimea.
Now about yourself. More precisely, on the people of Kiev. We, too, are preparing another peremogu zradnuyu. Little we pay for the heat. Very little. Previously, 531 hryvnia per kcal, now we are 594. And you know why? Here you never guess. What are you paying for? That's right for warm batteries. But you must? And it should be like this: in Ukrainian. Separately, the cost of this very Kkala, in the sense of kilocalories, separately for its transportation. Well, separately for the delivery to your apartment. And everything will fall into place. That is, it is possible to blame another increase in the final price.
Well, finally. Our favorite topic. About oil. Shuddered dear? And rightly so. Only about you later. In the beginning about us. So, Ukraine due to the fall in oil prices will lose about 4 billion hryvnia profit.
"Only by reducing the price of oil under-budget revenues from rent can amount to 4 billion UAH per year, while the plan is 7,8 billion UAH. That is, half of it is at risk. This is on condition that production volumes remain"
And you thought that only Russia depends on oil? True, and we thought so. It happens...
By the way. I almost forgot to tell about our democracy. And do not laugh, we have such a democracy that democracy will show any democracy. Do not believe? And in vain.
Have you ever heard of Putin being fined for talking on the phone while driving? Or Medvedev? Also no. And someone from their family? Voooot ...
And we have the wife of the whole Prime Minister finesanuli. This is how simple it is. The boy from the "Police Academy" waved his wand and ... everything. Fine! 425 take out, yes give. And rightly so. And then fine Parasyuk already moveton, people do not pin Parasyuk this.
I think today you have enough information. Digest. Have a nice day. Health to you and your loved ones. And I'll go glue the boat. We have a new attack coming. The flood. Snow piled up. We do not have time to remove. And now is warming. Already residents warned. You are big. And the cockroaches? Washes to hell. Then you wake up in the Crimea.
See you next time!