The head of the Ukrainian Foreign Ministry, Pavel Klimkin, called Moscow's unacceptable demands to implement the Minsk agreements, reports
Look
with reference to the Kiev edition of the Day.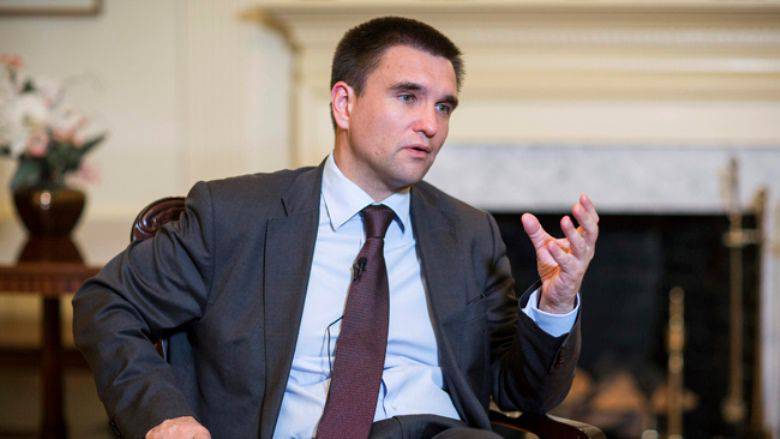 "They will now play endlessly on the topic of special status and how it should be fixed. And the problem is not that a special status should be for three years or more, but they want to write down some things in the Constitution. And I consider this fundamentally unacceptable from the point of view of the entire logic of the process. And, of course, that they will play this theme. Donbass is not interested in them, but they are interested in shaking up the situation in the country. And they will continue to try to do it. This is the logic of their position, which, unfortunately, has not changed ",
said the minister.
Earlier, the representative of the Russian Federation, Boris Gryzlov, said in Minsk that "voting on the Constitution of Ukraine should be firmly tied to the simultaneous adoption of amendments to the articles 1 and 10 of the law on special status (Donbass) in order to give the special status a permanent basis on the Steinmeier formula".
German Foreign Minister Steinmeier proposed to adopt a special law on elections in the Donbass, which would consolidate the special status of the region according to the formula: "on election day in Donbass, on a temporary basis, and since the publication of the OSCE report on the results of elections, on a permanent basis".
However, this formula is possible only "if there is a constitutional basis in the form of an amendment to the Constitution of Ukraine, which, according to paragraph 11 of the Minsk agreements, the permanent nature of the special status of Donbass", was noted at the negotiations in Minsk.
For reference. The 11 article of the Minsk agreements states:
"Conducting a constitutional reform in Ukraine with the entry into force by the end of 2015 of the new constitution, which assumes decentralization as a key element (taking into account the characteristics of individual regions of Donetsk and Lugansk regions, agreed with representatives of these regions), and the adoption of permanent legislation on the special status of individual districts of Donetsk and Lugansk regions ... until the end of 2015 of the year ".