Kazan plant them. Gorbunova (a branch of PJSC "Tupolev") handed over to the military department the next modernized Tu-160 "Vasily Senko" bomber (registration No. RF-94114) built by 1991 g, reports the blog
bmpd
with reference to the press service of the parent company.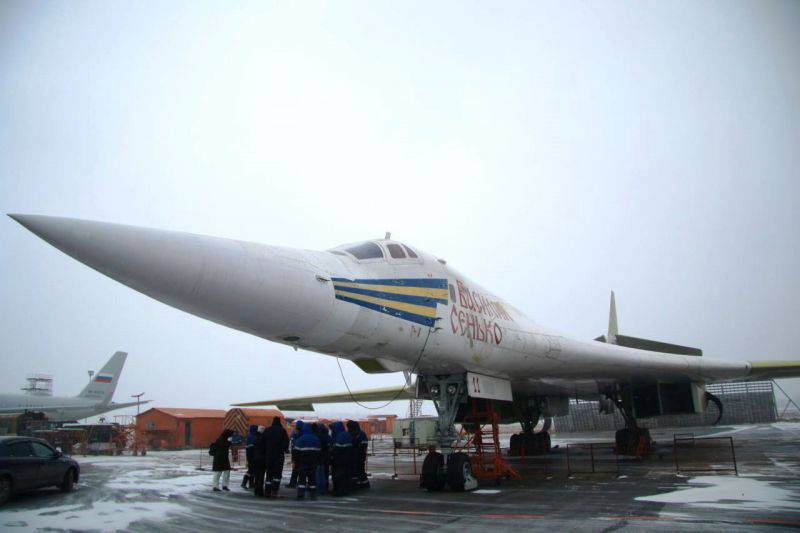 "As part of the work on the complex, the navigation equipment was replaced, ensuring the accuracy of the delivery of combat equipment available to the target of the Tu-160," the release says.
"This aircraft has a significant modernization potential and is designed to solve various tasks in a wide range of subsonic and supersonic speeds and altitudes, regardless of weather conditions, time of day and region of the globe," the press service of the Commander-in-Chief of the VKS, Viktor Bondarev, quoted.
According to bmpd, this is the 5-th modernized Tu-160, transferred to the military.
Reference bmpd: "Earlier, the upgraded Tu-160 strategic bombers of Russia were transferred to Russia: in 2006, the head Valentin Bliznyuk (registration number RF-94113), in 2011, - Valery Chkalov (registration number RF-94110 ), in the 2014 year - "Andrey Tupolev" (registration number RF-94111), and in the 2015 year - "Vasily Reshetnikov" (registration number RF-94102) ".