Carried away by cold samples
weapons
I completely forgot about the theory, but as you know, there is nothing better than a good theory. For example, the compilers of the British Encyclopedia of Weapons classify it according to the shape of the blade and its section. In the first case, there were seven types: a wide triangular blade that easily compensates for the softness of the metal, a narrow triangular blade — a perfect weapon in every sense, an asymmetrical blade, an example of which is the Malay kris (can have a "flaming profile"), a leaf-shaped blade, Arabic Jambia A "curved blade," a double-curved blade, is characteristic of India and Iran, a bowie blade, with a characteristic tip shape.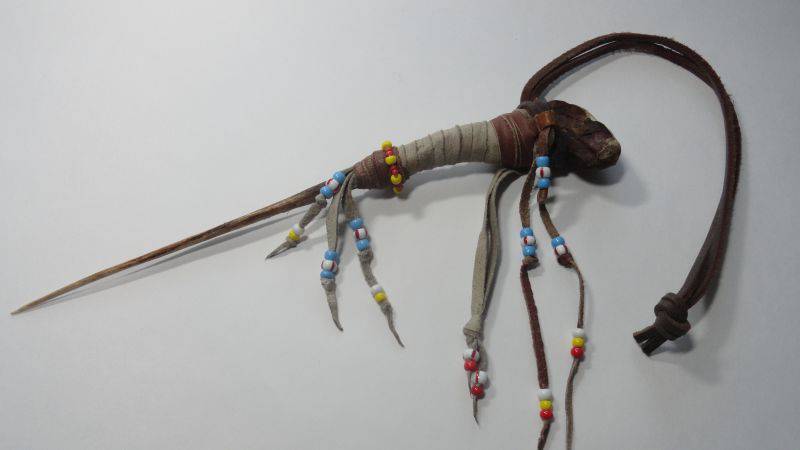 The dagger of the natives of New Guinea from the bone of the cassowary. From the collection of the Penza sculptor I. Zeynalov. Very deadly thing!
There are also seven sections: a blade formed by two flat parallel surfaces (the weakest but flexible), a lenticular blade, a blade with grooves, lenticular with stiffening ribs, rhombic (most durable), triangular or ticked, round, square, octahedral - only for punches.
Material: the most ancient - stone, obsidian or flint, bone, wood. For example, the Indians of North America made daggers from the elk horn, the Australian aborigines made quartzite daggers, and the handles from wood and thickened latex.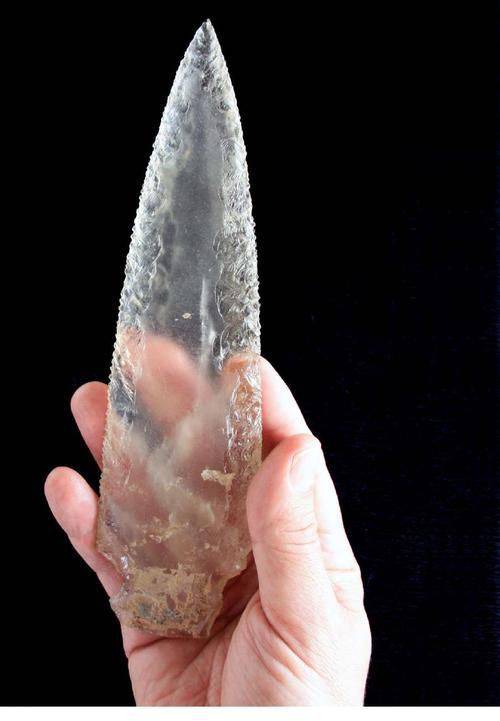 Very sharp volcanic glass knife. It remains only to attach the handle of the tree.
In France, they found a bone dagger of the Paleolithic era in the province of Dordogne, and he had no cutting edge and, therefore, it was only a piercing weapon! The Eskimos made themselves a bone of a walrus, and the ancient Chinese made them out of jade, the "stone of eternity."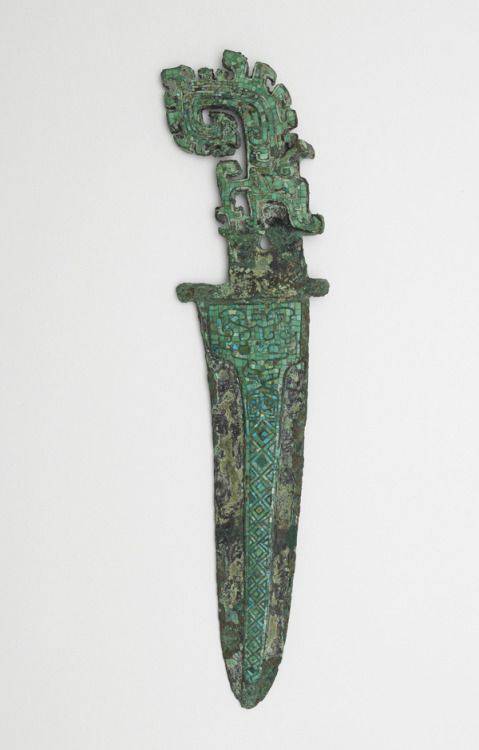 Chinese Bronze Dagger, 1300 - 1200 BC. The blade and the hilt are decorated with a mosaic of tortoise shell. Smithsonian Museum of Asian Art, Washington.

Another ancient dagger: the Dong-Son culture from Indonesia, 500 BC. - 300 AD Metropolitan Museum, New York.
Well, now we are transported to the hot Africa, with which we began to get acquainted with cold weapons in the past material. There, especially in its northern regions, the influence of the Arabs and Islam was very strong, and, accordingly, this influenced the shape of the daggers of this region.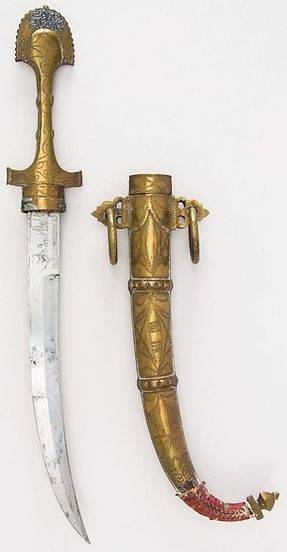 This is a typical Moroccan (Berber) dagger of kumiya (or kumiya), XIX century. Steel, silver, brass silver. Length, 43,8, see, weight, 422,4, Metropolitan Museum, New York. Pay attention to the ricasso - not sharpened part of the blade near the handle. You can even take a sword blow on it and still cannot cut the blade.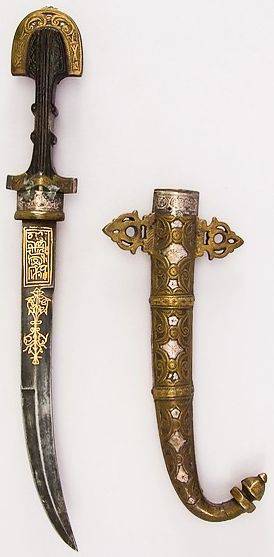 Another dagger kumya XIX century. Steel, wood, silver, brass, gold, mobile. Length 42,7 cm. Length without sheath 42,2 cm, weight 272,2 g., Sheath weight 377 Metropolitan-Museum, New York. In the area of ​​ricasso inscription in Arabic in the technology of notching gold.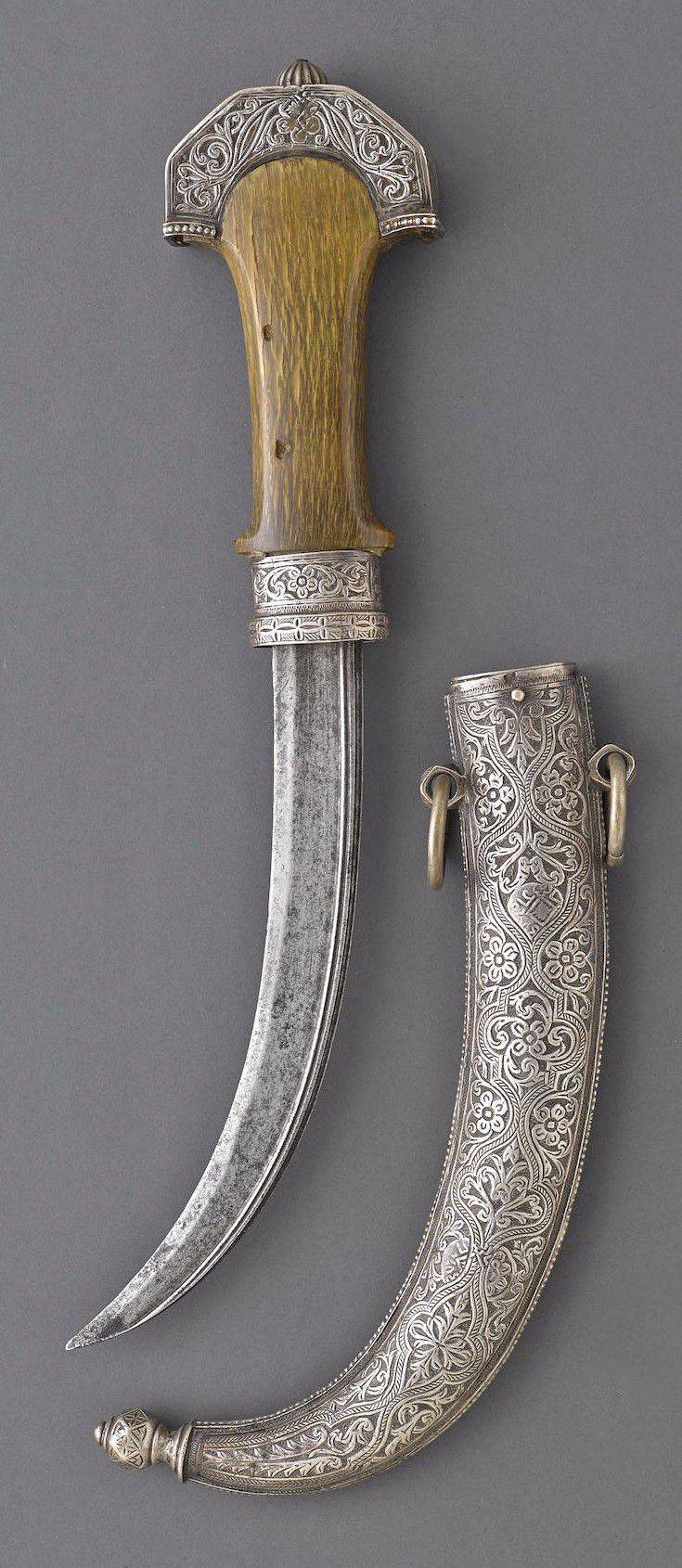 Dummy with silver trim and silver sheath. Late XIX century. Interestingly, daggers of this type were also produced by Toledo armorers. It was necessary to trade something with Berbers!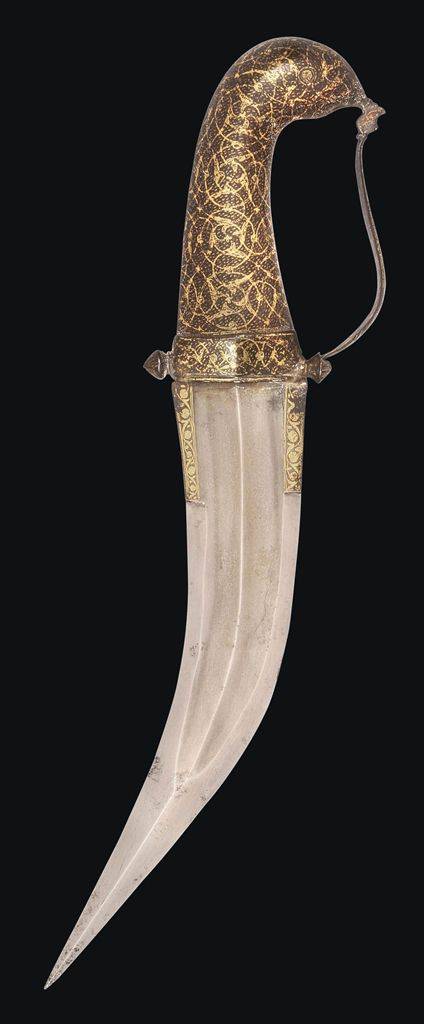 But this is an Indian Jambia with a "pistol grip" and again with a shackle-guard - again a guard, in any way Indians cannot build a guard ... But why such a guard with a dagger with a pistol handle? Chris also has a pistol grip, but there has never been any guard! Northern India XVIII - XIX centuries. Metropolitan Museum, New York.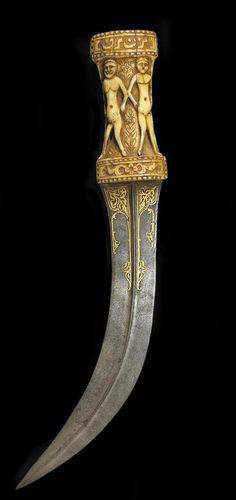 This Persian Jambia is interesting not with a blade, but with a hilt. She is made of bone and ... who is it saying that Islam forbids depicting human figures? Here they are, and besides, naked! And that's how this man walked with such "non-housing" behind his belt?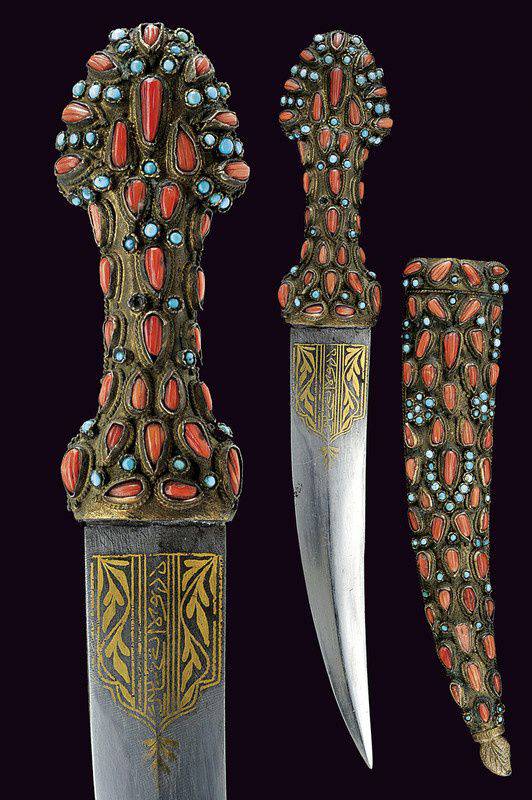 Turkish dagger XVIII - XIX centuries. from Christie's auction. Vulgar trim corals and turquoise, without measure, without taste, but expensive!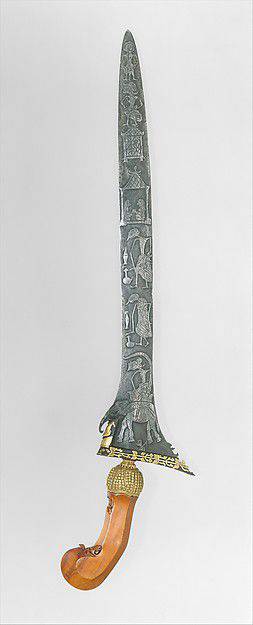 In the collection of edged weapons of the American Metropolitan Museum there are several different crises. Traditionally, a kris is a weapon with a wavy blade (forged Damascus steel), but in reality this is not the case, the main difference is not in this, but in the presence of a characteristic spur in the handle. As you can see, the whole blade of this kris is covered with various images. The popularity of Chris is so great, in 2005 the year UNESCO declared it a masterpiece of the world heritage of mankind!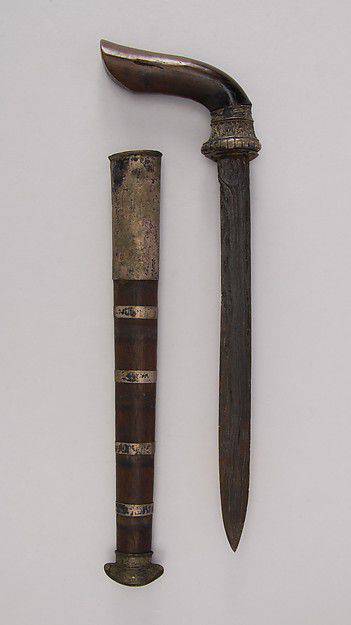 On the island of Sumatra, too, were their very, very unusual type of daggers. For example, this one with a L-shaped handle. XVI - XIX centuries. Weight 212,6 g., Sheath weight 107,7 Metropolitan Museum, New York.

The barong was just as original - a leaf-shaped dagger with a thick blade-blade sharpened on one side of the Moro people in the Philippines (among Islamic tribes) in the Southern Philippines and in the Asia Minor state of Sabah on Kalimantan Island. The length of the barongs ranges from 20 to 56, see. Most of the handles have a handle that is curved and extends toward the end. Barongs were used in World War II. The hilt ornaments were made of silver, but you will not see corals or rubies on this weapon.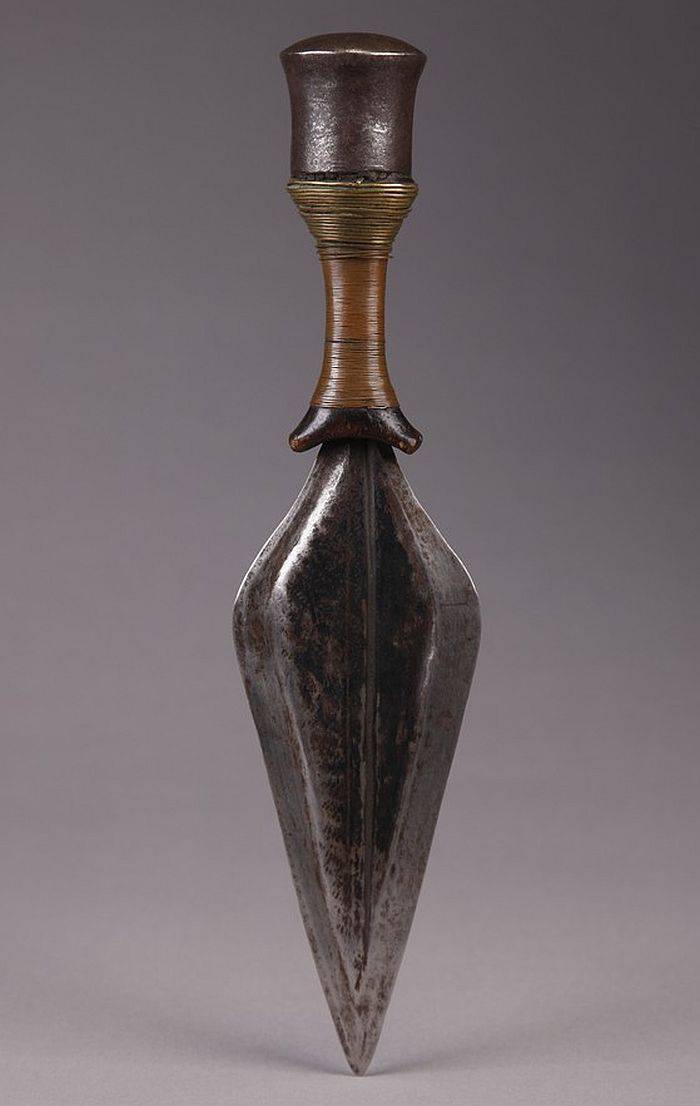 As you can see, we moved from richly decorated blades to more functional ones, and if so, then it makes sense to go back to Africa, but not to the north, but to its natives, who were not influenced by Islam. There, you will not see any special ornaments on the weapons, including the spela from the Congo, the end of the 19th and the beginning of the 20th centuries, including this spear-like dagger. Metropolitan Museum, New York.
These two "daggers" are also from Africa: left from Congo, right from Uganda. Moreover, it is surprising how much the left blade resembles the Xiphos ancient Greek sword. Cleveland Museum of Art.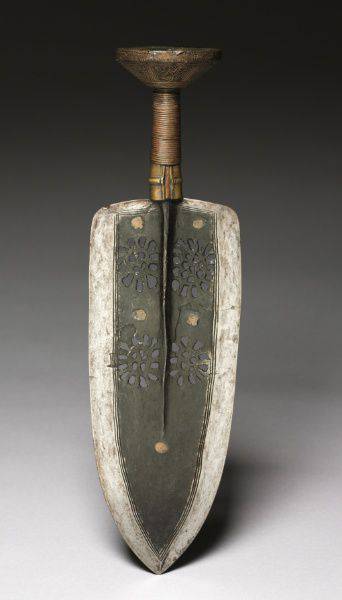 This "dagger" simply shakes the width of its blade, which is also decorated with a slit pattern. And this is again the Congo. The handle has a massive conical top-counterweight and is wrapped with wire. Cleveland Museum of Art.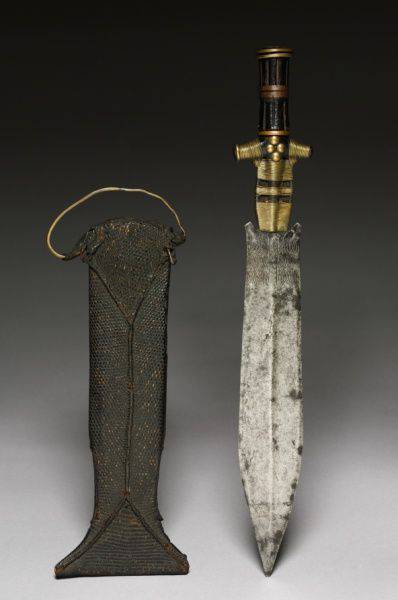 No less strange looks this dagger, or rather not even a dagger, but a short sword from the Cleveland Museum of Art. He is from Gabon, he has a thin steel blade, and a strange (why is she so?) Shaped handle wrapped in brass wire.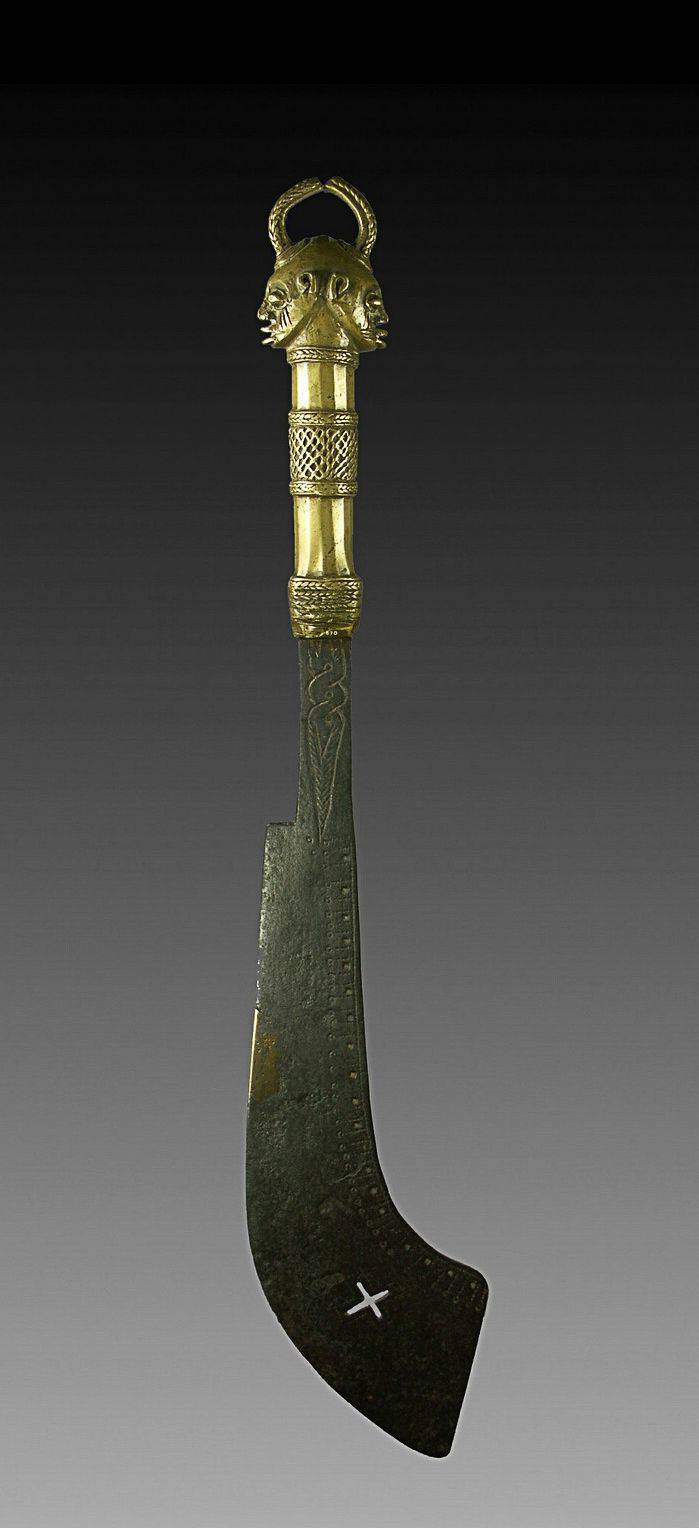 A cleaver with a colorful cast brass handle is suitable only for chopping. Its length is 57,5 cm, that is, it is a real short sword! Why on the dumb side of the blade punched holes? Exactly the same were pierced in the axes of the Russian city archers. But there the matter is clear: rings were inserted into them, and those bypassing the city by night watch strummed them, scaring "dashing people". But why are they here?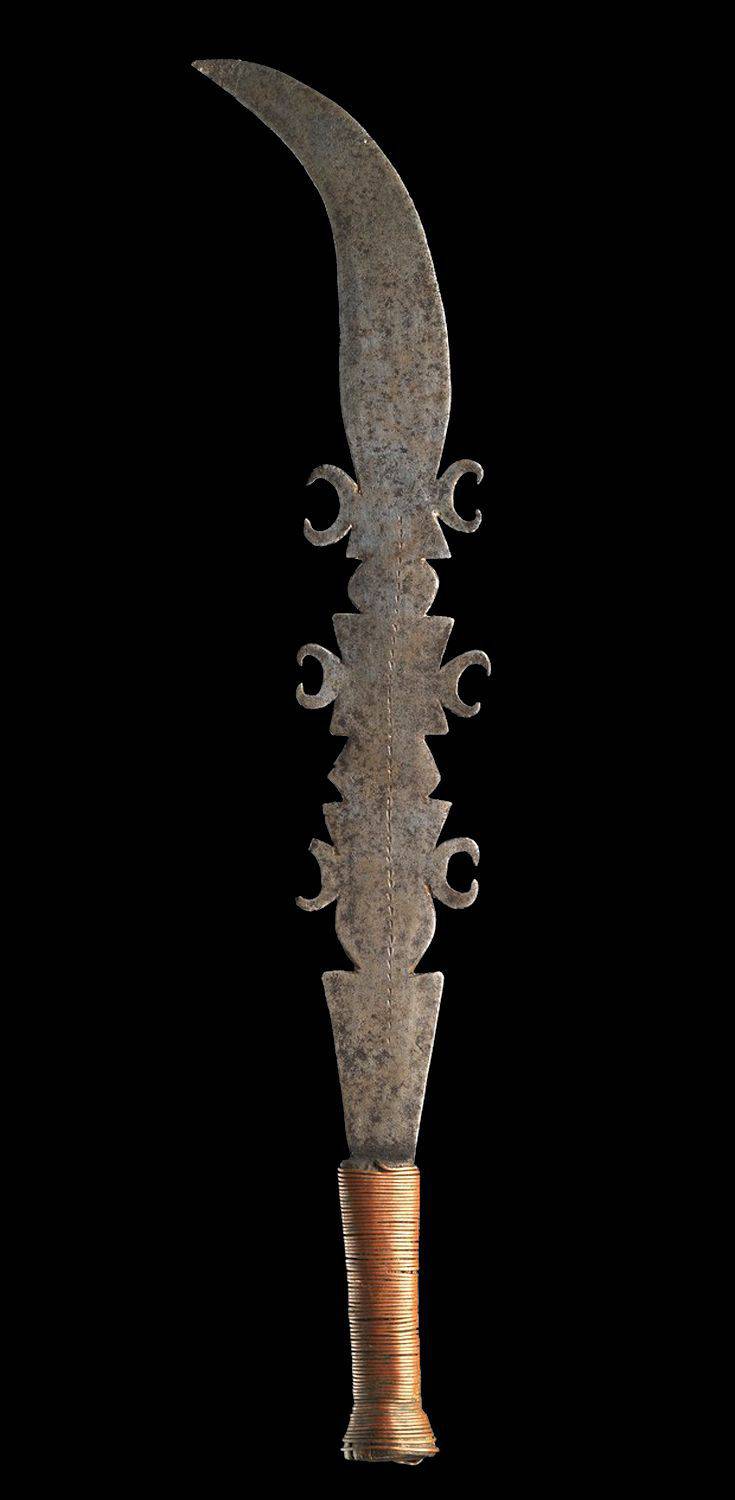 Even more strange looks like this "knife", belonging to the people of Mongo, again from the Congo. Steel blade, the handle is wrapped with copper wire. Why such "frills" on the blade? This is not a combat, but a ritual weapon. Not exactly known. Brought from Africa, bought from the people of the Mongo - that's all! Cleveland Museum of Art
Tlingit - coastal people of the North-West United States. They learned from Europeans to forge excellent blades, which were decorated in their national taste. XIX century. Cleveland Museum of Art.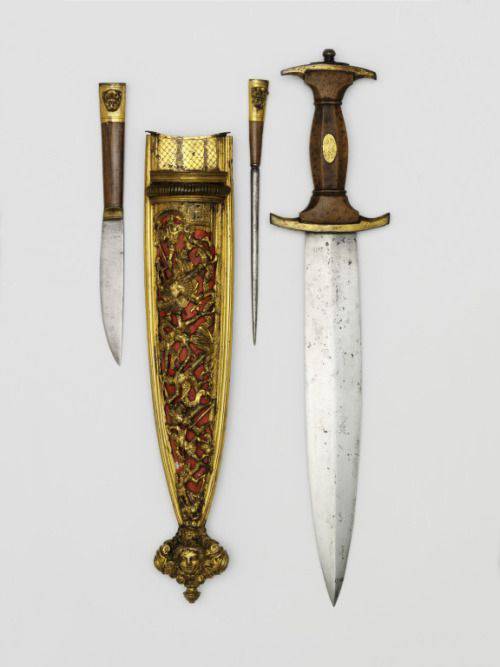 Well, this is Mother Europe! The dagger is Holbein 1592. Note that in his sheath, like a Japanese, a small knife and an awl were also placed. The blade is rhombic and very durable. Interestingly, in the 30 of the twentieth century, it was the daggers of this form that were copied by the German Nazis for their own shaped dagger. Victoria and Albert Museum, London.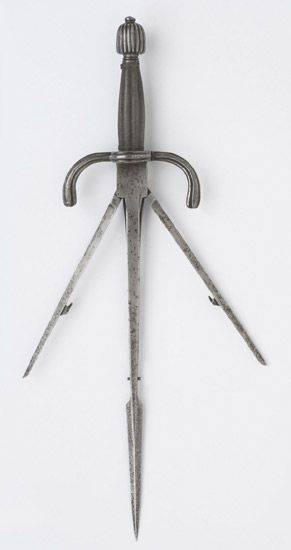 An example of European rationalism and ingenuity: a "parrying dagger" with a drop-down blade. Germany, 1600 Philadelphia Museum of Art.
Well, and the conclusion? The conclusion is this: the most richly decorated daggers, and decorated not so coarse, but exquisitely, were made in Persia and in India. In this these countries are all others left far behind. Japanese blades are found and decorated in their own way, it is difficult to compare them. Turkish - often decorated tasteless. European ... depending on the century.