The situation in the economy and financial sector seems to be more and more annoying, depressing and frightening ordinary citizens. This is noticeable in the number of articles and posts on this topic. They say different. Who closes his eyes and shouts that everything is fine. Who, without further ado, blames the one who has long been appointed in the world guilty in principle for everything. Who scratches his head and, looking down, mumbles something about "let's see how it will be." And who just frowned and silent.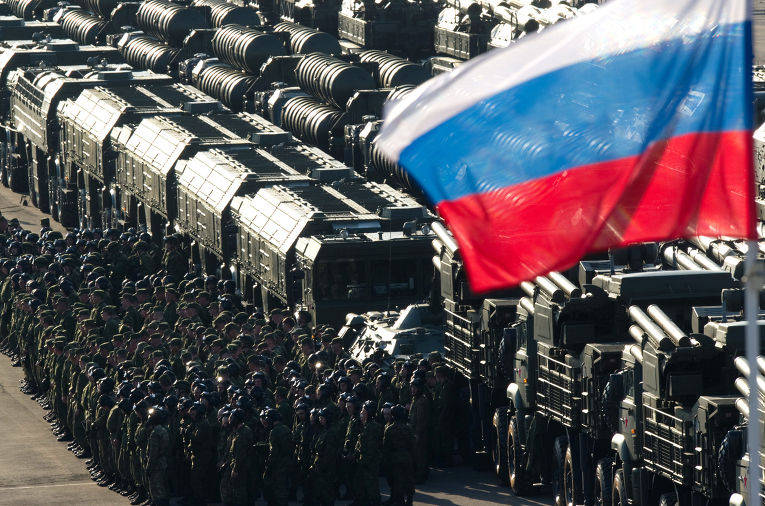 But nothing surprises me in this situation. Everything goes in a completely logical way. It only surprises me a little that nobody openly calls things by their proper names. Well, with rare exceptions. None of the really weighty personalities in politics and public life. In this sense, in Ukraine there is a very similar situation somewhere, but the opposite is true. In Ukraine, the authorities and public figures are screaming that there is a full-scale war with Russia. And, as it were, the common people believe, as usual, but somewhere inside they do not really see this war. And in Russia, on the contrary - there is a war, and the authorities and society pretend that there is none. And people believe, as usual, but somewhere inside they feel that everything is not so simple.
I will not state unconditionally, but still I will say that, in my opinion, today there is really a war. I do not discover America with this, many have talked and talk about it. But judging by the mood in the society, by publications and simply by discussions at the "VO", no one takes this into account. I emphasize once again: there is a war! Let the undeclared, let the hybrid, as you wish to call, but this is war. It is terrible initially because it is implicit, it is not announced, it is not clear who exactly is fighting, and what are the parties, strengths and goals. But Russia is really in a state of war, it needs to be accepted and realized. Then all the questions about the ruble exchange rate, the price of oil and the general decline in living standards, rising prices, etc. will disappear by themselves. There is a war! What did you expect during the war? What will be as usual?
Imagine how it was in the rear, somewhere in Kazakhstan or in the Urals in the 42 year. They did not shoot and did not sit in the trenches. But the deprivation was - more than enough. And everyone understood that there was a war, and there was no good life until there was a victory. And people suffered hardships and deliberately made sacrifices. And today, virtually all of Russia is in the rear. It does not shoot (yet), but the explosions are already audible. In the meantime, the country is under siege, and, of course, everyone suffers. One thing is not clear: why it surprises you, and why no one speaks about it out loud from high tribunes.
I understand that the president or the head of parliament probably cannot come out now and say from the TV screen that Russia is at war. And simple citizens will not understand, and they will take advantage of this in the world, and there are other considerations. But on the other hand, it seems to me that it would be somewhat clearer to many if someone authoritative explained that, they say, brothers and sisters, we are at war, so it will not be good in the near future, and there could be much worse so forget about the resorts and imported cars - that's all after the victory. But then, of course, it is necessary to call their names and enemies. And this is also hardly possible, they are also "partners." And many of them, in general, are citizens of the Russian Federation, and even go and figure out what level ... Having called openly the enemies, they will have to be somehow destroyed, for that she and the war. So the situation is a dead end. But you, conscious citizens, should have guessed about such things, without prompting. And explain to less developed others.
I am very entertained by the speeches of some people who speak in Ukraine: "Aha! Would you like Krymnash? Nate, get it! Here is your oil! Here is your course! Here you have isolation with sanctions! Here are the resorts in Turkey! Here are the prices for the products! "And that's all. I say to this that I do not know who two years ago counted on the fact that the Crimea returned to Russia, and now everything will gorgeously heal there. I had no such thoughts. I understood that this is only the beginning, these are only the first volleys of artillery preparation, and the main forces are not only not thrown into battle, but also not clearly marked. I understood that it would be bad and hard. And if they do not start shooting, there will be problems primarily in economics and finance. And therefore, what is happening now does not surprise me at all. You just need to understand that the war is already underway. And nothing good will wait for all of us in the near future, alas. This is a war, and if we want to win, we must realize it as soon as possible, accept and prepare for the hardships that accompany any war. Then all the talk about the reasons for the growth rate and prices, falling living standards, etc., and also about who is to blame, and whether Putin is to blame personally, and whether we should change it, all these questions will disappear by themselves, and will simply ridiculous to raise them. The country is fighting!