The Russian Helicopters Association has completed the delivery to Peru of 24's Mi-171Sh helicopters ordered under a contract from 2013 g, transfers
RIA News
TSAMTO message.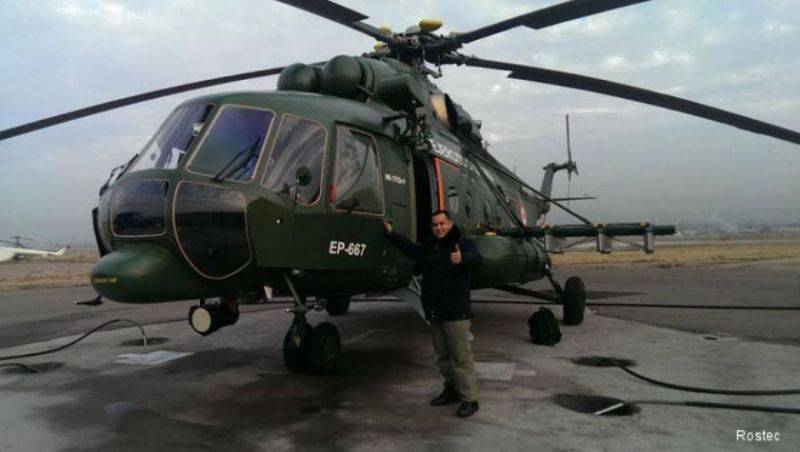 "In the framework of the contract concluded by Rosoboronexport, the Russian Helicopters holding 14 in January completed the transfer of the Mi-24Ш-П helicopters to the command of the Peruvian Ground Forces. According to Defens, the last three helicopters arrived in the country aboard the An-171 Ruslan a week earlier. After re-assembly and testing, the helicopters became part of the Peruvian SS, "the report says
The cost of the package of contracts concluded in 2013 g was $ 528 million. In addition to the helicopters, they provided for the delivery of simulators and auxiliary equipment to Peru, as well as training of personnel.
"According to the schedule, helicopters produced by Ulan-Ude
aviation
factory, it was supposed to be delivered to Peru during 2014-2015. All vehicles must be included in the combat brigade of the Army Aviation Ground Forces (BRIGAE). In November and December 2014, the first eight helicopters ordered were delivered to Peru. Three more cars arrived in Peru in June 2015, "the TSAMTO reported.
Further delivery of cars "was suspended because of the refusal of the National Bank of Peru to make regular payments under the contract because of the sanctions imposed by the US on Russian companies."
"After intense negotiations between representatives of Rosoboronexport and Peru's 30 September 2015, it was announced that the remaining 200 million dollars would be transferred to the contractor, and the deliveries of helicopters would resume. The next 10 helicopters of the Armed Forces of Peru received from the end of November to the beginning of December 2015 of the year, "they were told at TSAMTO.
It is noted that "within the framework of the offset program worth 180 million dollars in Peru, a center for the maintenance of Russian helicopters will be created on the basis of BRIGAE in Las Palmas and the flight simulator will be mounted." It is also planned to establish a joint venture for the production of components.