RIA News
, ссылаясь на
portal
legal information, reports that the well-known intellectual, publicist and TV host Anatoly Wasserman granted citizenship of the Russian Federation. It should be recalled that in relation to Anatoliy Aleksandrovich, who until recently was a citizen of Ukraine, a criminal case was initiated in the "Square" territory. Wasserman is accused of "separatism."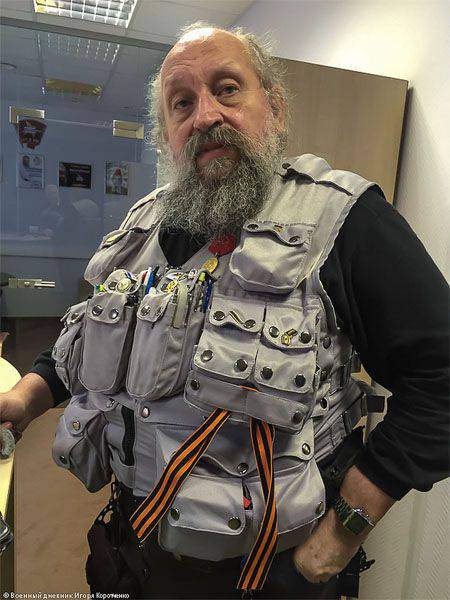 Anatoly Wasserman was born in 1952 in Odessa. Wasserman, like a real citizen and a patriot of his city, could not indifferently look at how Odessa turned into its outpost in southern Ukraine the neo-Nazi formations who organized the new Khatyn in the House of Trade Unions in May 2014. Anatoly Wasserman began to make statements about the need to confront radicals, for which he was declared a "separastist". As a result, Anatoly Alexandrovich addressed the Russian authorities with a request to grant him Russian citizenship. Today, Russian citizenship Anatoly Wasserman, like another representative of the intelligentsia, artist Yuri Cooper (Cooperman), was granted on the basis of a presidential decree.
For reference: Yuri Cooper, a native of Moscow, left the USSR at the beginning of the 1970. Got American citizenship. Cooper's works are exhibited in the State Tretyakov Gallery, the Metropolitan Museum and other major museums. At one time he created a project for the interiors of the Voronezh State Academic Theater named after AV Koltsov, and as a screenwriter, he worked on plays at the Chekhov Moscow Art Theater. On account of Yuri Cooper more than fifty solo exhibitions in different cities of the world from Moscow to New York.
From the decree of the President of the Russian Federation Vladimir Putin:
Satisfy the application for admission to the citizenship of the Russian Federation Wasserman Anatoly, born 9 December 1952 of the year in Ukraine (in Odessa), and Yuri Kuperman, born 5 July 1940 of the year Moscow.