Opposite the American diplomatic mission in the Russian capital, a poster was posted on which the text of the following character is below the portrait of the American president: "Killer" (murderer). The initiator of the action is the Moscow art community Glavplakat. The poster, as reported by members of the art community, is dedicated to the fact that the US is once again trying to carry out a military invasion of a foreign state without the consent of its authorities and the relevant resolutions of the UN Security Council. The poster is presented in the style of Barack Obama's election campaign sample 2008 of the year.
From the material
"Glavplakata"
:
The Killer signature means the new status of 44 American President, which can be addressed to him, thanks to the decision to send the infamous 101 division of the airborne troops to participate in a ground operation in the Syrian conflict. Recall that it was this unit that carried out the main tasks in almost all US military incursions of the last decades. We believe that the soldiers of this division are remembered with "gratitude" by the relatives of thousands of dead and wounded from the American
weapons
across the globe, from Vietnam to the Middle East.
Only in Iraq, according to media reports, killed:
60024 civilians from small arms;
37840 became victims of explosions;
5648 people from raids
aviation
using bombs, guns and rockets.
In comparison with Afghanistan, this figure looks modest, with numbers ranging from 670 thousands of civilians to 2 millions.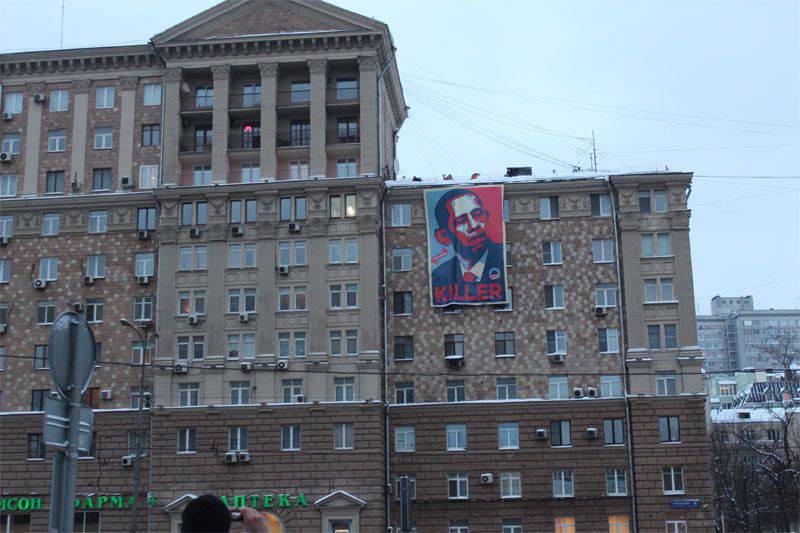 Representatives of the art community say that, in their opinion, the new US military operation will lead to the same consequences (the spread of chaos), which resulted in all previous ones.