Before signing a contract to buy Dassault Rafale 60 fighters, the Emirates intends to get rid of obsolete Dassault Mirage 2000-9 aircraft acquired in France at the end of 90-x and early zero, the blog reports
bmpd
with reference to Opex 360.com.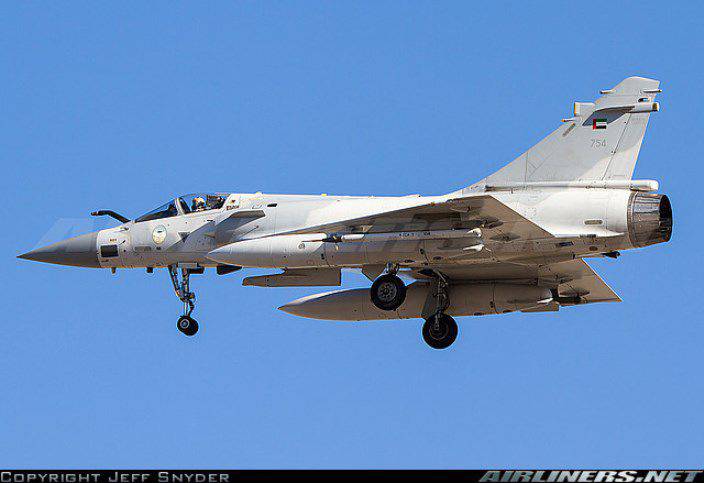 According to the newspaper, in December 2014 "The UAE offered 10 to Iraq in Mirage 2000-9 as part of its security contribution to the country, especially in the Erbil region (Kurdistan), where the UAE had serious interests, primarily investments in the oil and gas industry. "
However, not a single plane was handed over - France blocked the deal. "Nevertheless, the recent visit to the United Arab Emirates by French Foreign Minister Laurent Fabius can remove obstacles along the way," the author notes. Following the meeting, Fabius said that "the situation with the conclusion of the contract for 60 Rafale looks optimistic."
In any case, the newspaper writes, the question of transferring planes to Baghdad can be considered resolved. But there is one hitch. "The UAE has expressed the wish that the aircraft be based in Kurdistan. And, as far as can be judged, Baghdad refused the request. At the same time, the Iraqi government has assured that the territory of residence of the Kurds will be protected, and now the UAE are waiting for the decision of France, "said an informed source.
According to him, "the aircraft will be based at the Balad airbase in 60 km north of Baghdad."
To date, there are still several unresolved issues related to the training of Iraqi pilots, aircraft maintenance and armament. Just these problems determine the behavior of the French.