Information Agency
Reuters
reports that during the fierce fighting, the Syrian government army completely liberated Sheikh-Miskin from the militants of terrorist organizations in the south of the country in the province of Daraa (Deraa). The fighting moved to the western suburbs of Sheikh Miskin. Reuters, publishing this information, refers to the well-known "Syrian Observatory for Human Rights" with an office in London.
Information about the capture of Sheikh-Miskin city government forces under its full control is confirmed by the news agency
SANA
. The report says that the Syrian army also controls the Sheikh-Miskin-Ebtaa highway, which previously allowed the militants to transfer forces from other parts of the province of Daraa. Now with the supply and support of the terrorists in Daraa obvious problems.
As a result of a successful operation, several dozens of terrorists and pieces of military equipment, including a favorite among militants, have been destroyed - off-road vehicles equipped with large-caliber machine guns.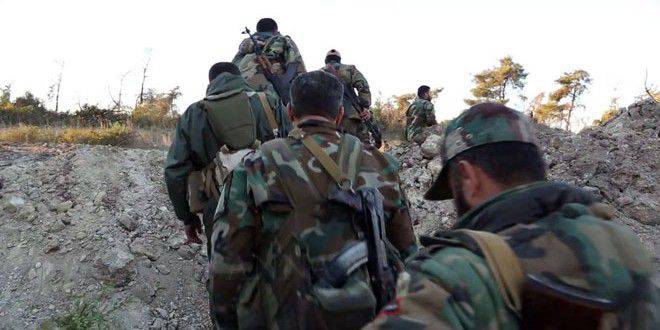 ISIS fighters suffered serious losses in manpower and equipment in the province of Deir-ez-Zor, where for several days the attack of the SAR army was supported from the air by long-range Tu-22М3 Bomber Helicopters of Russia. The militants tried to take control of one of the quarters (Ar-Rushdiya) of the provincial capital, but the group of attackers was eliminated.
The active phase of the offensive by the Syrian government forces in the provinces of Homs, Aleppo and Lattakia continues. Militants have published in social networks a message that in the Aleppo area several of their field commanders were killed, including Ahmad Hattiba from the branch of Dzhebhat al-Nusra.