The Office of the Press Service and Information Ministry of Defense of Russia issued a message, which refers to the collapse of the MiG-31 fighter in the Krasnoyarsk Territory. The plane fell about 40 km north-west of Kansk in a wooded area while the crew was on a training flight. The fighter belonged to the association of the Air Force and Air Defense of the Central Military District.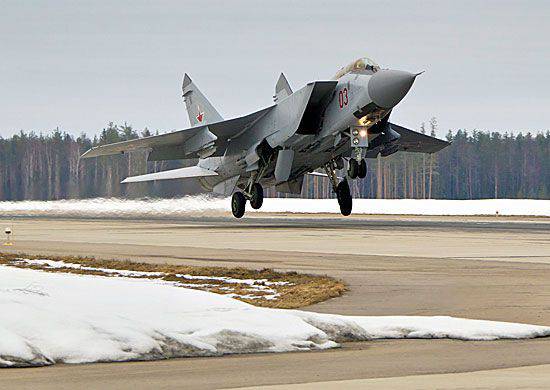 The message of the official representative of the Ministry of Defense of the Russian Federation states that the fighter crew made a bailout. Immediately after the successful landing, the pilots contacted and reported the crash of the MiG-31 aircraft.
It is noted that the fighter performed a scheduled training flight without a combat kit. There were no casualties or destruction on the ground as a result of the plane crash. According to preliminary data (from the words of pilots to the command), the cause of the catastrophe was equipment failure. On the failure of a particular node fighter in question, not yet reported.
A special expert group of the main defense department of the country flew to the crash site, which will begin to investigate the circumstances of the disaster. Reports about it
RIA News
.
The previous incident with an aircraft of similar modification (MiG-31) occurred in October 2015 of the year in Kamchatka. Then both pilots also successfully ejected, after which they were delivered to the nearest military airfield.