On the eve of the militants of the so-called "Islamic State" published a photo, the signature under which says that in the area of ​​Deir-ez-Zor was captured anti-aircraft missile system 2К12 "Cube" (export version - "Square"). The report, published by the militants, says that the seizure of the anti-aircraft missile system of the Russian (actually - Soviet, - VO) production took place at one of the positions of the Syrian government army. According to statements by ISIL militants, several anti-aircraft missiles were in their hands.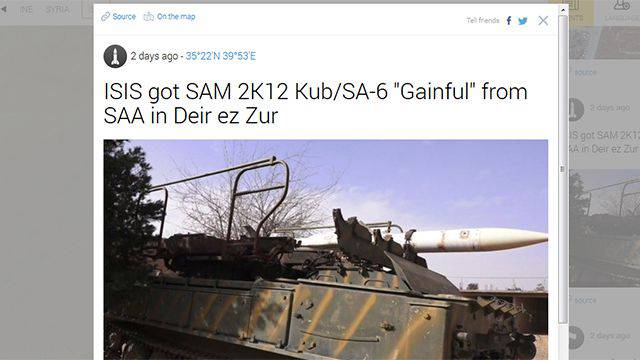 Such a complex was widely exported by the Soviet Union over 40 years ago. The Kvadrat SAM system took part in numerous armed conflicts in the Middle East. The main operators of the "Cub" air defense system ("Square") besides the armed forces of the Soviet Union (at one time) and Syria were (are) such countries as India, Egypt, Iraq, Kuwait, Poland.
In a number of Western (as well as Ukrainian) media outlets managed to misinterpret information about the seizure by militants of the Kvadrat air defense system, writing that igilovtsy "captured the anti-aircraft missile system from the servicemen of the Russian army." This disinformation in the format of "spoiled phone" is distributed in a number of foreign segments of social networks and the media "information".
The main question is whether the militants will be able to use the anti-aircraft missile system if it really was captured by them from the Syrian army? If we consider that there are quite a few former soldiers of the Iraqi army as part of the IG, in which the Kvadrat air defense system was in service, this probability is high.