The company PIT-RADWAR (Warsaw) has manufactured a complete sample of the new Tryton 35 mm caliber single-barreled single-barreled single-barrel shipboard automatic gun mounts, a blog
bmpd
with reference to the resource www.defence24.pl.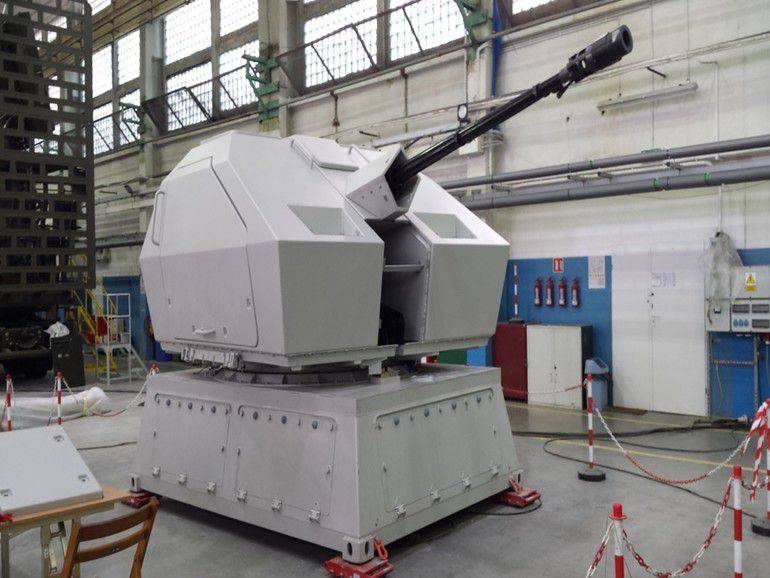 In the first quarter of this year, the Tryton will be installed in the aft part of the small anti-submarine ship of the Polish Navy Kaszub. Installation tests are scheduled to be completed by the end of 2016.
After testing 3, such installations are planned to be installed on the Kormoran II type minesweepers under construction of the 258 project.
According to the resource, "the development of the Tryton artillery was carried out from 2012 of the year under the auspices of the Polish National Center for Research and Development (Narodowego Centrum Badań i Rozwoju) by a consortium of PIT-RADWAR, the ZM Tarnow plant and the Polish Military Technical Academy and the Naval Academy."
The gun is manufactured by Huta Stalowa Wola under license from Oerlikon (now Rheinmetall Air Defense), acquired in 1990's.
"To control the Tryton fire, the ZGS-158M developed PIT-RADWAR electronic system is used, including a thermal imaging and television camera mounted on a stabilized turret and a laser range finder. There is also a backup speaker with an optical sight, "- said the publication.
In 2017, the ammunition of the installation promised to replenish the 35-mm projectile with a programmable fuse.
Help bmpd:
"Despite statements of intent to introduce shells with a programmable fuse into the Tryton ammunition, this gun mount, made on the basis of the already very old Oerlikon KDA 35 cannon with a rate of fire of only 550 shots per minute, and using a relatively simple fire control system, can already be considered outdated technically, and most likely it will be incapable of effectively combating anti-ship missiles and high-precision munitions. In fact, this gun mount can only be considered as an auxiliary weapon for minesweepers and patrol ships. "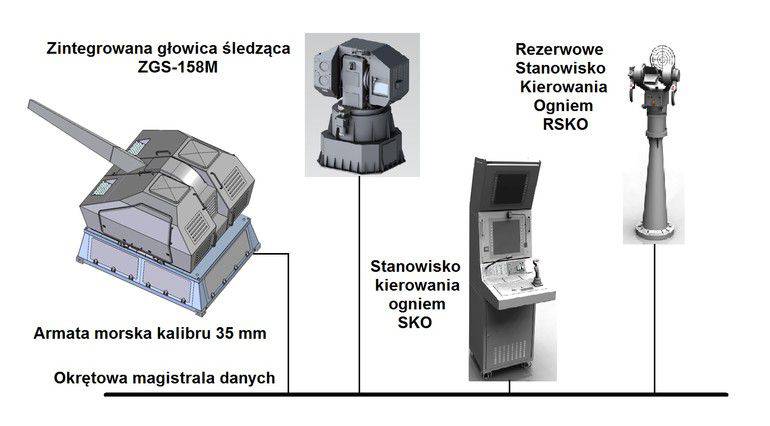 The composition of the weapons complex of the new Polish 35-mm single-barrel naval automatic artillery installation Tryton. including the ZGS-158M optoelectronic fire control system.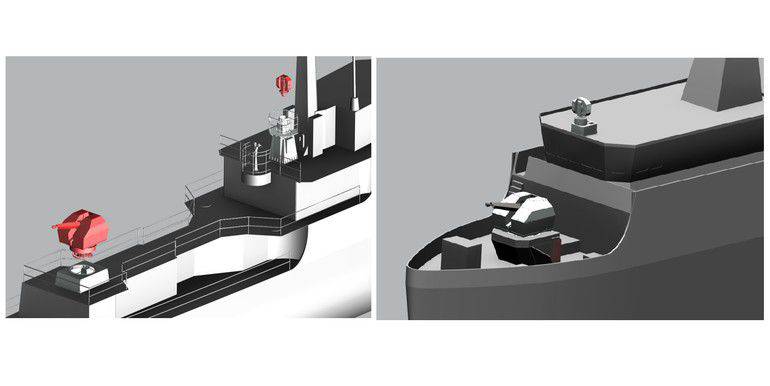 Placement of the new Polish 35-mm single-barrel ship-based automatic artillery system Tryton.