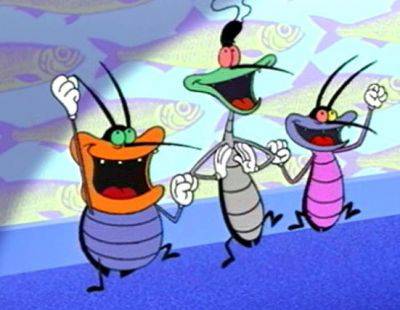 Greetings to you, my dear readers! Greetings from all the big cockroach soul! As promised, our separation was not long. Cockroaches do not disappear at all for a long time. Cockroaches and cockroaches because they can disappear and appear suddenly. And when viewed on a more or less long period of time, we are eternal!
As usual, in the beginning - the answers to your questions and deviations from the main topic. The main question in the comments was: "Did the Cockroach feed me with borsch?"
Sorry, dear readers, but you have forgotten our essence. The essence of the Ukrainian cockroaches, and Ukrainians in general. Have you ever seen a cockroach in your life dragging something from its mink? Did not see. And you will not see. We are homely. We drag everything into the mink.
So, our cockroaches are, of course, harmful, but ... they are Ukrainian cockroaches. And its out of the mink will not pull out. And the husband, whatever it may be, bad or good, his own! So do not worry. The Cockroach fed me and fed me ... She also poured gorilka for my sweetness. True, I did not read the notes. Well, the ones that you read. Just in case.
And the second retreat. Tragic. Without satire and humor. People are dying more and more. Mows the flu of Ukrainians, like a real reaper. And there is no way out. Vaccines and stuff no longer help. Yes and no them. Some promises. And there is no medicine. It may, of course, exist somewhere, but we do not have it in pharmacies.
The government is lying to everyone, even to themselves. But even there they have to admit a large number of deaths from the flu and its complications. And now Ukrainians began to be treated using a new method. Introduced mask mode. Do not know what it is? Yes, now everyone who is in charge of something is just obliged to ensure that subordinates wear masks. And changed. Moreover, even here there is an opening. The opening of our doctors.
For your enlightenment I will say. It turns out that each layer of such a mask "keeps" viruses for an hour. We, cockroaches, we will be fewer people. In terms of magnitude. And we have a bigger eye. So, we considered these masks. I wonder how viruses do not pass through such holes? This, in order for you to understand it, put a wall with a span of ten kilometers between the spans so that people do not pass into a closed area.
So, if this mask itself has four layers, the viruses will fight on this mask for four hours and die. But if the layers will be 20? Then, in general, the whole day is protected. This is our medicine now. While writing to Africa, ask for help in some Zimbabwe or Gabon.
And now on the topic. You're probably waiting for what wishes come true. Yes your wishes. Remember, you wished me to have a truck with sugar on my street turned over. So, we have trucks in the ATO. But something similar happened. For all cockroaches.
Ukraine is now exporting very little. But there is a product that is very much there. Honey! This is not sugar beet. This is honey! Delicious and ... healthy. And they drive him to Europe. But thank you. We heartily wished. Europeans, in particular, Czechs, refuse to buy Ukrainian honey. Returned everything to us. Now we will live in sweetness until spring.
"According to RASFF (Rapid Alert Systems for Food and Feed), banned substances (antimicrobial substances) have been detected in Ukrainian bee honey, which has been exported to the Czech Republic,"
Yes, and our people, these same antimicrobial substances on the drum. Although, can the flu thus win?
There is one more thing that few people know about. Except cockroaches of course. You, dear readers, know that there are several nuclear power plants in Ukraine. So, these very nuclear power plants, I will reveal the secret to some, not everything is burned. In terms of fuel. Some part of this filth (although from our cockroach point of view it is not clear why it is bad) remains. And we need to put this waste somewhere.
In Russia, there are plants that seem to be somehow processed. We do not have. And for processing you have to pay. And more. Let me remind you that Ukrainian cockroaches drag nothing from a mink. Only in the mink.
In short, our rulers told the aggressors - you FIG! We will store ourselves and ... you will not receive our blood dollars or euros there. We have so many places in the steppes that this waste will be lost so that no one will notice. Again, Chernobyl is.
Say something said. So what is next? Who is lucky in the Chernobyl zone waste? In the same place only to cockroaches of a laf. People death. And the Europeans said no. Europeans are afraid of nuclear "additives" in a destroyed nuclear power plant. They say that for such a joke no more money will be given.
So we must again go to the Russians to bow. And it's a pity to give money. "Therefore, for the time being, we are carefully analyzing how to implement these conclusions. At the moment, we need to think about how to conduct further negotiations with the Russian side, since there are several options. The situation is difficult, it has not been resolved over the course of 20 years. There is no solution, "said our Minister Demshinin," decisions to return glazed radioactive waste from Russia to Ukraine from the reprocessing of nuclear fuel from VVER-440 reactors of the Rovno nuclear power plant have not yet been found. "
Well, these are problems. And here are the next peremogi. You probably already know that Ukraine has entered the top 30 of the most influential countries in the world! Vyshivanok yesterday got drunk from such a message. Somewhere I found an empty (from the point of view of people) bottle, and climbed there. After half an hour - was in the insole. Finally peremoga.
Only now, after a careful reading of this peremoga, even he has left the remnants of the brain. It turns out we are at 59 location from 60 countries. Where did this top, no one understood. But the description of Ukraine is worth reading. You will be interested.
"The description says that the independence of the Ukrainian state was interrupted by long periods of occupation by other states.
Post-Soviet life of Ukraine was overshadowed by corruption and fraud at the state level, which subsequently led to mass protests and a change of power.
Russia annexed the Crimea and Moscow's actions are widely condemned by the world community.
The largest sectors of the economy of Ukraine are services, industry and agriculture.
It is noted that agricultural production and energy consumption could be more efficient and Ukraine could play an important role in global food security, as required by the World Bank.
The culture of Ukraine is influenced by Western and Central Europe, as well as Russia in the east of the country and in the religious sphere - the Orthodox faith dominates among Ukrainians.
The country has a rich
history
In the literature, music, architecture and folk art - pysanky.
Ethnic Ukrainians make up the majority of the population, and ethnic Russians are the largest national minority "
Like this. Ukraine is the most samista country in the world. If not for long periods of occupation.
We have a Motherland. Not in the sense of Ukraine - our homeland. In the sense of - a monument. Once the late Ilyich opened with pomp this monument. On the high bank of the Dnieper is. Big-very big. Even ours do not crawl there. High. The wind blows. You can even break with our wings.
So, Leonid Ilyich did not think that we would organize independence and refuse victory in a war. Therefore, in the monument there is a shield and a sword. And on the shield - the emblem of the USSR. Zrada from the sculptor!
Well, we decided to de-communize the monument. Coat of arms to remove. I don't know exactly how much the coat of arms weighs. The sword is 9 tons and the shield is 13. Yes, and the size of the "Soviet". The sword is 16 meters, and the shield is 13 on 8 meters. In short, let's see how they will "win" the Motherland ". The Ukrainian Lenins are tired of enduring mockery. Those who are monuments too. The last one, when he was" de-communized, "knocked out one eye completely. I wonder how the USSR will respond?
There is
news
and from our lawyers. Reforms began to give their results. The prosecutor's office of the autonomous republic of Crimea, not the one that is in Crimea, but the one that is in Kiev (we have one who does not know) opened a criminal case against ... an American company! And how do you want? We are Square! We are not afraid of anyone. Even American companies are not afraid of us. Coca-Cola and Pepsi are trembling.
And there was nothing in their advertising maps to draw the Russian Crimea. Artists ... It's a shame. Publicly acknowledged, you understand, a fact. Could and not publicly. So, quietly, recognized, as we do, and everything. No. In the TV stuck their ads. Such a terrible damage to the image of our state was done, it is even impossible to calculate directly. Only now, for some reason, Americans laugh ... why? Yes, they are all so ... funny. Like the Russians.
Well, the international peremogi of our power. Do you remember how we recently intimidated the Russian delegation to the PACE? Our parliamentarians gathered and intimidated. We will not let the Russians speak and vote. So what? Not allowed. Russian deputies did not go to the session. And the money is not transferred. Somehow we didn't think about it.
But tell me everything you want about Russia. No one will argue. And they began to talk. What about? Yes, about the murder of Boris Nemtsov. This is a terrible crime. Far worse than tens of thousands killed in the Donbas. Even worse than burned in Odessa. Or there, killing of Elderberry or Kalashnikov. This is Nemtsov.
By the way, thanks to the Russians for the future monument to Buzin at the Kiev railway station in Moscow. We took it as a monument to all those who are fighting, who do not agree with the junta. Anyone who disappeared in the depths of this struggle. Famous and not famous. Dead and disabled or refugees. Thank you from us.
And to calm the Russian soul. Great Peremoga Russian car industry in Europe. Do not believe? In vain. Today, in some European countries, the Russian "Lada" and "Volga" enjoy very great success. Moreover, not only Russian, but also Soviet.
I tell. At the end of last year, Finland imposed a ban on crossing the border by bicycle transport. The Finns suddenly saw that their infrastructure was not sufficiently developed for this bike itself. In fact, everything is much simpler. Migrants came from Russia (not Russians, but those "from the south") on bicycles. And according to the rules they need to give Finnish documents. 450 people came like that.
In short, the Finns closed checkpoints "Salla" and "Raya-Jooseppi" for bicycles. Only they forgot what country the refugees passed through before. A "Russian spirit" quickly penetrates the brain.
Now refugees are buying Russian cars in large quantities. And in the most pitiable condition. And already as motorists go to Finland. They moved the border and ... threw the car. Now the Finnish border guards have a new headache. Where to put all this junk. And the Russian border avtohlama owners price increases.
Here on this note, let me finish our meeting today. The sun breaks into the cracks of our house. So, it's time to sleep. Good morning to you, happy day and fewer problems. Until next time.