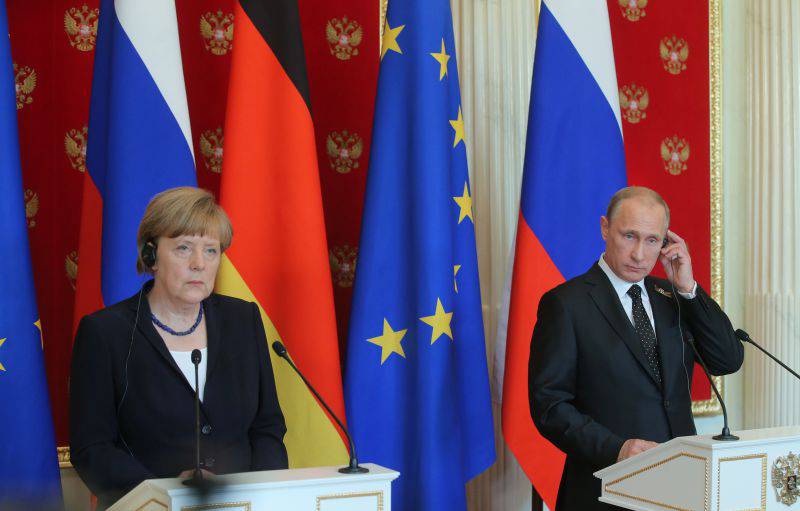 The recent visit of the "sweet couple" of German journalists to Putin's den and a series of provocative, aggressive and naive questions from their side of the Russian president pushed me to write this short note about our boy. In the end, the GDP of a person is very busy, and he simply has no time to answer the questions of the "average German kindergarten student". My time is less limited, so why not make life easier for literally everyone and not give answers to all the questions about Russia, which are so much disturbing the ordinary German "questioner".
So, the Germans have exactly three problems with Russia.
The first problem.
Literally on a subconscious level, the Germans consider Russia to be a system of lower order than Germany. In engineering, politics, economics, military, science, literally everything. Accordingly, the "dialogue on equal terms", from their point of view, is impossible in principle. Russians have no democracy, outdated technology, corruption, lack of press freedom and personal freedom. In short, gloom. The funny thing is that at the same time the Germans categorically refuse to study this very "backward Russia". As a rule, they know nothing about Russia except Russia for propaganda, and, strictly speaking, they don't want to know much. But Russia is not Nigeria at all. Over the past three hundred years, beginning with Peter the Great, Russia has played a leading role in world affairs, being the largest power on the planet. With the exception of island Britain, Russia is the only power that Europeans / Americans have never been able to defeat and occupy. France, Austria, Italy, Germany, Japan, Portugal and Turkey, Iran and India, China and Korea - all of them, one way or another, were defeated in a new and newest
stories
but not Russia. But on one totalitarianism, slavery and lies it would be extremely difficult to achieve this. Here, you see, there is such a logical paradox in their propaganda: on the one hand, it is a worthless third-world country, which is a pity for a good bullet, on the other hand - the number one threat to European democracy.
Apparently, they were carried away by the translation of Nekrasov ("... You are mighty, / You and impotent ..."). Such is the paradox. The fact that in the field of space technology, helicopter manufacturing, production of modern fighters is Russia is the number one country in the world, they are simply not noticed.
Paradoxically, even the operation of the Russian Aerospace Forces in Syria did not change anything in this picture of Russian backwardness. But such an operation on the planet can be carried out literally by two countries - the United States and the Russian Federation. Perhaps China is not aware of their capabilities, but I doubt it a little. By the way, no matter how much we want all of eternal peace, but it is precisely such military operations that demonstrate the level of development of the state. We need modern equipment, pilots, security, intelligence, logistics, communications, EW ... a lot of things you need, you will get tired of your fingers. By the way, can Germany (the economic heart of Europe) conduct a similar operation? Japan (East Asian industrial and financial monster) can? Why not? All the money stole Serdyukov-san?
Do you find paradoxical the talk about the complete absence of corruption and the unprecedented economic efficiency of the German economy and the simultaneous absence of a sufficient number of machine guns in parts of the Bundeswehr (which is quite small)? Some kind of inconsistency here. In the "zero" salary of the German worker was tightly cut, social benefits, too, the German economy is "blooming", but there was no money for machine guns. Even taking into account the fact that large German capital literally "gutted" Eastern and Southern Europe. By the way, there is no money at the Luftwaffe either, that's why they don't fly (just kidding). Of course, looking at this "holiday of life", Hitler would shoot himself a second time. Something strange is the economic prosperity of Germany ... Where, in fact, and in what is it expressed? Space program? Are underwater cities being built? Submarine fleet? Willy II after coming to power - "in a quick" way heaped a fleet of the open sea, which cost incredible money and was the second on the planet. At the same time, the Russian fleet was far behind. The Führer, having come to power - "in five seconds" built super-powerful ships, which cost a lot, but sharply raised the naval rank of Germany. The USSR could not build such ships at that time, alas. Industrial, trading Germany needed a powerful
navy
like Britain, Holland, Venice, Byzantium ... Nothing new. Although the fleet is expensive. That is precisely why modern Germany does not have a fleet. Absolutely. But there is democracy. But the Russians have a fleet, but it doesn't matter.
Russia is the largest country in the world, and these lands have not been given to her as a gift from the "higher powers". This is called successful state building. There are trains running across this endless territory, factories are smoking there, laws are being observed. In this area live one and a half hundreds of various nations. Plus space, nuclear shield, science. It is such a Eurasian power. But for the Germans all this for some reason does not exist. They are ready to build relations with the United States or China, but not with Russia. They don't see Russia as a serious partner, they don't want to see it point-blank. In principle, it was Russia that maintained the relative order in the territory of the "walking-field Ukraine", until the European integrators came. The lack of a realistic assessment of Russia and its capabilities makes it impossible to build an adequate foreign policy of Germany.
The second problem.
Russia is unknowable in principle (a mysterious distant country), and only a tough confrontation based on the incompatibility of cultures and values ​​is possible with it. Funny enough: for example, no one has ever said such nonsense about Spain (which is not really Europe). As, however, and about Turkey in 19-20-21 centuries, which differs from Germany much more. Japan, for example, was an ally of Germany in WWII, and no one tried to argue that the Japanese were a total mysticism. Although the difference between Japanese and German culture is much more than between Russian and German. It's just historically that Russia's entire millennial history somehow contacts with Europe. Europeans consider themselves the heirs of Roman and Greek culture (different Europeans in different degrees). Russia positions itself as the successor of Byzantium.
That is, Russia is not Turkey, not Iran, and not even Algeria. This is, figuratively speaking, an analogue of the United States, that is, Europe outside Europe, geographically and mentally. But if, with respect to the United States, the Europeans readily recognize this (the West and its values), then with respect to Russia they refuse to admit categorically. Millions of Germans from the 18 century to the beginning of 20 left for the United States (mass emigration). Germany knows and remembers this. But, forgive me, during the same period, hundreds of thousands of Germans moved to Russia. Russian urban culture in the Russian Empire was created largely due to their participation. Just after WWII and the achievements of Vaterland on the basis of humanism, it is not customary to recall this. But that was, that was. Read the Russian classic literature (a good reason), and you will be shocked by the number of various Germans "in the frame." What did they all do here? Money earned. At the end of the 18 century, about a quarter of a million Germans lived in Russia. Germans, Carl. In the distant mysterious Russia. At the end of 19 century under two million. And it is only those who continued to consider themselves Germans. Many "Russified".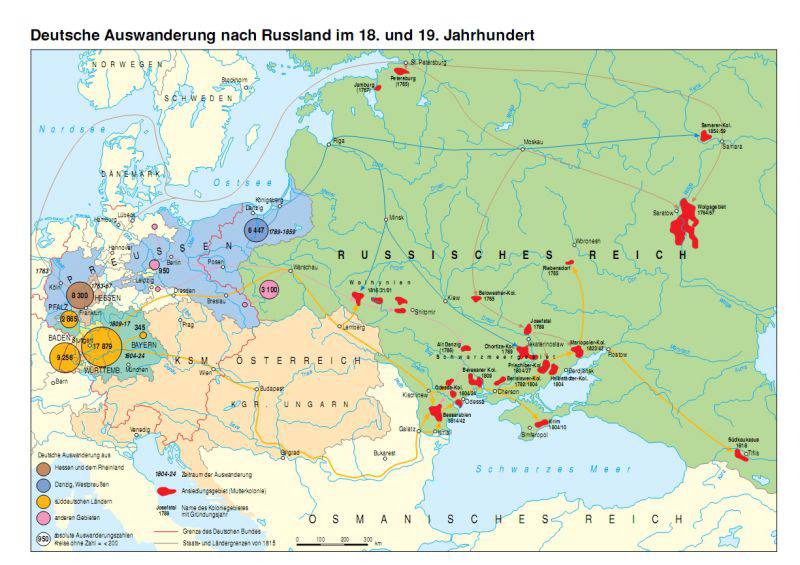 Berlin is very close to St. Petersburg, in every sense of the word. Those Russian Germans, as a rule, lived in large cities, so their presence was very noticeable, although there were also places of "compact settlement". This alone contradicts the theory of "distant and unknowable" Russia. Germans remember well the participation of Germans in the construction of America, the participation of Germans in the development of industry, science and mining in Russia in Germany for some reason does not like to remember. Why? What's wrong? After all, this can be proud of: the factories at the Great Lakes and in the Urals — that is, across the globe — were built with the participation of German specialists! Well this is really cool! About the Great Lakes remember, about the Urals ... what Urals? It's just that it spoils the life of the very theory of "far and wrong" Russia. Strange, but Russia and Germany have very close and numerous connections, especially since the days of Peter, but only Russia remembers this (not always). Thousands and thousands of German officials, officers, doctors, entrepreneurs and engineers moved to Russia. The reason is simple - in Russia the competition was lower, and there were more opportunities than in overcrowded Germany.
By the way, in the same classical Russian literature and in the 18 memoirs of the century, there is a strong dissatisfaction with the "dominance of the Germans". A hell of a lot of them rode here, on Russian bread ... And at the beginning of the 21 century, German journalists, "breaking themselves through the knee," try to understand - what kind of Russia is this? Shangri-La some kind, and only. It seems that someone is slightly deceiving someone. Especially given the fact that a million and a half million Russian Germans returned to Germany in 90, who, being fluent in two languages ​​and being familiar with both countries, could easily put all the points / umlauts over and (or over). You see, what is the matter, in order not to answer serious and unpleasant questions, you can always pretend that you do not understand the obvious things - "fool to include". And asking a very busy Russian president with a naive look: "Well, how is that, Mr. Putin?"
The fact that in the EU headed by Germany the Russians found themselves in the position of "second-rate people" in the Baltic states, for some reason, remains behind the scenes and is never discussed. And the question is interesting. But okay, even about this, the Kremlin decided not to raise the scandal. And Kiev, Maidan, a coup. And German politicians and journalists can not see and understand the obvious things. "Why Crimea?" They ask, directing an incomprehensible gaze on President Putin ... The logical connection of these two events (that the German politicians did not support Maidan - the Crimea would have remained in Ukraine) is absolutely inaccessible for them. In general, this discussion is frankly stupid: the actions of the West in Kiev in February 2014 are not discussed in any way - this was necessary, and the response actions of Russia with them in conjunction with cause genuinely perplexity. Why was it still good? Approximately the same discussion went around the "retaliatory" Iskander. What for? American anti-missiles to Europeans was strictly forbidden to discuss. Therefore, they discussed the Russian Iskander. Actively with pressure. This is the same with Ukraine and Maidan - they conferred in the West and decided to recognize Maidan-2. Everything, the question is closed, the more they are not going to discuss it with anyone, especially with outsiders.
In fact, the February coup in Kiev and the immediate recognition by Berlin of its results broke through the ulcer of the Russian-German contradictions. There were a lot of problems and disagreements. Let us also recall the "confiscation of criminal Russian money in Cyprus". Eastern Partnership. We deliberately "let go of the brakes" these issues, hoping for positive prospects. They thought that everything was in order. And burst. And aggravating the "sincere misunderstanding," Putin called Russia's main mistake, "that it had not previously declared its national interests." And now she said suddenly. GDP should have been perfectly aware that all political space in Europe is completely divided and there is no place for "Russian national interests" there. In order to squeeze them in there - someone must move very strongly. The truth of life is that Germany and Russia are culturally close enough, but the Germans categorically refuse to understand and recognize Russian interests in Europe. That is why they professionally "include a fool" and refuse to understand basic things: "Everything was fine until Putin suddenly annexed the Crimea."
The third problem.
Even after two world wars, the Germans, by some strange coincidence, are convinced that the confrontation with Russia is quick, easy and pleasant. Blitzkrieg syndrome to his. The whole calculation in 2014 was made on the basis of the fact that we will impose sanctions, and Russia will collapse. It was a kind of dvuhhodovka operation of a single version of "A." Understand that the most fun - having planned, started and lost two world wars, these people have not learned anything. Nothing at all. "They haven't forgotten and learned nothing," said Talleyrand, describing the "restored" French aristocracy in 1815. Approximately the same can be said about our German "partners". The extension of the June 22 sanctions of the year is just from that very series. The German leadership is not something that has not learned from the two world wars - it categorically refuses to extract them. Another approach to the same geopolitical rake. Big wars do not start like this with a bay-bakery. They are prepared and carefully planned. In advance, in advance. That is why it is very easy to prevent a big war. At first sight.
It is surprising that Germany's open support for neo-Nazis in Eastern Europe and the break in relations with Russia did not in any way affect the Chancellor's rating. It is unclear and wrong. This is how, at one time, Germany supported the "color revolutionaries" in the same Libya and Syria. And no one inside the country objected. The hysteria began when a stream of refugees from Africa and Asia poured into German cities. Here Germany experienced a severe painful shock and fell into a serious political crisis with WWII. You see, these are not just lines in newspapers and videos in
the news
... This is a real deepest crisis of German statehood. But to this day, for them, Assad is an enemy who must leave. And the "democratic opposition" of Syria is a friend. Even after the "Cologne New Year". Some kind of schizophrenic policy: they demolish the regimes that serve as barriers to migrants, and then hysterically look for ways to solve the "problem of migrants". To this day, no one in Germany wants to admit the fact that the "demolition" of Gaddafi and the war in Syria were a mistake.
From their point of view - these decisions were absolutely correct. Assad and Gaddafi - had to leave. Point. This is not discussed. There should be no refugees. The decision is correct, the consequences are wrong. And how to work with such people? Even the terrorist attacks in France have changed absolutely nothing here. Asad is an enemy and a tyrant, he must leave. Point. Why this retreat? So with regard to Russia, politics is just as schizophrenic: the fact that Russia did not want to recognize the results of the armed coup in Kiev and respect those who seized power with
weapons
in the hands, served as a pretext for sanctions. Moreover, the plan is absolutely delusional from the very beginning: we are conducting a coup in Kiev by armed neo-Nazis, destroying those who disagree, establishing a regime of terror there and creating death squads with SS symbols. And Russia understands all this and accepts. And the friendship in the triangle Moscow-Kiev-Berlin only grows stronger with each burnt "Colorado". Only a madman could believe in the reality of this plan. But German democratic politicians sincerely believed in the feasibility of this option. No kidding. And sincerely offended when Moscow disliked the "little Turchinov".
I'm thinking, what if Mr Putin spoke to them not in German, but, for example, in Mongolian? Would everything be worse? He has been in politics for fifteen years. And all fifteen years he speaks Germans with Germans. For fifteen years he has been talking with German politicians in German about the problems of mutual relations between Russia and Germany. Then, suddenly, the Ukrainian crisis, the war in the Donbas, sanctions, and immediately after the New Year 2016, before Orthodox Christmas, two German journalists come to Russia and 2 hours are torturing Putin with absolutely "childish" questions. "Has your economy collapsed yet?" And when will it fall apart? " There were two very large and bloody wars in the 20 century, millions of soldiers and civilians were killed, and Russia and Germany suffered heavy losses. Restoring relations under Brezhnev, uniting Germany under Gorbachev, drunk Yeltsin waltzing in the center of Berlin, Putin ... And suddenly, at the slightest conflict, the Germans rushed headlong into a fight, trying to destroy the Russian economy. Do they learn anything at all?
Of course, the Russian economy will suffer significant damage as a result of sanctions - this is a fact. It's silly to argue with that. But the political consequences will be quite different than the "sanction architects" planned: first, Germany will lose the Russian market irrevocably, nobody likes it when its main trading partner suddenly "bucks" out of the blue, you either trade in Russia, or play political games but not both together; secondly, Germany will completely lose political influence in Russia, it will be just one of the countries, no more; third, Russia will inevitably carry out certain "retaliatory" political steps against Germany. "There is no revenge in politics, but there are consequences", - Stolypin. And most importantly, this will not help Ukraine in any way; in its attitude, Russia's position has become even tougher. This conflict will be protracted and difficult for both sides and completely redraw the political landscape of Eastern Europe (the relationship will be completely different). This is about how Europe-1918 radically differed from Europe-1914. It has already become clear that the Germans did not prepare for a long-term confrontation and that they did not have any "backup options". They expected a quick victory on the "Russian front", a quick solution to the "Ukrainian issue" and a quick switch to other problem areas. The protracted war in the east is so familiar ...
The trouble is that, as with the refugees, the negative consequences for Germany will not come immediately, not immediately, and in this case, the ordinary German does not see a logical connection. Despite all the "frostbite" of German foreign policy towards Arabs and Russians, Merkel remained a very respected and popular politician until refugees flooded into Germany. Here the Germans were outraged! How so? "And we are for sho?". Also, a sharp deterioration in relations with Russia during the reign of Merkel did not affect her rating in any way. And we thought that in Germany it was interesting to someone ... No, the Germans didn't care. So, a little earlier Hitler was incredibly popular in the Reich, despite the world war unleashed by him. The Germans approved. But when thousands of bombs rained down on Hamburg, and it blazed like a Christmas tree, then the mood changed. But you will not believe - they did not see a direct connection here either. That is, the link between the attack on Poland and the burnt German cities was not obvious to them. So in the case of retaliatory Russian political moves against Berlin, and they will certainly follow, for the Germans this will be an unpleasant surprise. And in the same way two naive German correspondents will arrive and will ask Putin: "Vladimir, why?"