The US military leadership revised its plans to write off the A-10 attack aircraft in connection with active hostilities in the Middle East, as well as due to the "revival of Russia", reports
TASS
Statement by Chief of Staff of the Air Force David Goldfein.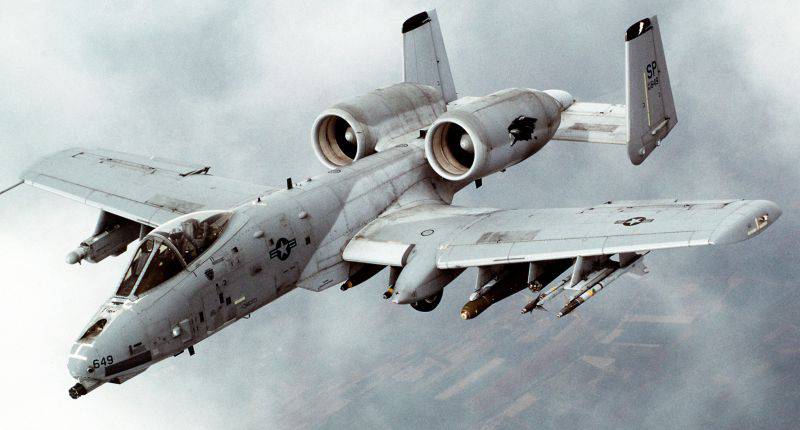 A-10 Thunderbolt II
"Life is getting in the way of the ideal plan, this is how you can describe what is happening," noted Goldfein. "When we made the decision to write off A-10, there was no ISIS, we were not in Iraq, we were largely out of Afghanistan, and we did not have a resurgent Russia."
According to him, "the attack aircraft has well established itself as an aircraft supporting ground operations during the air antiterrorist campaign in Syria and Iraq."
In addition, the Pentagon places the A-10 in Europe. In September, the American command announced the sending of more 12 attack aircraft to NATO countries. During the Cold War, around 140 of such machines, squadrons in 6, were based on European territory.
A-10 produced by Fairchild-Republic made its first flight in 1972 g, and after 5 it was adopted for years. The decision to write off the attack aircraft was made in 2013 "in connection with the sequestration of the defense budget and the shift of strategic priorities from the European to the Asia-Pacific region". It was believed that its functions will be able to perform the aircraft of the new generation F-35, armed with high-precision ammunition.
However, plans for the withdrawal of A-10 from the Air Force were severely criticized by Congress. Parliamentarians believe that "multi-purpose combat aircraft are not always able to replace a heavily armored attack aircraft, hitting targets from low altitudes."